This post may contain affiliate links.
Here's why Antarctica luxury cruises are so popular, and why a trip to this far-flung destination is high on my travel bucket list. Maybe it should be on yours.
Antarctica luxury cruises
It's one of the most remote places in the world – Antarctica – an uninhabited land where icebergs plunge into the ocean, killer wales torpedo through navy blue water and the absence of pollution makes stars shine more brightly. A trip here is one of the final frontiers for adventure travelers, which is why a luxury Antarctica cruise is topping my travel wish list this year.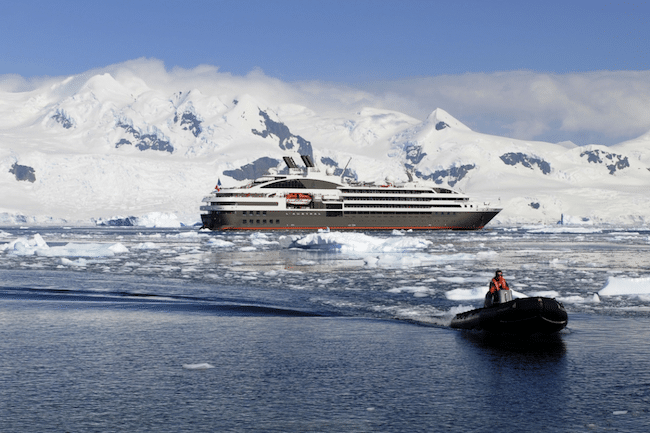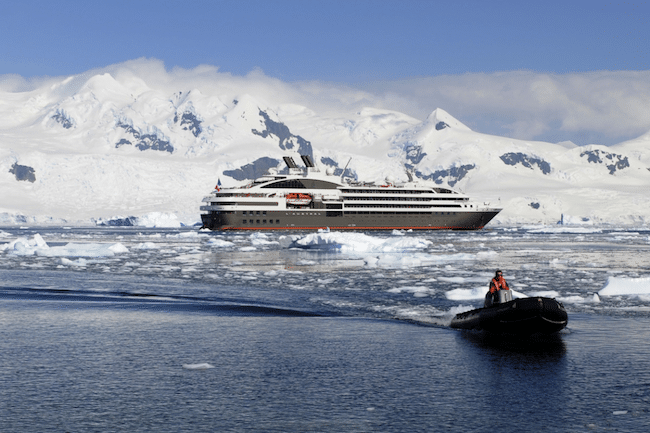 A land of superlatives
Who isn't intrigued by Antarctica? The 'White Continent' is the highest, driest, coldest place on earth, home to the world's largest icebergs. Weirdly, due to the lack of rainfall, it's technically a desert, but you'd be hard pressed to find a palm tree unless Mother Nature has carved it out of snow. Populated only by scientists, the continent has no indigenous people, and Antarctica luxury cruises offer an expedition into this untrammelled world.
The lure of distant lands
After seeing the Galapagos Islands I have a growing obsession for isolated destinations. Is there anything like the power of nature to remind us how lucky we are to be here, and how small (yet how influential) a role we play in it?
Where is Antarctica?
A journey to Antarctica is a journey to the bottom of the earth, Earth's southernmost continent. An icy landmass that wraps around the South Pole like a swirling cloak of snow, Antarctica is surrounded by the brooding Southern Ocean, and its far-flung appeal has called out to intrepid explorers for centuries – sometimes fatally. In the 1770s, Captain James Cook was the first to circumnavigate this inhospitable continent, but it wasn't until the 1820s that explorers ventured in.
Early explorers to Antarctica
Sir James Ross Clark was the first to recognize Antarctica as a continent, and you'll find a long list of his landmark discoveries here including Mount Erebus, Mount Terror, Snow Hill Island and the Ross Ice Shelf, a whopping 600-mile-long (370 km) floating slab of ice.
The first explorers to the South Pole
Norwegian explorer Roald Amundsen and his expedition were the first to reach the South Pole on December 14, 1911. In a failed bid to beat Amundsen, British naval officer Robert Scott arrived four weeks later on January 17, 1912, but he and his team died of cold and starvation on the return. Scott's Hut still stands, frozen in time, on the north shore of Ross Island, an evocative reminder of the unforgiving forces of this uninhabited world.
Another renowned Antarctica explorer was Ernest Shackleton, the first to climb the volcanic mountain of Mount Erebus. What made him the stuff of legends, though, was his second expedition. After his ship collided with an iceberg and sunk into the icy depths he managed to keep his crew alive and returned home to tell the tale.
It's the spirit of these, and other explorers such as Sir Edmund Hillary, the third man to reach the South Pole, that colours our perception of Antarctica today, and boosts our desire to visit a continent synonymous with courage and resilience, and to challenge ourselves in the process. The difference is that expedition cruises allow us to travel in comfort and safety.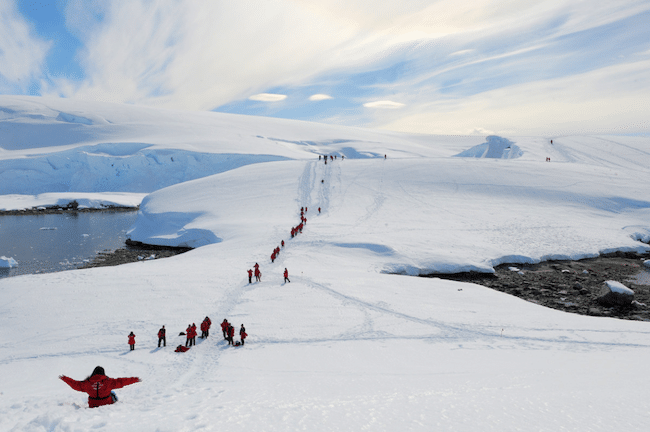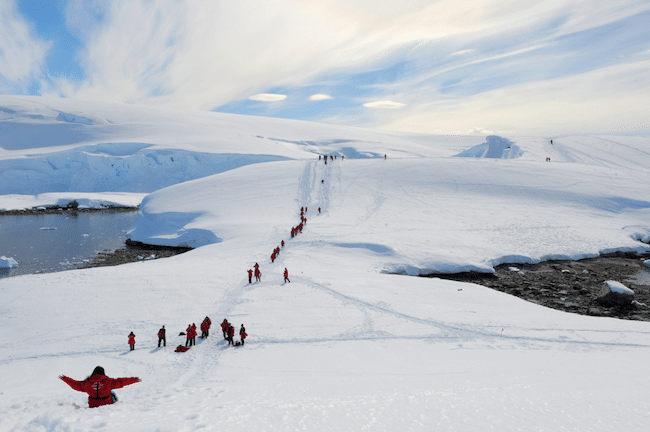 Visiting Antarctica today
Clearly, visitors have it a lot easier than those early explorers, and more than 40,000 people make this global pilgrimage every year. Antarctica cruises take guests into the heart of the Antarctic Peninsula, sailing to destinations such as Neko Harbour, Port Charcot and Deception Bay.
Antarctica is not a cheap destination, but there are different categories of ships. In the luxury category, cruise ships offer a level of dining, service, space, convenience and environmental controls early explorers could never imagine.
A leading-edge expedition vessel on the horizon is the ground breaking (I mean, ice breaking) new icebreaker being launched by Ponant Antarctica, Le Commandant Charcot, debuting in 2021. It will be the world's first hybrid electric icebreaker, an environmentally advanced cruise ship that will be able to take passengers to even more remote locales.
When should you cruise?
Like the early explorers, most travelers still aim for summer, which, so far down south, runs December to February. Cruises are available from November to March however, and may well offer lower prices and increased availability.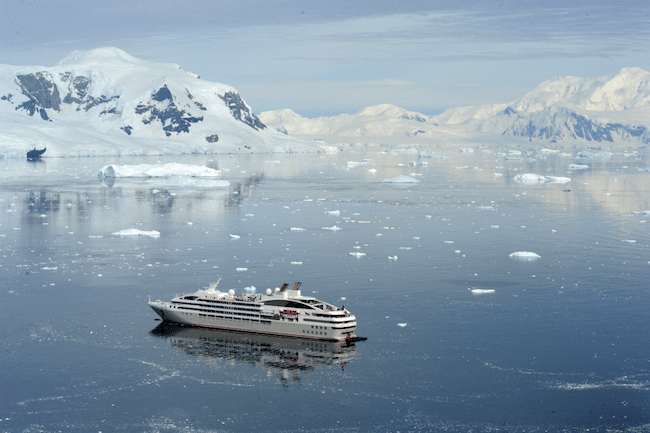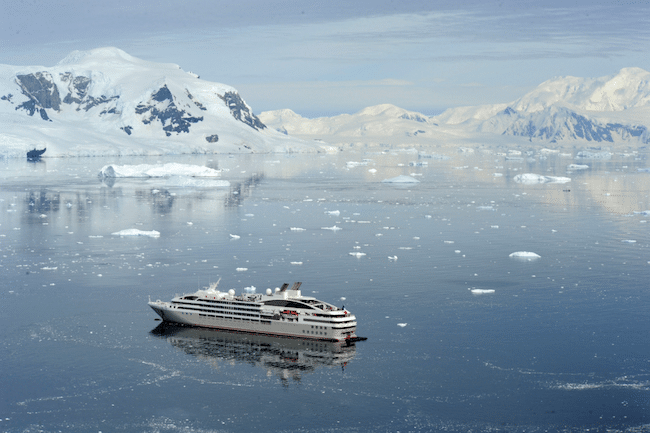 What is the draw of an Antarctica cruise?
The wildlife – This is the land of tough survivors such as elephant, leopard and fur seals, albatrosses, numerous species of whales – and did I mention the penguins? After my close encounter with a penguin in the Galapagos, I've realized penguins are my true spirit animal. (Kidding! I'm sure it's a ferocious jaguar.)
There are seven different species of penguins in the Antarctic, and I can't think of a wildlife experience more overwhelming (in a cuddly type of way) than visiting a raucous colony of Gentoo penguins, monstrous blue-tinted icebergs in the background.
The landscape – Stark, dramatic, elemental – these are just a few of the words travelers use to describe Antarctica. Ice floes float past, towering glaciers form pinnacles, domes and sheer-sided blocks, and mountainous ridges are crusted with snow. From the black sand beach of Deception Bay to the lofty heights of the Vinson Massif, it's nature on steroids. And let's not forget the infamous Drake Passage, a turbulent stretch of sea where the Atlantic and Pacific oceans collide.
Outdoor adventure – It's one thing to see the outdoors from the deck of a ship; it's another to be out in it. I'm addicted to outdoor adventure (as long as it's not risking life and limb) and there could be no better playground than this vast primal space, though clearly, having a guide to stop me from getting in over my head is one of the beauties of taking a luxury cruise. Some of the activities you can do on an Antarctica cruise are kayaking, zodiac tours, hiking and snowshoeing.
Education – The most rewarding trips are the ones that provide knowledge as well as memories, and the best Antarctica luxury cruises offer lectures, expert naturalists and expedition leaders.
Antarctica is a base for scientific research programs in many diverse areas including biogeochemistry, geophysics and the environment, and education is especially important now as Antarctica is undergoing significant climate change. Here are a few scientific Antarctica facts to intrigue you
Mountains: Known as the ghost mountains, the Gamburtsev Mountains are a massive and mysterious mountain range almost completely buried under 5 km (3 miles) of ice and snow, that weren't discovered until the mid 1900s.
Lakes: Also hidden under more than two miles of ice is a freshwater lake, Lake Vostok, the size of Lake Ontario.
Meteorites: More than 38,000 meteorites have been found in Antarctica. They're easy to spot because of the contrast between dark rock and white snow, making it one of the most sought after destinations for meteorite hunters.
Waterfalls: Blood Falls, which appears a sinister red as it flows out of the Taylor Glacier, is coloured that way due to its high iron content.
Frost: The lowest temperature on earth was recorded at Vostok Station, a balmy -89.2C (128.56 F).
Volcano: Mount Erebus is an active volcano with a boiling lava lake that spouts gas, steam and lava bombs. Eeek.
Antarctica is a land of peace
Currently, 53 countries have signed a treaty stating that Antarctica is a destination that, in the interests of all mankind, is dedicated exclusively to peace and science. And maybe that's the best reason of all to do a luxury Antarctica cruise.
Read more about luxury travel. Or tips on how to afford luxury travel.