This post may contain affiliate links.
Looking out the plane window on our flight to the Riviera Maya, watching the lights of Toronto shrink into specks as we rose into a still-dark sky, I was thinking of beaches, palms and papayas. I was thinking of a nap by the pool. I was thinking the seats on Air Transat are really quite comfortable, that the mood lighting was waking me up and that a week of tropical luxury meant my life was soaring uphill. I had no idea there was darkness, a shaman and a fast descent in my future.
In other words, a cenote Mexico adventure.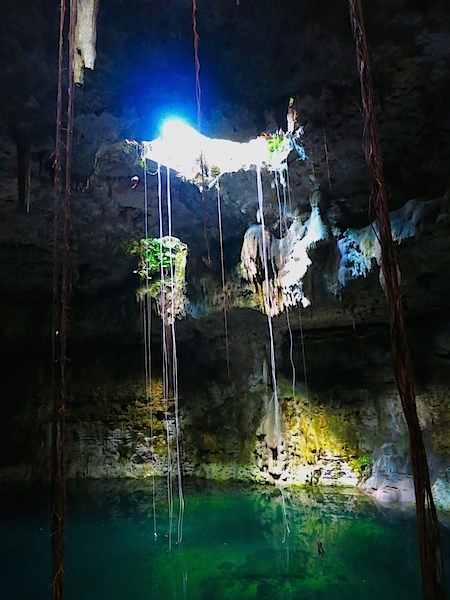 Every good cenote Mexico adventure starts with bubbly
Our flight attendant came over with two mini bottles of prosecco. I looked at my husband. "Did you order that?"
He shook his head.
"It's part of the Option Plus," the flight attendant said.
"Oh. Well, cheers then," I said. When you opt for a Transat Holidays Luxury Collection package, all kinds of extras are included, one of the best being a private transfer from the airport to your resort, which, I thought four hours later when Mark and I stepped out into the sunny Yucatan Peninsula, was highly appreciated as a deck chair was urgently calling my name.
Planning a trip? Check out these top all inclusive adult only resorts in Mexico
Mighty battle on the Riviera Maya
It was my intention to find my sunny happy place by a palm tree and not move for a week. But. It's hard to be in the Riviera Maya and not have the urge to explore, so my Adventure Self and my Sloth Self fought a mighty battle by the Grand Velas Riviera Maya pool.
To the victor go the spoils
Adventure Self won, though in sympathy for Sloth Self, a compromise was reached. One excursion. A trip to Ek Balam, a recently restored Mayan ruin older than Chichen Itza.
The Riviera Maya excursion was booked through Transat but run by a sustainable tourism company Alltournative, a company that works with local Mayan communities to preserve the culture, aid in economic development and provide eco-archaeological expeditions for visitors.
Truth be told, I hadn't paid much any attention to the details. I'd listened to the Transat rep at the hotel long enough to know what time our hotel pickup was and that I should bring a bathing suit, then put my shades on and went back to my important beach work involving lying prone and having a waiter bring a bucket of bottled water on ice to our cabana.
The cenote Mexico adventure begins
"First of all, we are going to visit the Cenote Maya," our Italian-born guide, Annalisa, said, as my husband and I squeezed into the back of the tour van for the two-hour drive. "We're going to rappel into the cave, have time in the Cenote Maya then have a traditional Maya buffet."
Wait – what? Rappel? Who said anything about rappelling? While my Adventure Self was sniggering, Sloth Self was scrambling around in a panic saying, hey wait a minute, you didn't warn me about this.
Read the brochure next time, stupid, Adventure Self said, gazing serenely out at a palm tree.
"Cenotes are considered sacred places by the Maya, so we will visit a Shaman first, for a protective blessing," said Annalisa.
At this point both Adventure Self and Sloth Self sat up and said, "Wow!"
Sacred Mexico Cenotes
Not only was I excited about meeting a Mayan shaman, a combination of witch doctor, healer and priest, I was also intrigued by cenotes. Common to the Yucatan Peninsula, cenotes are sinkholes formed when the ceiling of a limestone cave collapses, exposing the ground water underneath – the water being sourced from an underground network of rivers in the region. To make it more scientific, lets just call them big fat pools at the bottom of a cave.
Big fat pools that played an important role in ancient Mayan society. As there are no lakes or above ground rivers in the Yucatan, cenotes were a prime source of water for the Mayans and they considered them sacred.
At 80 metres wide, the Cenote Maya is one of the largest, if not the largest, in the Yucatan Peninsula. And I was supposed to rappel into it. Adventure Self was positively dancing with excitement while Sloth Self was saying, hm.
Cenotes inhabited by dark spirits
It's hard enough to put on a bikini when you're anywhere but a beach (and even then it's no picnic). It's even harder when you're strapped into a harness, leaning off the back of a platform staring into a black abyss.
It probably wasn't the ideal moment to recall the ancient Mayans believed cenotes were an entrance to the underworld, the Xibalba, a place inhabited by gods and bad spirits.
Eeeek!
I can still back out, I thought. Others in our group had opted to walk into the cenote via a tunnel instead, and the burly guy who was supposed to go before me had just backed out.
But, I thought, I've just been blessed by a shaman, and that is some powerful protection.
Shamanic Ritual on the Riviera Maya
It had been a short outdoor ritual near a stone shrine, a ceremony involving our group holding hands while the local village shaman chanted and the smoke of copal – a resin used in sacred ceremonies – had spiralled around us.
My toes still gripping the wooden platform at the Cenote Maya rim, I concentrated on the blessing rather than the fact I was wearing nothing but gloves, a bikini and ropes, about to go straight down into an 80 metre-wide gateway to the underworld.
"Go!" shouted the guide.
A cenote leap of faith
There was a brief time-stopped moment while my stomach crunched in fright, then my feet swung off the edge and I was hanging over a pit black as a Mexican night sky. As I descended further into the cenote an astonishing world opened up.
Inside the cenote
Strange rock formations, stalactites and mottled walls surrounded me. Far below were the small dots of people floating on inner tubes. My fright vanished like a plume of copal smoke. And my first coherent thought was that I was going to descend as slowly as possible to make every moment of this cenote Mexico adventure last.
Nothing lasts forever
You can't dangle in space forever and eventually I hit the water – although 'hit' is the wrong word – more like I was captured gently by one of the local Mayan boys whose job it is to catch hapless tourists and deliver them to safety.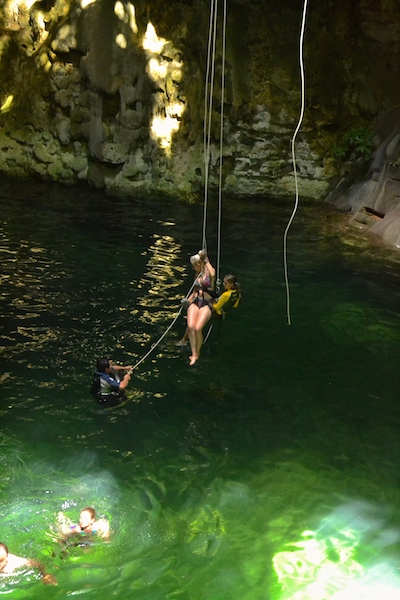 Choose your Riviera Maya Adventure
Some of the others in our group were keeping the cenote Mexico adrenalin going by swinging off a Tarzan vine and leaping off a platform into the water, but I grabbed an inner tube and floated as far away as I could. I didn't want manufactured fun. I wanted to experience the Cenote Maya on its own terms.
Cenote stillness
High above, a circle of blue sky was visible, like a painted medallion, while the cenote interior blinked with flickers of sunlight. The water beneath me was black as crude oil, but clean and pure. Occasionally I felt tiny things bump up against my body.
As I am more scared of water than heights (I know, I know, it's weird), I tried not to think of that creepy cave lake in Harry Potter and the Half-Blood Prince where dead bodies are floating under the surface, waiting to drag mortals under.
Mayan sacrifices cenotes
I also tried not to think about how some sacred cenotes had been used for human sacrifices, how skulls and bones had been found deep in their lairs. Instead I focused on Chaka, the God of Water, who also dwells in cenotes.
Eventually I stopped thinking and just floated and gazed and reached a fingertip up to the cenote wall, feeling that absolute connection with nature when it reveals something mammoth and surprising, like a gift it had been holding behind its back.
Alone in the cenote
My husband swam over, and we drifted until Annalisa called us from the far side of the cenote. I looked around and realized we were the only ones still here.
"That was amazing," I told her, swimming over and climbing out onto a wooden deck. "Really special. But erm, are there any live things in there?"
"Just blind catfish," she said cheerfully, heading off ahead through the tunnel into the light.
Ewwww. But better than dead bodies. As my husband and I stood at the water's edge taking a last look, I thought of that first moment of descent, the heady feeling of dropping deep into the unknown.
Our week with Transat Holidays in Mexico had been filled with incredible highs such as butlers, swim-up bars and 5-star cuisine, but one of the best moments had to be one of the lows.
Travel tips for Riviera Maya Excursions
Expeditions with Alltournative: If you're looking for things to do in the Riviera Maya, consider a cultural offtrack adventure with Alltournative. With numerous awards for sustainable development and social responsibility under their belt, Alltournative offers a guilt-free way of exploring the Riviera Maya. Not to mention it's fun.
The Ek Balam and Cenote Maya Excursion is a full day trip with lunch included. Be forewarned: there is a lot of driving involved but the stops at Ek Balam and the Cenote Maya are worth it.
What to bring on your Riviera Maya cenote excursion
Careful on the sunscreen – you'll want it for Ek Balam, but no sunscreen or repellent for the Cenote Maya – it's important to keep the water pure. You'll want a bathing suit, shades and sunhat (unless you're me and hate wearing hats, even on pain of sunstroke). Towels are provided.
Photos: If you have a GoPro, you can strap it on, otherwise you'll need to buy photos from the young Mayan staff shooting your descent. Consider it a worthy expense, it provides employment and educational opportunities for the local youth and, as you can see from the some of the photos above, they do an excellent job.
Transat Holiday Day Trips
Excursions with Transat Holidays: Transat offers a variety of adventure and cultural excursions at all their destinations. In the Riviera Maya things to do include Xcaret, visiting the Sian Ka'an Biosphere, Tulum Akumal, Luxury Sailing and more.
Learn more about Transat Holidays Luxury Collection and other sun destination packages
As Transat Holidays Luxury Travel Expert, my trip was hosted. Read more about my stay at the Grand Velas in the Riviera Maya.