This post may contain affiliate links.
Have you ever wondered what goes into organizing an art show? Here's a sneak peak of an art exhibit of William Perehudoff in Montreal at Han Art Gallery.
The art of William Perehudoff in Montreal
Exciting! My sisters and I have travelled to Montreal for our father's – William Perehudoff – tribute exhibition tonight at Han Art in swanky Westmount. This will be the last William Perehudoff exhibition of the year – we need to regroup – and there's a lot going on behind the scenes, so come through the door and I'll show you around.
First, I just want to say an art show doesn't just happen. Andrew Lui, owner of Han Gallery, came out to Saskatoon last September to pick out the work -an intensive process all on its own. It's even more special because it was chosen when my father was still alive, as if he still had his hand in the selection.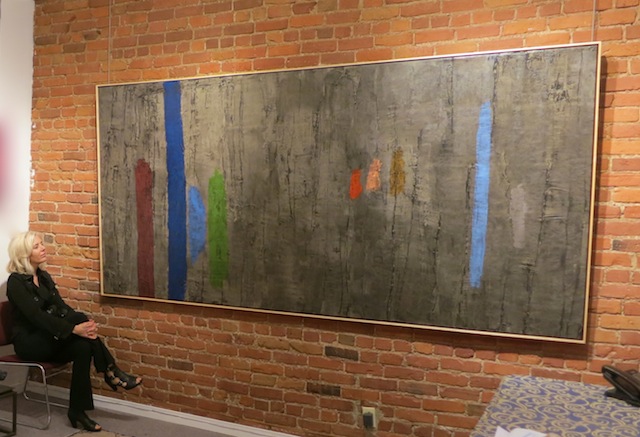 Once a show is picked, madness ensues. There is photography to do, frames to choose and the paintings have to be checked over to make sure they're in good condition. You have to note (well, you don't have to, I'm just suggesting) that some of these works have been in hiding for forty or more years.
Isn't it lovely to think that these slumbering colour field beasts are emerging from their den after so many years? To me it has a fairytale element, like the tale of the legendary King Michu, 13th King of Korea's Shilla Dynasty, who, from his grave, summoned up an magical battalion of warriors with bamboo leaves in their ears to save the kingdom when it was under attack. After the battle, bamboo leaves were found around King Michu's tomb, and so the people knew who had sent them.
Maybe, just maybe, these luminous abstract paintings are William Perehudoff's warriors, sent from the wheat fields of the Saskatchewan prairies to make his presence known, and to reassure his own small-scale dynasty, which is missing him deeply. The paintings certainly have a glow. We saw it when we went in for a sneak peek at the exhibition last night. It was, in fact, a little magical, and I for one will be checking traces of bamboo leaves … or maybe that should be wheat stalks … scattered around.
Consider yourself invited
William Perehudoff – a Mini Retrospective opens tonight at Han Art in Montreal
Exhibition runs May 23rd to June 23rd 2013
4209 rue Ste-Catherine Ouest Tel: 514 876 9278
More about William Perehudoff:
William Perehudoff in Victoria
William Perehudoff at the Glenbow Art Gallery in Calgary
William Perehudoff ie my dad the rock star: ie my dad the art star
Read more about art travel