This post may contain affiliate links.
The town of Watrous, Saskatchewan, in Canada came into being in 1906 so what's it doing with 500-year old stained glass windows?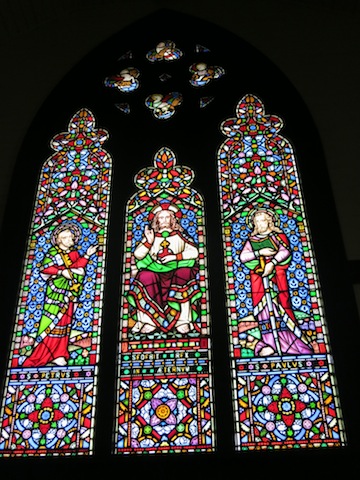 The Christ Enthroned Window, along with St. Peter and St. Paul, were once on the lam, that's what they were!
But don't worry, they have achieved permanent residency status in Canada, so  let's go back a few centuries and try to solve the mystery of how The Christ Enthroned stained glass windows came to be in Watrous, a town 100 km east of Saskatoon, Saskatchewan (and if you don't know where Saskatchewan is, it's somewhere above Montana and North Dakota), and why The Christ Enthroned Window is a work of glass with a colourful past.
Nothing but the truth, the stained glass truth.
I like to get my claws into a good mystery and the more I dig, the more complex this story gets. It's almost as juicy as my Stained Glass Mystery in Montreal story. (What's the deal with Canada and it's stained glass secrets?) Anyway, here's what we know so far – or think we know:
1) The stained glass windows were brought over by Reverend King in 1910, the first vicar of the All Saints Anglican Church located on Main Street in Watrous.
2) The windows were brought over in 2000 parts and reassembled by a happy congregation.
3) The windows came from a very ancient church in Wiltshire, England, named St. John the Baptist Anglican Church.
This is where the theories split. And why is Oliver Cromwell now suddenly in our story?
Theory 1 of the Watrous Stained Glass Mystery
These 500-year old windows had to be removed from the very ancient Church of St John the Baptist in Wiltshire in the 17th century to protect them from uprising Puritans. The Puritans, let's remember, were big spiritual reformers (some would say buzz killers) and Oliver Cromwell was the head Puritan honcho.
The Puritan ideals of political and religious liberty were admirable. They were also directly responsible for the execution in 1649, of King Charles I – which, when you think about it, did nothing for his liberty at all.
Dangerous times
If the Puritans would kill a king, just think what they would do to a window! So the windows went on the lam. Someone, a loyal congregation methinks, took the windows out in secret and buried them to save them from a sad shattered fate. Don't you just love that? I love it!!! And eventually the Puritans stopped uprising and the windows were put back in the church. And notice the religious symbolism – The Christ Enthroned was buried only to be resurrected. I love that, too!
Times change
Then fashion went and ruined everything. The windows were finally back in their rightful home, but presumably some newer chic-er stained glass windows came along a couple of centuries later because by the 1900s The Christ Enthroned was ousted from the very ancient Church of St John the Baptist in Wiltshire, given to the commendable Reverend King and on its way to Canada.
So really, those Puritans got the windows out of the English church after all.
And Wiltshire's loss is Watrous's gain.
Theory 2 of the Watrous Stained Glass Mystery  (I know, I know, enough already – feel free to stop reading)
The windows likely came from the very ancient Church of St John the Baptist in Wiltshire, but they are neo medieval windows made in the 19th Century. According to Canada's Historic Places, they might have been designed by the Victorian architect William Butterfield and installed in 1861 – although still magnificent. 
Theory 3 of the Watrous Stained Glass Mystery  (last one, I promise)
The Christ Enthroned Window is possibly 500-years old and was likely in the very ancient Church of St John the Baptist in Wiltshire, but was extensively restored until it was all but recognizable as a 500-year old object – although still magnificent.
So what's my verdict?
The Christ Enthroned Stained Glass Window might look a wee bit newer than 500 years. But when I saw it, I wasn't thinking that at all. I was thinking that this glittery beauty is a magical addition to a small prairie town named Watrous in Saskatchewan's heartland. And I adore the romantic idea that the window was buried out of love, left alone to shiver in the cold dark ground before being saved and cleaned so that it could once again sparkle over the good citizens of Wiltshire, so that's my story. It's an excellent story and I'm sticking to it.
Besides, we all know age is only a number.
For more info visit WatrousManitou.com 
Read more: There are plenty of other activities to experience in Canada. Get a start with my  Things to do in Canada travel post.