This post may contain affiliate links.
Guest post alert! When I heard my sister, Rebecca Minton, was going for a spa vacation at the Balmoral in Edinburgh, I insisted on a full report, and full report it is. For everything you wanted to know about a luxury vacation at the Balmoral Hotel including savvy tips on sightseeing, day trips and celebrity sightings, read on.
Guide to a savvy vacation at The Balmoral
It is 7 a.m. and I am feeling virtuous having jogged from the princely Balmoral Hotel in Edinburgh along Calton Hill on Regent Street past a somewhat gloomy Robert Burns memorial. I'm here because my daughter is graduating from University of St. Andrews, yes, the place where Will and Kate met, and this is my chance to savour the delights of a spa vacation at The Balmoral Hotel and explore the capital of Scotland. I have resolved to  get outside and begin with some exercise.
Edinburgh may surprise you
What a gorgeous city Edinburgh is and how wonderful that everyone sounds like the iconic Sean Connery.  I'm looking out over an extinct volcano and over buildings that look like a movie set from the Tudors.
Who knew Edinburgh was so grey and pretty? I've learned some important things in the last couple of days about crafting the perfect luxury spa vacation at The Balmoral and here they are:
Savvy Scotland vacation tip #1:
Sleep Do not fill up on caffeine before and during an international flight or you'll be tossing and turning the entire time. If you do, however, and arrive at 9 am having had one hour of sleep, the Rocco Forte hotel, The Balmoral, is the place to go.
At the Balmoral they will do their best to accommodate an early check in and if the room isn't ready, kilted doormen will whisk your luggage off to a secure spot and send you off to relax by the pool in what is called the Relaxation Suite.
You can then gently revive yourself with citrus cucumber water and naps. When you do get to your deluxe room it will be the size of an apartment with plush carpets and the best bed you ever slept in.  Not to mention that James Bond, alias Sean Connery, is standing life size in your white marble bathroom. Actually it is a photograph but it was enough to cement my love of Edinburgh!
Savvy vacation at The Balmoral tip #2: Timing is everything
Don't time your arrival or departure at the hotel to coincide with the arrival of a large Disney Tour. You might feel lost in the shuffle. But never fear, the unflappable door men are there to make sure you and your luggage are not forgotten.
About The Balmoral Hotel
The Balmoral, at 1 Princes Street, bears a striking resemblance to Canadian railroad hotels and in fact it opened in 1902 as the North British Station Hotel. If you are looking for a centrally located hotel this is it and in fact the hotel itself, with its looming clock tower is one of the iconic landmarks of Edinburgh. Which means of course, that you can look for it and never get lost.
Sights near The Balmoral
Within walking distance are the medieval streets of Old Town and Edinburgh Castle where Mary Queen of Scots gave birth to James IV; Holyrood Palace where Mary's husband, Lord Darnley met a violent end (my sister Carol has a particular interest in Mary Queen of Scots).
Also near The Balmoral are the National Gallery with its chocolate box selection of masterpieces by artists such as Titian and Poussin; the newly opened National Portrait Gallery (with portrait of Mary Queen of Scots); the Robert Burns monument; the climbable Sir Walter Scott memorial (my legs were shaking well before I got to the top) and the sophisticated shops, department stores and bars around George Street. What more do you need?
Savvy spa vacation at The Balmoral tip #3: Spa
Appreciating all this can take it out of you so head back to The Balmoral Spa to enjoy one of the only hotel pools  in Edinburgh. It is a comfortable 15 meters surrounded by comfy lounge chairs and plenty of room to enjoy complementary coffee, teas, and fruit and cucumber flavored waters. After a relaxing swim my daughter and I headed to the treatment rooms for manicures and pedicures.
Spa treatments at The Balmoral
Our technicians, Kristine and Lisa, set us up together in a cozy space so we could chat while getting beautiful nails. I warned Kristine that previous gel nail polishes had fallen off me like potato chips within a day or two but she, in her charming Scottish accent encouraged me to give it one more chance. Sure enough, a week later my coral nails are in pristine condition.
Sadly, I didn't book in time to try a facial but I was told that the luxurious ESPA Age Defier Facial was recommended to combat aging and sun damaged skin, not that there is much sun in Scotland. The facial massage for eyes, neck, lips and jaw line is combined with the  use of ESPA products rich in moisturizers, anti-oxidants, and scientifically advanced natural ingredients.
Balmoral Hotel history
Our three day stay at The Balmoral has been pretty divine. In 1990, Balmoral International Hotels bought the hotel and spent over a year on a £23-million overhaul that remained true to the original design. Staff will point out the finer points of the preserved ball rooms and marble lobby.
Being an uncharacteristically early riser this trip I was grateful for the comfortably furnished drawing room where I could indulge in fresh orange juice, tea and a bit of computer time before everyone else arose. The only negative was that our room was on the 1st floor and sported windows that arched from the floor to my waist.
My toes, though, had an stunning view of Arthur's Seat, a hike-able hill in the middle of the city formed from a 400 million year old volcano. The hotel has 188 rooms, however, so check a few days before arrival to maximize your chances of a stellar view of Edinburgh Castle or the city skyline.
In 1997, The Balmoral was purchased by the Rocco Forte hotel chain and underwent further renovations, inspired by the colors of the Scottish landscape and adding Italian marble bathrooms.
Savvy luxury vacation at The Balmoral tip #4:
Price it out Even if you book a year in advance like we did, check on-line or directly with the hotel a month or two before arrival to scout out the best deals and lowest prices, often including a full Scottish breakfast.
Savvy vacation in Edinburgh tip #5: Getting around
If you stay at The Balmoral you are steps away from a railway station which can take you in comfort to Leuchars, Scotland which is a short cab ride from the Kohler Spa in St Andrews. Note about cabs: They are called taxis in Scotland and must be called in advance. Travel with a Scotland savvy daughter who can arrange these things. In the absence of said daughter, purchase a cheap unlocked phone and SIM card which can be easily topped up at News Agencies and Tesco grocery stores. Make sure phone savvy daughter doesn't lock into a phone contract which must be paid off before she leaves the country.
Savvy Edinburgh tip #6: Tread lightly
Don't step inside the stone tile heart called the Heart of Midlothian in front of St Giles Cathedral.
The heart marks the site of a 15th Century prison that was closed in 1817. The heart marks the spot where public executions took place. My daughter heard it was good luck to either stay out of it or step on it. She couldn't remember which. We pondered this for a moment and elected to stay off the heart. Good thing because it is has been a custom for the past 500 years or so to spit on the heart. That's a lot of spittle.
St. Giles Cathedral, or high Kirk of Edinburgh located on the Royal Mile which winds down from the castle, though, is good navigation marker, as is the tower on our hotel. It is also a beautiful Episcopalian church with regular music programs. We took refuge from the rain inside (yes it rains frequently but briefly…nice opportunity to sport your Burberry) and were lucky enough to catch a choral concert.
Savvy vacation at The Balmoral tip #7:
Celebrity spotting Before you leave indulge in some star gazing at the Balmoral Bar, named Bar of the Year at the 2013 Scottish Hotel Awards. They pride themselves on shaking and stirring cocktails to perfection. (Bond would be appalled!) Not surprisingly The Balmoral plays host to a steady parade of celebrities from JK Rowling and Oprah to movie stars and even a pope.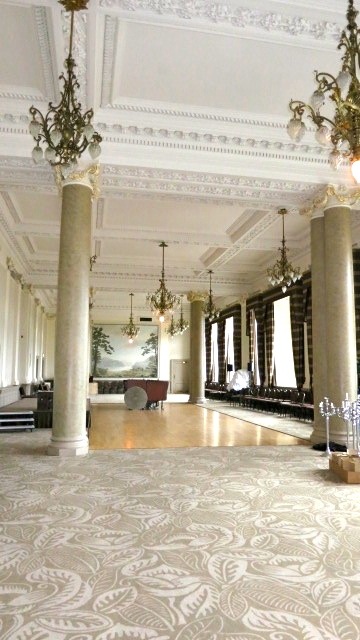 If you aren't in the mood for fine scotch or a great pint as they say, try some scones and champagne at high tea in the renowned Bolinger Bar in the Palm Court. Also, make sure to try the award winning, fine-dining restaurant Number One featuring creations by executive chef, Jeff Bland.
Savvy Balmoral tip #8:
It's a bit sad leaving. You will wish you had had just one more spa treatment but there is just so much to see and do. Obviously a return trip will be required.
Want more spa? Read The Spa and Spa Travel