This post may contain affiliate links.
Here's my review of the glittery Hotel Le Crystal Montreal, one of the city's top luxury hotels
The curious thing about crystal
Here's a curious thing about crystals (and this is scientific speak not New Age speak). Crystals produce an electrical charge when compressed. It's called the piezoelectric effect.
Here's a curious thing about the Hotel Le Crystal Montreal. It's energizing and electrifying, and I didn't even need to compress it. I just needed to sleep there for three nights. This is called the Hotel Le Crystal effect.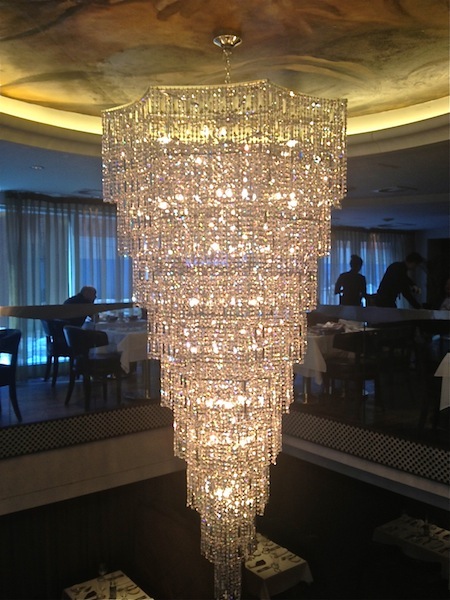 A hotel that glitters isn't gold – it's crystal
It's not called Hotel Le Crystal for nothing. There are chandeliers in the lobby, the restaurant and the spa and probably a few other corners I didn't get to.
Magical crystals
For people who believe in the healing power of crystals, this means the Hotel Le Crystal is a place where you could conceivably realign your chakras, centre your energy, and protect yourself from negative energy.
For a girl who just loves bling, it's sparkling, pretty and conveniently close to Ogilvy, my favourite department store in Montreal.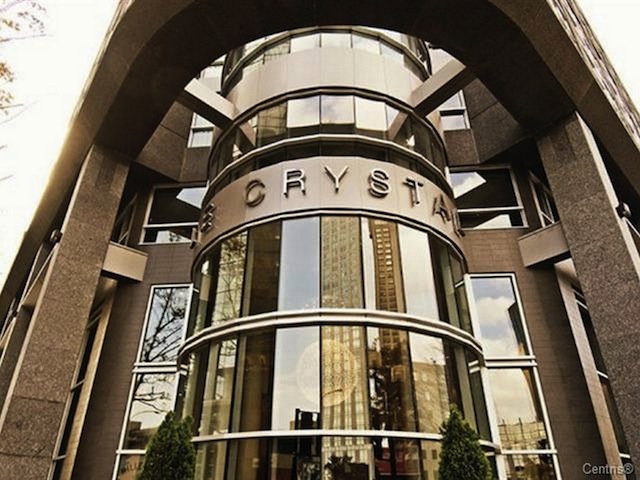 From crystal to diamonds
But crystals aren't haute enough apparently. The Hotel Le Crystal in Montreal has upped the ante and introduced their Diamond Collection Experience – a new category of suites, executive suites and penthouses that feature oversize flatscreen TVs (plus a second flatscreen TV at the foot of the bed that my 6'3″ husband accidentally kicked twice while sleeping. But don't worry! No harm done!).
Diamond Collection Experience
Other Diamond features include deluxe bedding, ultra comfy robes, toiletries by fancy-pants British company Molton Brown and desk stationery that includes a notebook and diamond-tipped pen. Wait – there was a diamond tipped pen? If I'd realized I would have stolen, er, I mean used it sparingly while I was there.
Suites at the Crystal
Our 10th floor suite was huge, with neutral tones and big banks of windows. And a balcony. There were two bathrooms, a kitchenette with a Nespresso coffee machine and a monstrously huge bathtub with a city view.
I like a hotel that gives presents
Oh, and you get treats every night on your pillow. Unfortunately I'm trying not to eat sugar, but when I saw the maple fudge candies one night I had to eat them. And then I saw the jellies so I had to eat those too, and then I saw the … well, I didn't eat the lip balm – at least not all of it – so at least that shows some restraint. But I did eat arctic char at the hotel's Parisian-inspired La Coupole Restaurant.
Hotel Le Crystal's liquid side
My favourite part of Hotel Le Crystal is the outdoor hot tub on the 12th floor. I love it! I love it so much I want to eat it. (Just as soon as I finish the lip balm.) What a view of Mount Royal.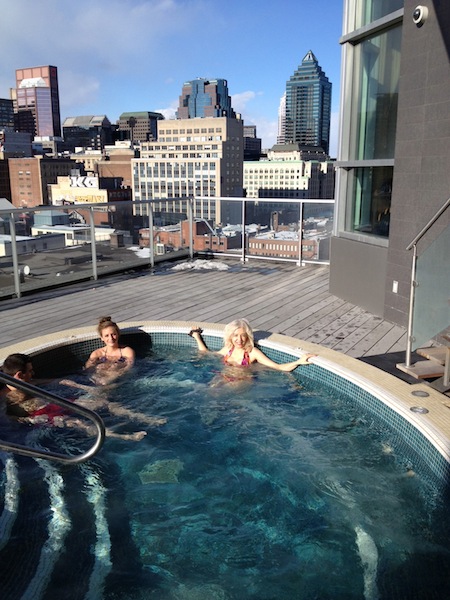 Mark, the aforementioned husband, prefers the sauna and saltwater swimming pool to the outdoor hot tub. But I say men know nothing. They probably don't even know the benefits of a Valmont Signature Facial, which is why I had one at Le Crystal's 9,000 square foot Amerispa and he didn't.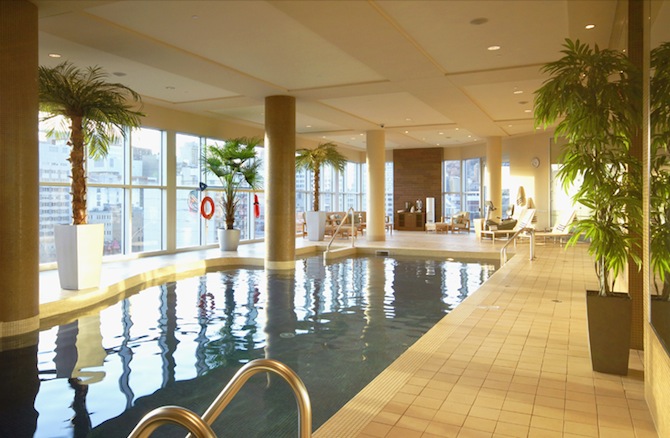 Another feature of the Diamond Collection Experience is a personalized concierge service. I tried to make use of this as much as possible by asking for a good coffee shop in Old Montreal, a good coffee shop near the hotel …, a good coffee shop in … well, you get the picture. And now I've had too much caffeine.
Top Montreal location
The Hotel Le Crystal has a stellar location on de la Montagne Street. It's half a block from the shopping street, St Catherines, and just across the street from the Bell Centre – so keep your eye out for stars who perform at the Bell Centre and eat, drink and/or sleep at the Hotel Le Crystal. I won't mention names (but that's only because no one would tell me any).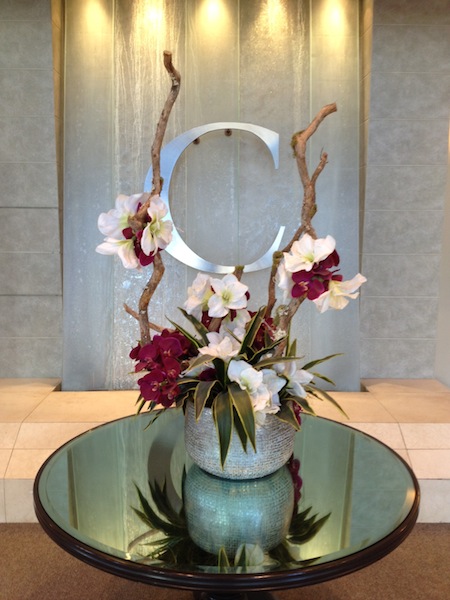 Other hotel perks
1) The Hotel Le Crystal has a great business centre with free WIFI, a printer that works and it's open 24 hours a day. As I had a deadline I was there a lot – even though I really only wanted to be in the hot tub.
2) Breakfast in La Couple Restaurant is served until 3 p.m. 3! Finally, a hotel that understands me.
3) The hotel employs an award-winning mixologist so you can get a custom tailored cocktail.
4) Every room is a suite.
5) Did I mention the crystal chandeliers?
Travel tips
The 5-star Hotel Le Crystal is located at 1100 rue de la Montagne, Montreal. 1 877 861 5550.
Good for: couples, tourists, business travellers and people who like shiny things.
Read more Montreal travel ideas: