Montreal has a fascinating history when it comes to the King's Daughters, les Filles du Roi, women who came over from France to marry and help settle Quebec. While most went to Quebec City, this article reveals the lives of the King's Daughters in Montreal, and how it contrasts with life in the city today.
The King's Daughters in Canada
Gliding over the ice, I look up from the rink in Old Montreal and see a giant Virgin Mary looming over the Chapel of Notre-Dame-de-Bon-Secours, her arms outstretched over the harbour. The Leonard Cohen song "Suzanne" describes her as honey coloured, but on this biting afternoon she's more a frosty steel silver.
And I wonder: Is this the view the King's Daughters (les Filles du Roi) saw in Montreal saw, too?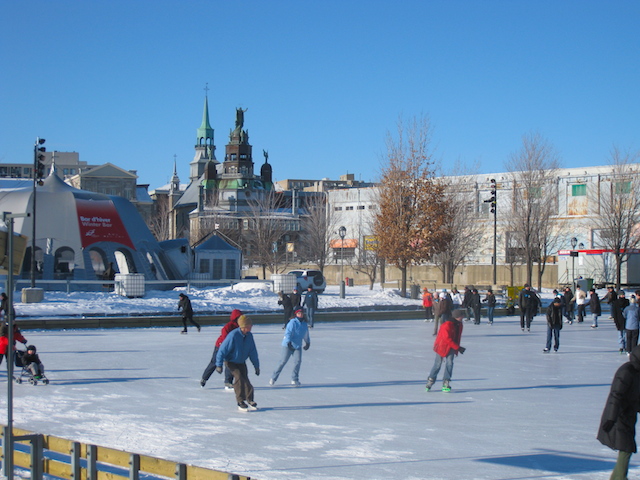 New France and Soho-style chic meet in a clash of King's Daughters history
A winter weekend in Old Montreal may require long johns, but it's still a chance to enter a parallel universe where New France history and Soho-style chic merge. Take skating, for example. With Coldplay blasting over the loudspeaker and a skate-up Winter Bar, the Quays Skating Rink has an edgy contemporary flair. Yet, this is a sport with a past – it was brought over by Canada's early immigrants.
That's not the only historic custom I'm reliving. As an unmarried woman visiting Old Montreal, I'm following a 346-year old tradition.
The Filles du Roi come to Quebec
From 1663 to 1673 more than 700 eligible women sailed to New France to be married off in a bid to populate the colony. These Filles du Roi, the King's Daughters, were so named for the financial sponsorship of the French King Louis XIV.  Some had education and money. Others were orphans, seeking a way out of poverty. All must have shared the spirit of adventure.
King's Daughters in Montreal
Most of the King's Daughters disembarked in Quebec City, but the ones who continued on to Montreal, then called Ville-Marie, likely found themselves under the wing of Marguerite Bourgeoys, Canada's first female saint. Not only did she establish the original Chapel of Notre-Dame-de-Bon-Secours but also acted as guardian to the King's Daughters, training them for life in a wild frontier.
Unlike the King's Daughters, who often got hitched within days or weeks of arrival, I'm just here to have fun. Then again, I don't have an eager cluster of men offering themselves up.
I do, however, have a date, Mark, who is a much better skater than I. If he were an early colonist, perhaps one of the Carignan-Salières Regiment who came in 1665 and stayed on as a settler, I doubt I'd be his first choice of bride. City girls were proving unsuitable, prompting Jean Talon, the French King's representative, to request "strong, intelligent and beautiful girls of robust health, habituated to farm work."
No, I am NOT habituated to farm work
Forget farm work. My ears are freezing off from a few rounds on the rink. I start looking over to the tented Winter Bar to see if it's open yet. I may not have a 50 livres dowry from the king like the King's Daughters (or more if I were a filles de qualité), but I can offer Mark a cup of hot chocolate at an illuminated bar that glows like a blue slab of ice.
The Winter Bar makes a cold day of skating better
Once I've warmed up, I'm ready to explore. I consider visiting Maison Saint-Gabriel, the farmhouse turned museum that once housed the Filles du Roi but that would mean leaving the neighbourhood. Instead, I visit Marguerite Bourgeoys' tomb at Notre-Dame-de-Bon-Secours and the adjacent museum of her life.
Exploring Old Montreal
Then, bypassing the tourists at Place Jacques-Cartier square I head west where there's a more urban local vibe, and streets like rue McGill with its animated bars and restos show the regeneration of this once-neglected neighbourhood.
At the Pointe-à-Callière Archaeology and History Museum, built over the foundations of the original Ville-Marie Fort, I descend into history. Literally. On a dim lower level the excavated site of Montreal's first Catholic cemetery, while predating the King's Daughters, still brings home how fragile life was. Many of the women thrived, outlasting a number of husbands; others died from disease, in childbirth or were killed by the Iroquois.
No, I am not habituated to churning butter and skinning muskrats
Life was chancy and daily chores a grind. Thankful that instead of churning butter and skinning muskrats I can reap the benefits of the colonialists' tradition of good cuisine, I spend the rest of my weekend eating through Old Montreal, where a number of boutique hotels have infiltrated the area's historic buildings.
At Aix Cuisine du Terroir in the gorgeous stone Place d'Armes Hotel local cuisine goes haute using Quebec's freshest produce. Over a quiet brunch at the Hotel Gault, I soak up the minimalist décor that sets off the exposed brick and original cast-iron columns of this former textile headquarters.
It's exactly this fusion of heritage and hip that makes Old Montreal so seductive – with or without a contingent of eligible bachelors.
Montreal travel tips
Getting to Montreal by train is relaxed and easy.
Where to stay in Montreal: The venerable Fairmont Queen Elizabeth Hotel is conveniently located right over the train station. For something with bling, try the glam Hotel Crystal.
Spending just a day in Montreal? Here's the perfect one day in Montreal itinerary.
Dive deeper, and explore Montreal's Stained Glass Mysteries.
Read more about Canada: For more about travel to Canada visit my Things to do in Canada article. Happy planning!