This post may contain affiliate links.
Cold? Shivering? Facing the winter blahs? Cheer up and make this winter a wellness winter. For the lowdown on some of the best winter spa resorts and top global escapes I harassed badgered courteously asked spa expert, Anne Dimon, editor of TravelToWellness.com, to share her top luxury spa picks for winter.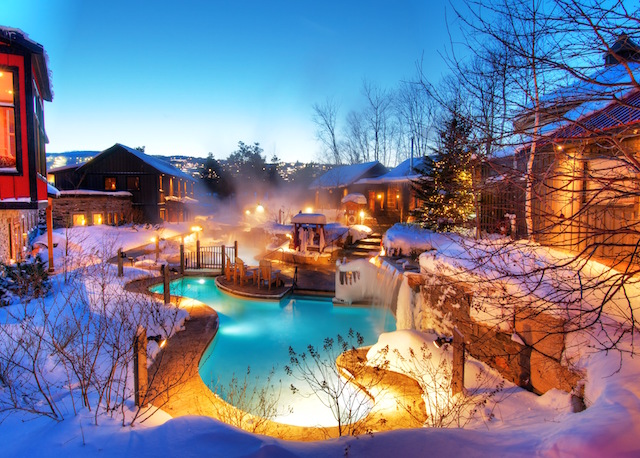 Anne, thanks for sharing some of your expertise. What are the best winter spa resorts to run off to?
Think big, fat snowflakes falling on your head as you enjoy a therapeutic soak in an outdoor hot tub. Think of yourself stepping out of a steamy sauna and into a cold plunge or taking a hasty roll in the snow. My favourite cold weather winter spa resorts are the Nordik-style nature spas – a combo of indoor/outdoor spa facilities that allows you to not only embrace the cold and snow but benefit from the therapeutic taking-of-the-waters.
My Canadian favourites include the riverfront Scandinave Spa Mont-Tremblant in Quebec, Nordik Spa Nature just a short drive from Ottawa on the Quebec side of the border, and Scandinave Spa Blue Mountain in Ontario.
What is one exotic spa destination you'd personally like to visit and why?
I've heard a lot of great things about Fivelements in Bali, and Bali is a destination that is on my personal bucket list. I love the fact that the retreat is surrounded by nature, offers traditional therapies from authentic Balinese healers, has a food philosophy centered on living foods and the owners are sustainably minded.
I also like that Fivelements is a luxury boutique property with educational workshops and sessions. Of course, Bali itself is perceived as a "wellness destination" and it's on the Travel to Wellness list of Top Wellness Destinations for 2014.
Where are the best spa resorts for healing and boosting immunity during winter?
There are so many great destinations with programs that offer all the ingredients needed to boost one's immunity. Things like nutritious foods, an environment conducive to adequate sleep, stress management yoga and meditation programs, opportunities for fitness activities a natural setting.
Two of the best spa resorts for wellness
Two of my favourites destinations for an immunity boost are Mii amo in Sedona and Red Mountain Resort in St. George Utah and for the same reason – the incredible hiking in the surrounding red rock canyons. An activity like hiking – good for body, mind, soul – is a natural boost to the immunity system.
What is one of the best winter spa resorts for skiing?
Willow Stream Spa at the Fairmont Banff Springs Hotel is a classic winter spa resort in a classic ski destination.
What's your absolute must see new spa destination?
Absolutely the Mandarin Oriental, Marrakech scheduled to open in the first quarter of 2015. The Mandarin Oriental is on my list of Top Hotel Brands plus Marrakech is on my list of cities that I want to revisit so it's a perfect combo.
About Anne Dimon
A professional travel writer and industry journalist for the last 20 years, Anne Dimon is founder and editor of the 10-year-old online magazine www.TravelToWellness.com. She is considered a wellness travel expert and is often asked to speak at consumer/trade events such as the New York Times Travel Show.
Want to learn more about spas and wellness? Check out The Spa and Spa Travel