This post may contain affiliate links.
I'm sitting on a bench, chatting to my mother while soaking in the warm pools at Manitou Springs in Saskatchewan on the shores of Lake Manitou. Suddenly I notice my mother rising up from the bench and floating away. Yes folks, my mother can levitate. At least she can a Lake Manitou, Saskatchewan's mysterious spa waters.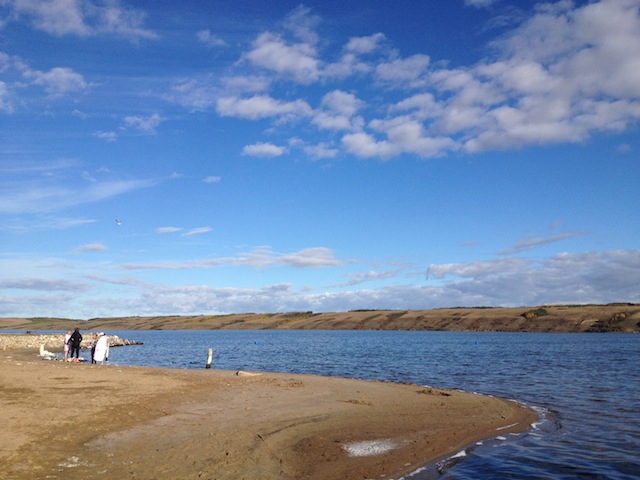 Buoyant waters
At first I think my mother is doing this for fun, or because she's secretly been a mystic all these years, then I realize she's so buoyant she can't stop herself.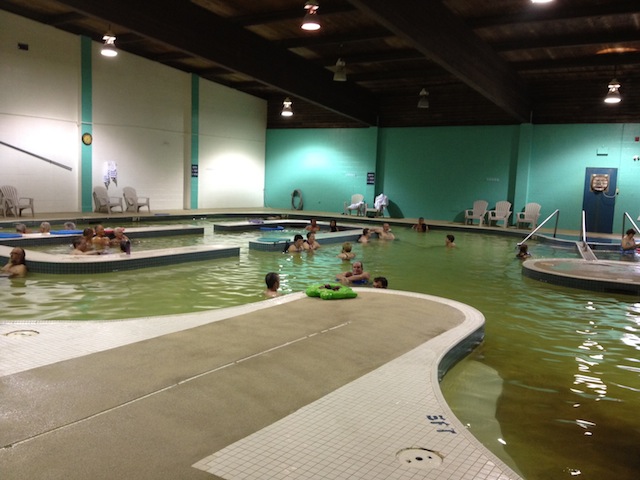 It's not often you have to hold your mother down with one finger while chatting, but that's what these crazy cool springs at Lake Manitou just outside the town of Watrous, Saskatchewan are like.
The source of the mysterious spa water
The water comes from Lake Manitou. Of course you can soak in the lake but because it's Saskatchewan in the fall, we preferred to soak in the warm pools at the Manitou Springs Hotel & Spa across the street.
About the Lake Manitou healing water
The water of Lake Manitou is so dense with salts and minerals it has a specific gravity 10% higher than regular water. And that means it's fun. Stephanie, my niece, and I perfected the art of sitting cross-legged in the water, pretend bicycling, skipping and bouncing all without touching the ground.
But we weren't at Lake Manitou to have fun (okay, we kind of were), we were here to experience the healing effect of these strange and legendary waters said to have healed left-for-dead Cree warriors during a terrible smallpox epidemic. The water has been revered ever since.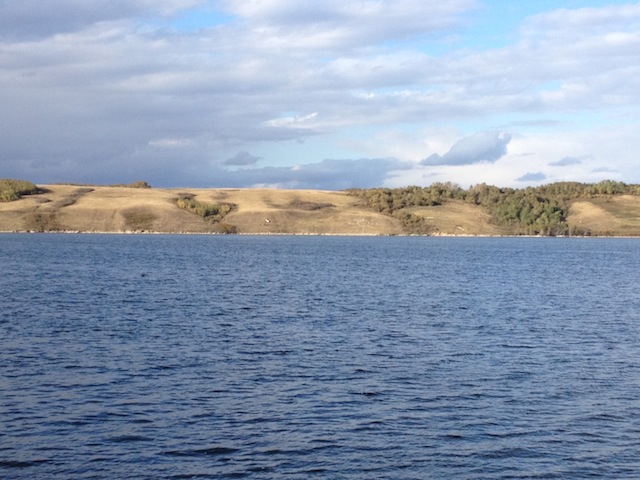 Canada's best kept spa secret
The water in Lake Manitou is comparable to the Dead Sea in Israel, only it's in Saskatchewan, so much easier to travel to for Canadians.  It's also much less famous. It contains, among other things,  magnesium, sulphate, potassium, calcium, silica, sulphur and oxide of iron. This means it's good for things like skin problems, allergies, aching joints and the immune system.
Hearsay
Locals tell me about Charlie, a man who came here in a walker, soaked, moved here permanently and now hits the dance floor regularly at Danceland, the 84-year old dance hall on the banks of Lake Manitou. Congratulations, Charlie!
The water also makes you cheerful. This is my conclusion after a two-day scientific study involving two sisters, one niece, on nephew, one floaty mother and me. Am I a good researcher or what?
The history of Lake Manitou
Here's some real history. In the 1920s Lake Manitou was a popular resort destination and people flocked here for the water, calling it the 'Carslbad of Canada'. (FYI: Carslbad, or Karlovy Vary, is a famous spa in the Czech Republic.) In 1933 the first medical clinic was opened. While Manitou's popularity declined over the years, the recently renovated Manitou Springs Hotel & Spa is giving it a great boost, so let the legend of the mysterious Manitou water rise again.
Travel tips for Manitou Springs Hotel & Spa
Price: Rooms range from $119.95 to $169.95, pool admittance included
Getting there: Lake Manitou is 110 km southeast of Saskatoon and 175 km northwest of Regina. Bus packages are available.
Address: 302 McLachlan Ave., Manitou Beach, SK Tel: 1-800-667-7672
Want more spa? Read my The Spa and Spa Travel article.