This post may contain affiliate links.
Guide to Angkor Wat Sunrise, Sunset and Everything In Between
Visiting Angkor Wat in Siem Reap, Cambodia, might just be the best trip you'll ever take. The Angkor Wat sunrise is spectacular, and the sunset is breathtaking. 
What about during the daytime? That's when you can really cover some ground.
However, Angkor Wat is huge, glorious and complex. And you probably have some questions about the best way to see it.
Where do you go to see the sunrise? What are the best sunset spots? Where do you go during the day?
Don't fret. Here are all the tips you need to experience this amazing bucket list destination the right way.
You'll learn where the best Angkor Wat sunrise and sunset spots are, what the must-see temples are, and when is the best time to see them.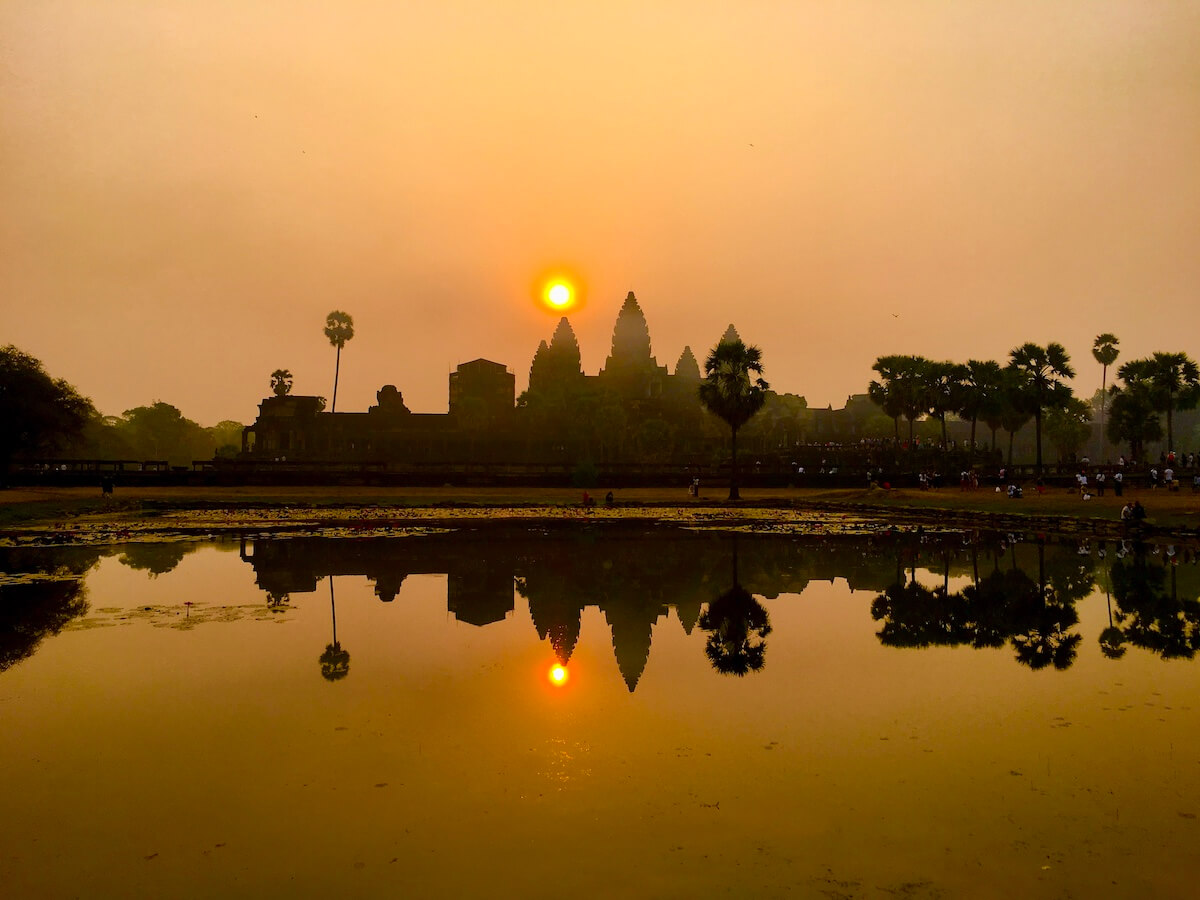 Something You Need to Know About Visiting Angkor Wat
Here's something you need to know when planning your trip.
Visiting Angkor Wat does not mean visiting Angkor Wat.
Say, what? Let me explain.
Angkor Wat is only one temple in the vast Angkor Wat Archeological Park, also sometimes called the Angkor Wat temple complex.
To make it confusing, when people say Angkor Wat they usually mean the entire complex.
The Angkor Wat complex covers 400-square-kms. It's a site full of fantastical temples, terraces and moats, and monkeys and jungle.
My husband and I spent 6 days there, more than most tourists, so we learned a lot about where to go and when to go there.
There are only certain temples open early enough for the sunrise and others late enough for the sunset, so here's everything you need to know.
About Angkor Wat
First, some facts. Angkor Wat is the largest religious monument ever built – not to mention one of the most historical places in the world.
Situated in northwest Cambodia, 4 km outside the city of Siem Reap, the temples at Angkor were built during the Golden Age of the mighty Khmer Empire.
They were constructed between the 9th and 13th centuries, and their origins go back to a king named Suryavaram II who was devoted to the Hindu god Vishnu.
Earlier Hindu temples gave way to Buddhism over the years, and some temples are still used by Buddhists today.
Guide to Angkor Wat Sunrise Viewing
Angkor Wat is an iconic sightseeing destination that's hard to pass up – although when you've been traveling for awhile, it might be hard to get enthusiastic about getting up at dawn for the sunrise.
After all, Angkor Wat is spectacular during the day and at sunset, too, and you can go there any time of day.
"Do we really need to do it?" I asked Mark. "Is it worth doing Angkor Wat at sunrise?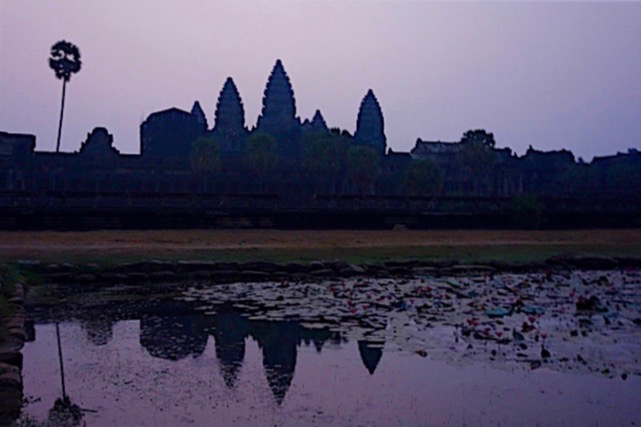 Is Sunrise At Angkor Wat Worth It?
"No," Mark said, looking as if he couldn't think of a worse way to ruin a morning.
I understood. I avoid sunrise tours as much as humanly possible. Here's why:
It seems as if every iconic bucket list destination has a must-see sunrise spot waiting to grab you. After awhile, it seems like tourist hype.
If you decide against the sunrise viewing, however, it leaves you to face the condescending looks of other travelers when they eagerly ask if you crawled out of bed to see the sun raise its glowing head over (insert famous sunrise spot here).
So, here is the first question you need to ask yourself when you arrive in Siem Reap: Should you get up to see the sunrise at Angkor Wat?
The answer is yes.
Why You Need to Experience an Angkor Wat Sunrise
Angkor Wat's spiritual and ethereal qualities are magnified in the morning light, and the colors are magnificent.
Seeing this UNESCO World Heritage Site at dawn is not simply a moment, it's an event, and something you won't soon forget.
After all, a sunrise in Angkor Wat is one of the most famous sunrise spots in the world.
In the end, Mark said yes to a sunrise Angkor Wat excursion knowing if we didn't, I would blame him forever.
(He was right, even though I didn't want to get up either.)
So yes, by all means, get up at 4:30 a.m. to get there in the dark. You will be joining every other tourist in Cambodia, but good things will happen:
You will see the sunrise at Angkor Wat.

You will not suffer from FOMO (Fear of Missing Out) for the rest of your life.

You will not ruin your marriage by blaming your husband for your YIMO AIAYF (an acronym I just invented that mean Yes I Missed Out and It's All Your Fault)
Angkor Wat Sunrise Best Spots
In Top Place Is The Main Temple at Angkor Wat
The best sunrise spot is in front of Angkor Wat Temple, in front of the reflecting pond. Expect crowds.
From where the tuk tuk drops you, walk across the boardwalk over the moat and turn left.
Photos are prettiest in front of the pond, but you'll have to jostle for space. People recommend taking a flashlight but we didn't bother.
Don't Make This Sunrise Viewing Mistake at Angkor Wat
The crazy thing is that once it was light, tons of people left.
Instead of leaving, Mark and I wandered around the temple, went back to the pond, and the sun was still rising spectacularly over the temple.
This is when I got the best shots of all. My advice? Linger.
☀️ Travel Tip: If your hotel comes with breakfast you can take it to go and picnic there.
The Second Angkor Wat Sunrise Best Spot – Srah Srang
Srah Srang, known as the Royal Bathing Pool, is a large pond, almost like a lake. It's a popular Angkor destination for sunrises, though not nearly as must-do as Angkor Wat Temple.
Note: The Srah Srang sunset is also beautiful.
The pond has weathered steps and elaborately-carved stone rails lined with animal motifs that lead down to the water, and the reflection of the changing morning colors is a draw.
Less crowded at sunrise than Angkor Wat itself, pretty Srah Srang offers a more contemplative visit than the circus at Angkor Wat.
Two More Options for Sunrise at Angkor Wat
There are two other temples open at 5:00 a.m. for sunrise seekers, Phnom Bakheng and Pre Rup.
Phnom Bakheng is a temple mountain dedicated to Shiva, and Pre Rup is a temple probably used for cremations.
Traditionally both historical temples are more considered sunset destinations, but go at 5:00 a.m. and you'd certainly escape the crowds.
What Temples Are Open For Sunrise at Angkor Wat?
While, generally the temples are open from 7:30 a.m. to 5:30 p.m, these are open at 5:00 a.m.
Angkor Wat Temple
Srah Srang
Phnom Bakheng
Pre Rup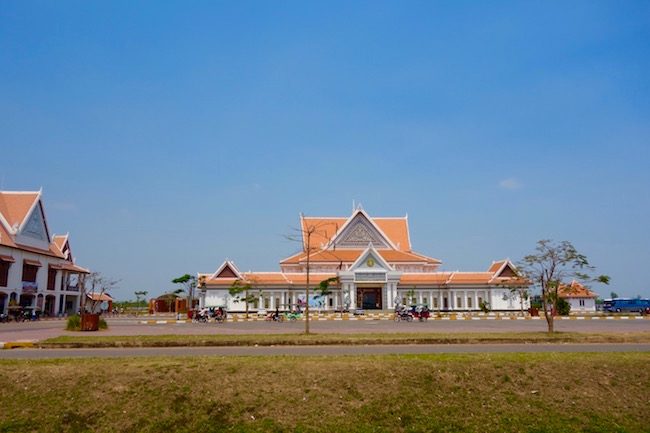 How to Get Tickets for Angkor Wat Archeological Park
To see the sunrise at Angkor Wat Temple you must have a park entrance ticket, and let's face it, 5:00 a.m. is not the time to be queuing up in a ticket line.
For one thing, if you do that you'll miss the sunrise, and wouldn't that be a drag?
If you're buying your ticket in person Siem Reap, make sure to get it at least by the afternoon before.
You can buy your tickets online or in Siem Reap once you get there. I'll tell you how to do both.
☀️ Travel Tip: The ticket office is not at the park and it's not in central Siem Reap. It's on Aspara Road, somewhere in between and down a road to the right. It's about 15 minutes by tuk tuk from Siem Reap.
Buying Angkor Wat Admission Tickets Online
If you buy your tickets online, they can be delivered to your hotel the night before, and you won't have to make the trek out to the ticket office or wait in a long lineup.
It is more expensive, but you won't have to take a tuk-tuk out to the ticket office which is a fair distance away.
☀️ Travel Tip: To buy a ticket online you will need to email a photo of yourself.
Book Angkor Wat Entrance Tickets online.
Buying Angkor Wat Admission Tickets in Person
If you want to get your tickets in person like we did, here's the drill. The ticket office is open from 5:00 a.m. to 5:30 p.m.
It will take you about 15 minutes in a tuk tuk to get there.
You can buy an Angkor Pass for 1 day, 3 days or 1 week. Entrance tickets cost:
Angkor Day pass: $37 USD

Angkor 3-day pass: $62 USD

Angkor 1 week pass: $72 USD
How Much Time Do You Need at Angkor Wat?
It depends on how in depth you want to get.
If you want to whip through the highlights, you can see the sunrise, tour temples all afternoon and catch the sunset in one day. It wasn't enough for us. The more we saw, the more we wanted to explore.
If you're not sure how long you'll be in Siem Reap, buy the longest pass you might need.
We liked touring Angkor Wat so much we spent 6 days there instead of 3. Because of our last minute decision to see the sunrise we had to buy an extra day ticket just for that morning.
Guide to Seeing the Best Angkor Wat Sunsets
Just as at sunrise, at sunset Siem Reap is beautiful with a mystical atmosphere.
There are two places where everyone goes to watch the sunset: Phnom Bakheng, a temple mountain, and Pre Rup, a temple probably used for cremations.
They weren't our favorite Angkor Wat sunset places at all.
As Mark said to me after our first night, "What's the point?"
The problem is that from these so-called top Siam Reap sunset viewing locations you're watching the light fall over the jungle past the heads of a gazillion other sunset seekers.
What we wanted was to see the light fall over the temples themselves, and have them appear all mysterious and glowing.
We wanted to be alone, to feel Angkor Wat's energy, and imagine it as it was so many centuries ago. That's why we started to go our own way.
Even Better Places to See a Sunset in Siam Reap
Our favourite sunset at Angkor Wat moments were accidental, at places that weren't crowded at all.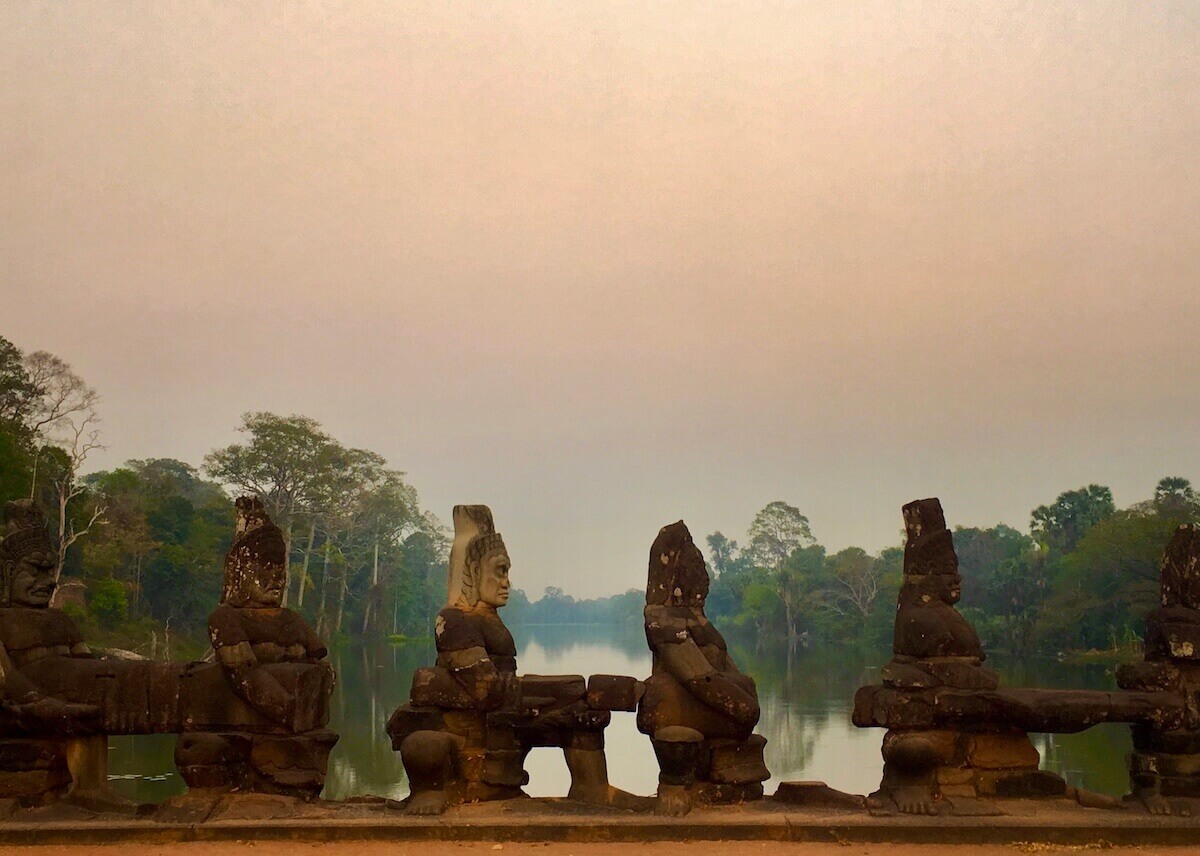 Sunset Along the Causeway
One of our favorite sunset moments was walking along the causeway that crosses the moat to Angkor Thom. It was a sunset spot we stumbled on by accident.
Why you should love the causeway: Because the statues along it are devas (gods) and asuras (demons) who are, according to Hindu mythology, Churning the Ocean of Milk.
Sunset at Neak Prean
We also loved sunset at the boardwalk at Neak Prean as the surrounding lake turned peach gold.
(Actually, I loved it. Mark was either suffering from temple fatigue or doesn't appreciate a good sunset.)
Is Pre Rup the Angkor Wat Sunset Best Spot?
Not for us. In fact, our least favorite sunset moment was at Pre Rup, where we went specifically to see the sunset. There were too many people to be able to relax.
Lesson learned: Embrace the accidental at Angkor. It trumps the traditional way to tour Angkor Wat every time. (Okay, only some of the time. Whatever.)
What Angkor Wat Temples Are Open For Sunset?
Most temples at the park close at 5:30 but to feed sunset hungry tourists like us, Phnom Bakheng and Pre Rup are open until 7 p.m.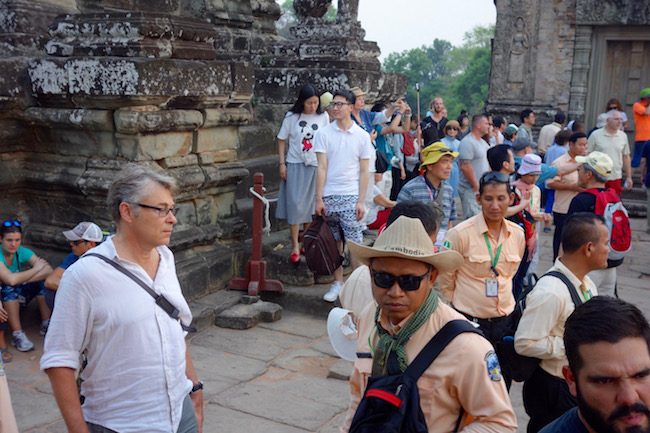 Angkor Wat Sunset or Sunrise?
Both sunrise and sunset at Angkor Wat are stunning, so  do both if you can. The sunset is more relaxed, but the sunrise is certainly worth the early start.
Generally, experiencing an Angkor Wat sunrise is more of a bucket list thing.
It's more exciting, more of an adventure, while the sunset is a tranquil (depending on your capacity for crowds) way to end your day, like the end of a fabulous movie that you'd love to watch again.
Either way, wandering between the temples while the sun rises or sets over Angkor Wat is a once-in-a-lifetime kind of experience; the jungle and the temples have intertwined to create a truly breathtaking space.
Between Sunrise and Sunset: Best Temples to See During the Day
The Big Three temples you cannot miss are Angkor Wat, Bayon, and Ta Prohm.
Even if you've seen the sunrise in Angkor Wat from a distance, you'll want to take a closer look.
Angkor Wat
Surrounded by a moat, the temple of Angkor Wat is renowned for its stunning Khmer architecture.
It's designed in the form of a massive temple-mountain, representing Mount Meru, the home of the gods in Hindu mythology.
Angkor Thom
Angkor Thom, just north of Angkor Wat, is an entire ancient city with Bayon, the famous Face Temple, smack in the centre of it.
For more info visit my Bayon Temple article. At one time Angkor Thom was the largest city in the world, with more than one million inhabitants.
Ta Prohm Temple
Ta Prohm is overgrown and known as the Indiana Jones Temple or the Tomb Raider Temple because it featured in the Indiana Jones and the Temple of Doom movie.
Ta Prohm is 1) crowded and 2) very atmospheric with strangler fig roots slowly squeezing the life out of the shored-up stone walls.
How to Get Around Angkor Wat Archeological Park
I don't advise walking to Angkor Wat from Siem Reap. You'll be doing plenty of walking within the temples and terraces.
You can get there from Siem Reap by car, tuk-tuk – like a motorized rickshaw – or bicycle.
Going by tuk-tuk is, to my mind, absolutely the best way because it's so much fun.
By car, you're too removed, and with a bike, you have to contend with the traffic getting there – though once you get to the park it would be lovely.
Trust Your Siem Reap Tuk-Tuk Driver to Know Where He's Going
Tuk-tuk drivers know the drill.
They know where to buy tickets, where to take you (even when you don't know where to go) and will patiently wait for you while you trip around the various temples.
They also, importantly, somehow always seem to be able to spot you out of a crowd. But just in case, take note of your pick up spot plus their tuk-tuk number.
We used 3 different tuk-tuk drivers, and all were fine. They're everywhere in Siem Reap, so you can pick one that you like.
Obviously, if they try to overcharge you, avoid them.
Know, however, that they will probably want you to visit a high-end artisanal souvenir shop. What the heck. Go ahead. You don't have to buy. Or you can just say no.
How to Avoid Crowds
Crowd avoidance at Angkor is vital, though sometimes you'll collide head-on with a million tour groups no matter what you do.
When we visited the temple of Angkor Wat at lunch hour, when the heat is at its worst and most of the tour groups are having lunch, it was practically deserted.
The downside is that, for photography, the colours are a bit washed out.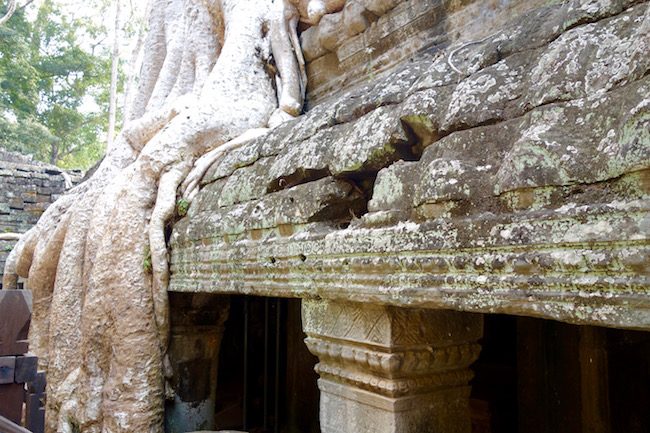 Insider Tip: Do not try to avoid the crowds at a jam-packed temple like Ta Prohm by going the opposite way of the signs that say 'Possibility of a Visit' – even if your husband insists on it.
if you do you'll end up battling the masses to get through narrow doorways and up tricky steps the whole time.
You might, however, want to do the Angkor Wat Circle Tour the opposite way. Many travellers recommend this as a good crowd-avoidance strategy.
What is the Angkor Wat Small Circle Tour?
Most Angkor travel guides recommend this popular circuit around Angkor, which generally moves clockwise, stops at the top sights and starts at Angkor Wat.
Because Mark and I never manage to do anything right, and because we had more time than most, our tours were piecemeal.
Sometimes we'd visit one temple, come back, lie by the pool, then when it was cooler in the later afternoon we'd head out again for another temple or two and the sunset.
The Best Time of Day to Visit Angkor Wat
Absolutely our favourite touring time was from about 3 or 4 p.m. onwards when the light is better and the heat is less intense. Plus, then you're there for sunset.
Don't Stick to the Top Sights
I have a lot of favourite moments at Angkor, and most of them involve visiting sights that were off the beaten track. One of the most important Angkor Wat travel tips I can give you is to stray beyond the Big Three.
One standout was a late afternoon duo of Preah Kahn and Neak Prean. First, we visited Preah Kahn, the Sacred Sword Temple, which is just a bit further out, wonderfully jungle-y and full of endless corridors. Also, there were no crowds.
Then we whipped over to the delicate Neak Prean, a tiny gem of a temple surrounded by mystical looking water.
Travel tip: Preah Kahn and Neak Prean are generally included in what is known as the Large Circle Tour.
 Don't Miss Bantaeay Srei
Don't do what we did and skip Bantaeay Srei. If you're staying longer than a day, try to get out to this stunning temple.
Carved from rock with a pinkish hue, it's supposed to be the most delicately and finely-crafted temple of all.
 Rolous Temples
Instead of Banteay Srei, we went to see the Rolous Temples.
Some of the earliest-built temples at Angkor, they're about 45 minutes away by tuk-tuk. We enjoyed them a lot.
I especially loved the petite Preah Ko, the Sacred Cow Temple, with its intricate plasterwork and intimate lost-in-the-jungle feel.
I really regret not seeing Banteay Srei (and will blame Mark for the YIMO AIAYF for the rest of our marriage, even though – as I did all the trip planning it wasn't entirely his fault).
About the City of Siem Reap
Before I went, I imagined Siem Reap as a collection of atmospheric ruins in the untamed jungle, surrounded by nothing but monkeys, gibbons and a few isolated luxury hotels.
I didn't realize it was the second largest city in Cambodia. It's not overwhelming, however, and has a small town tourist feel.
The gateway to the temples, Siem Reap is a bustling place full of restaurants, bars, markets and hotels for all budgets, including a number of luxury resorts.
FAQs
Is Angkor Wat in Siem Reap? Not exactly. It's about 4 km away.
Essential Angkor Wat Sunset and Sunrise Travel Tips
This brings me to three important Angkor Wat travel tips:
Do not take Cambodian riel out at the ATM. You don't need it. There are

approximately 4000 riel to a dollar

, so if you take cash out, you'll be carrying around millions of riel and probably need a separate suitcase just for your cash. You can use US dollars for everything.
Easy calculation for Cambodian Riel. Take away three zeros, divide what's left by four. (It's not precise but good enough.)
Pin me!
Siem Reap is hot. It's so, so hot. Bring a hat, sunglasses and water. Make the most of the cooler late afternoons.
Obscure shoe tip: Wear runners not sandals. (I know, I know. Fashion crime.) Here's why. Your feet will sweat. You will be walking through paths of red dust. The combination of sweat and red dust in sandals doesn't feel good.
Siem Reap Hotels
A lot of the hotels are a little outside of Siem Reap centre. We stayed at the luxury Park Hyatt Siem Reap, which is smack in the centre so very handy for restaurants and shopping and very sophisticated. It's not cheap.
We also stayed at the Borei Angkor Privilege Floor,which is not central, not as luxe or as pricey, but has a lovely pool area. Food, however, is atrociously expensive. In fact, the food was cheaper at the Hyatt, and the food at the Hyatt is excellent.
If you like colonial hotels, the top of the line would be Raffles.
If you can't afford Raffles, the Victoria Angkor Resort Spa looked lovely too.
There are so many hotels in Siem Reap, so you'll find something for every budget. I'm a Booking.com affiliate so you can check out hotels in the box below.
Siem Reap Restaurants
For some food-related Angkor Wat travel tips visit my where to eat in Siem Reap article.
Getting to Siem Reap
Siem Reap is an hour flight from Ho Chi Minh City, which is where we flew from.
Many take the bus but we didn't want to spend the time. Book early. If you book early enough you can get great deals with Vietnam Airlines. Typically, we booked last minute and paid more than we should have.
Getting a Visa for Cambodia
You can get your visa at the airport for USD $30. Important note: They don't take credit card, although they do take just about any currency in cash. Luckily we had enough Canadian dollars.
Bring an extra passport photo with you for the visa.
Should You Get a Guide for Angkor Wat or Do a Tour?
Well, you probably should, but we didn't. All we had was a pretty skimpy section in a guidebook, so I was desperately googling temples every night and trying to eavesdrop on other people's tours.
The longer you're at Angkor, the more you want to know.
There's no best way to visit Angkor Wat, but a tour can certainly take some of the stress out of it and simplify the process.
A tour can also be really interesting – you'll get a chance to hear some facts, stories, and history that we didn't have access to.
If you decide that you're keen to take a guided tour of Angkor Wat, there are plenty of options for you to choose from. This Angkor Wat full-day tour offers great value for money and includes an Angkor Wat sunrise tour.
If you're after an Angkor Wat Sunset tour, this full-day Temple-hopping experience is an option.
So venture forth, my Angkor-loving friend. And may the fabulous Angor Wat sunrise (or sunset) be with you.