If you're a Tudor fan, there is no better way to explore England than to follow the Anne Boleyn trail in England. Here are some of the best places to relive the tragic but sensational life of Henry VIII's second wife.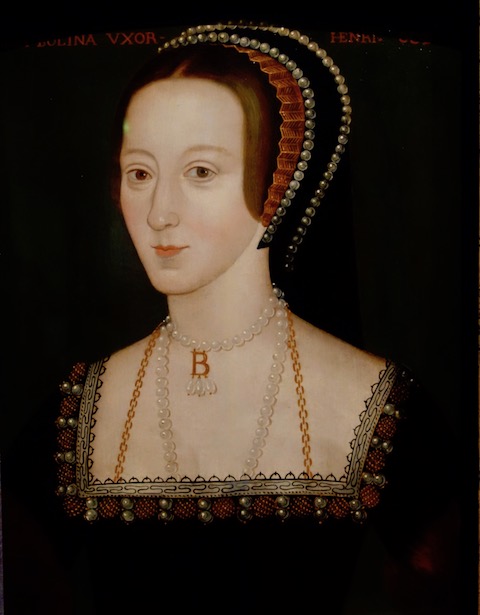 Anne Boleyn in England
So what if Anne Boleyn had six fingers, practiced witchcraft and slept with her brother? Riveting Anne Boleyn, the second wife of Henry VIII, might have been convicted of high treason based on adultery and incest, but her crimes were based more on fiction than fact, the extra finger is debatable, and there's no better way to explore England than by following the Anne Boleyn Trail.
The Anne Boleyn Trail
On a trip to England for my luxury travel blog I decided to indulge myself and create an Anne Boleyn Trail. If you love Tudor art, history, scandal and luxury travel, you might want to recreate all or part of this itinerary.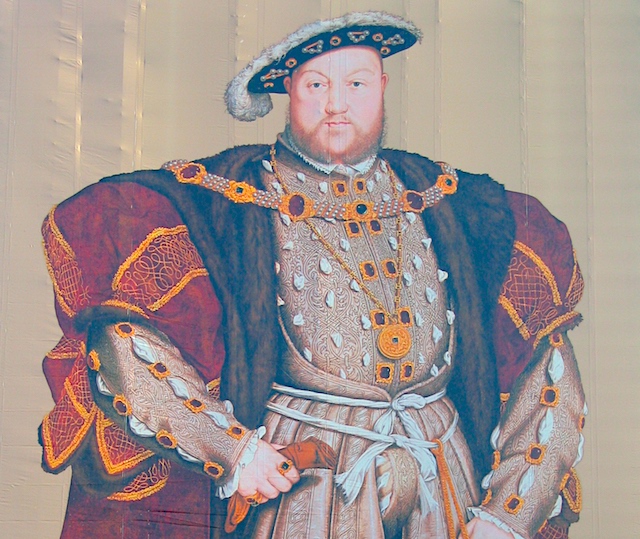 First stop on the Anne Boleyn Trail – the National Portrait Gallery in London
Just around the corner from the National Gallery in London on Trafalgar Square is the National Portrait Gallery – my favourite museum in England. Standing in front of Anne Boleyn's portrait in the dark and gloomy Tudor section, I found it hard to tear myself away. This room is where Tudor history comes alive.
I've long been obsessed by the Tudors (way before the Tudor miniseries made it vogue), seduced by the rich fabrics and exquisite court portraits – so much so that I've painted the top of my coffee table gold in the pattern of Henry VIII's sleeve.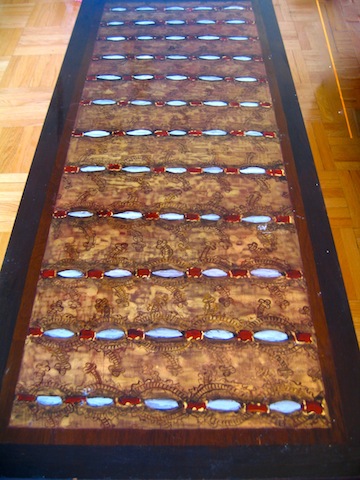 About Anne Boleyn
In particular I'm fascinated by Anne Boleyn. Reportedly she was not so much beautiful as striking, and seems slightly mysterious.
Educated at the French court, Anne Boleyn was dark-haired, fashion forward and alluring enough to cause Henry VIII to break with the Pope and establish himself as head of the Church of England – all so he could divorce his first wife, Katherine of Aragon, and marry Anne, convinced she would give him a desperately-needed male heir.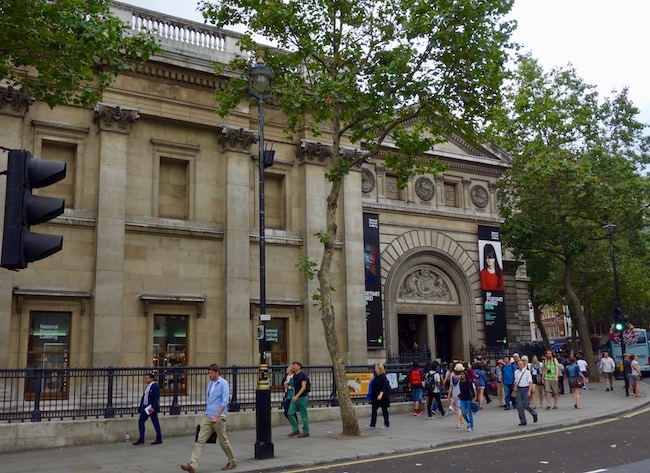 The Tudors – a twisted tale of passion and power
Sounds like a movie, doesn't it? The love affair between Henry VIII and Anne Boleyn is such a shadowy and enduring bit of history, and given the popularity of The Tudors miniseries and the movie The Other Boleyn Girl, its appeal shows no sign of slowing down. The Other Boleyn Girl, based on the novel by Philippa Gregory, explores a new angle, the relationship between Anne Boleyn and her lesser-known sister, Mary, Henry's one-time mistress.
Think about it! Doesn't it blow your mind? Two sisters, one the mistress of the king, and one to later become the wife? No Real Housewives episode can hope to top that.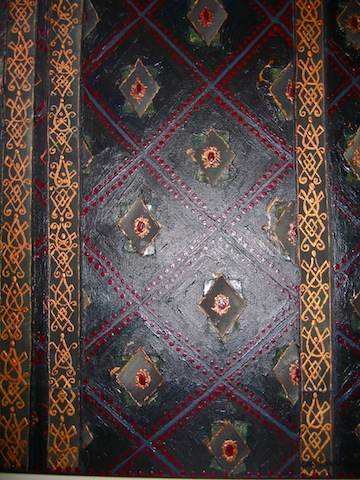 Once you've filled your mind with the amazing portraits by Hans Holbein at the National Portrait Gallery, and are now familiar with the images of the major players (sorry, though, you won't find a portrait of Mary Boleyn here), and – this is especially important – shaken the fictional characters from The Tudors miniseries out of your head, it's time to move on to the second stop on the Anne Boleyn Trail.
Anne Boleyn at Hampton Court
Trying to wrap my head around the affairs, scandalous divorces – and sadly, the horrific beheadings – I travelled on to Hampton Court Palace in Surrey. It's easily accessible from central London by train (35 minutes from London Waterloo Station), and one of the best day trips from London around.
A palace fit for 6 queens
All six of Henry's wives were here at some point, and being here myself it's easy to imagine Henry VIII in his prime, when he was the golden-haired pride of the realm and not yet a portly tyrant. Did Anne Boleyn truly love him? Was she blinded by ambition or pushed into the relationship by her family? We'll never know, but I suspect it was a mix of all three.
Power plays in England were a dangerous game
Hampton Court was originally built for Cardinal Wolsey – if you're at all interested in the man and the Tudor era I highly recommend reading Hilary Mantel's Wolf Hall. The palace was built about 1514. But Wolsey didn't get to enjoy it for long. Perhaps he rose too high, flaunted his wealth too much by creating this glorious red brick showpiece and made Henry VIII just a wee bit jealous. No wonder the British don't like to crow about themselves – see where it gets them?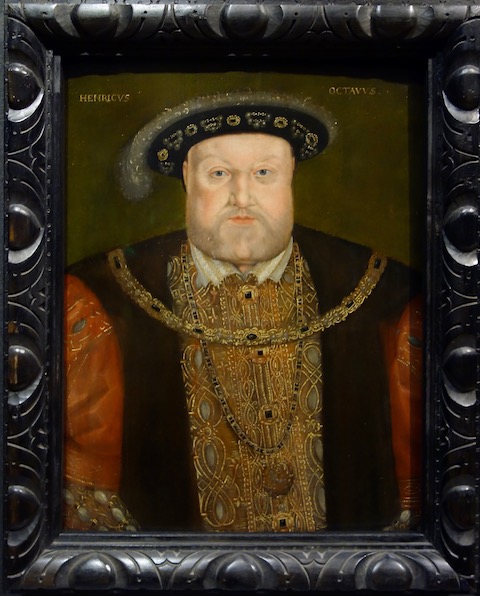 An enemy of Anne Boleyn
It's also whispered that Anne, who felt Wolsey wasn't doing enough to get Henry VIII the all important divorce from Katherine Aragon, which was necessary in order to make Anne Boleyn queen, turned Henry VIII's mind against Wolsey.
Whatever the case, in 1529, when Wolsey fell out of favour he 'gifted' Hampton Court to the the king – though it didn't do Wolsey any good. He was eventually accused of treason, fell ill and died under a black cloud. It just goes to show, getting too close to Henry VIII was a dangerous game. Anne should have taken heed.
A home Anne Boleyn never had time to enjoy
In the end Hampton Court didn't work out so well for Anne either. It was meant to be Henry and Anne's palatial love nest but even before Anne's personal apartments were completed, she'd be in the Tower of London awaiting trial for various (trumped up) crimes. But before we come to the end, let's go to the beginning – Anne Boleyn's childhood home. My very favourite Anne Boleyn site of all.
Anne Boleyn at Hever Castle
Probably the most evocative stop on the Anne Boleyn trail is Hever Castle, so I journeyed to Hever where the three Boleyn offspring, Anne, Mary and George, were raised. Located in Kent, Hever is a jewel of a castle, with a water-filled moat and award-winning gardens. It's surprisingly small, at least by tycoon standards, so when William Waldorf Astor bought it in 1903 he added on a 'Tudor Village,' a series of Tudor-style rooms for guests, now used as group conference facilities.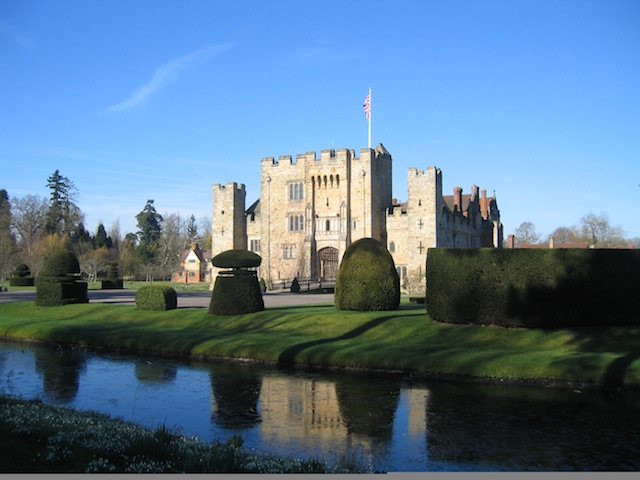 Hanging with the journalists at Hever Castle on the Anne Boleyn Trail
It was my lucky chance that I ended up in England doing my own Anne Boleyn Trail at the exact same time a group of British journalists had been invited to spend the night at Hever Castle, and I was invited to tag along.
I'm not sure if British journalists are just blasé when it comes to castles, since they have so many to look at, or if this particular group wasn't made up of Anne Boleyn fanatics, but I was the only one wandering around bug eyed, gasping, "I can't believe I'm spending the night at Hever Castle! I'm at Hever castle where Anne Boleyn grew up!"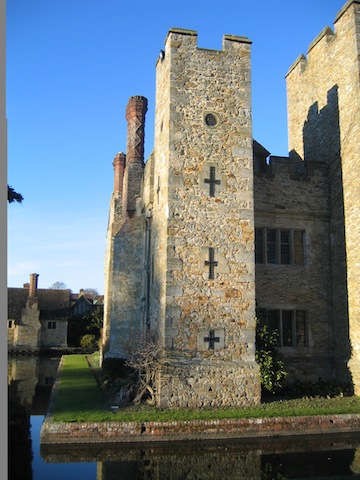 A tale of two sisters
The 13th century castle of gold and grey sandstone is so full of old portraits I felt as if I was being jostled around in a crowded court. But it wasn't enough just to look at pictures of Anne Boleyn and her sister Mary (finally, I got to see a portrait of Mary, who looks almost exactly like the matching portrait of Anne).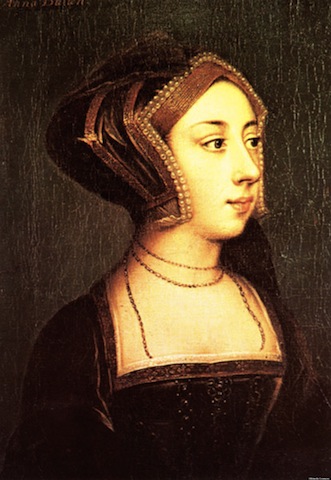 Tudor ghosts
The truth was, and I'm confiding deeply here, I was secretly hoping to establish some sort of connection with the Boleyns. Yes, I know it's stupid. My husband thinks I'm crazy, too. To my disappointment, in the girls' small bedroom with its unusual half-domed ceiling, I felt nothing.
The Boleyn spirit
George Boleyn's room was different. As I stepped into the dimly-lit room, with its canopy bed and original Tudor paneling, I felt a frisson of warmth. A moment of electricity – but wait, that doesn't describe it. Just … a feeling of warmth and, oddly enough, security or comfort, like if you were nesting in a bed of feathers.
I hadn't given much thought to George before, but I did now. A consummate courtier, George Boleyn was doomed by the breakdown of Anne's royal marriage, somehow managing to be suspected of both homosexuality and sisterly incest simultaneously.
Touching the spirits
There are good feelings here, I thought, some kind of brotherly spirit. Both embarrassed, because part of me knew this was all in my head, and thrilled, because I was communing with the Boleyns or least maybe partially I was almost communing with the Boleyns, I told some of the staff members at dinner about my experience. To my astonishment, they agreed that George's room has a particular energy.
"Some people won't even go into it," a blond woman said. "We called a medium into the castle last year. Apparently something evil happened there, but it's thought to be later than the Tudor period."
Is there a ghost of Anne Boleyn?
Wait! What? And here all I'd felt was an intimate cheery warmth. So much for my psychic abilities. If there are any Boleyn ghosts, I supposed they'd be more likely to be haunting the fortress-y Tower of London that looms over the River Thames.
In the morning, after having dinner with the journalists in the same tapestry-lined dining room where Henry VIII would have courted Anne Boleyn, and staying in my faux Tudor village bedroom attached to the castle like a properly-behaved journalist, when what I really wanted to do was prowl around the rooms of Anne, Mary and George in the middle of the night (no, seriously, don't you think that would be exciting?), I said goodbye to Hever and travelled to East London.
Anne Boleyn and the Tower of London
According to the yeoman warder who led my Tower of London tour, it was from here that Anne Boleyn set off with great pomp for her coronation at Westminster in 1533.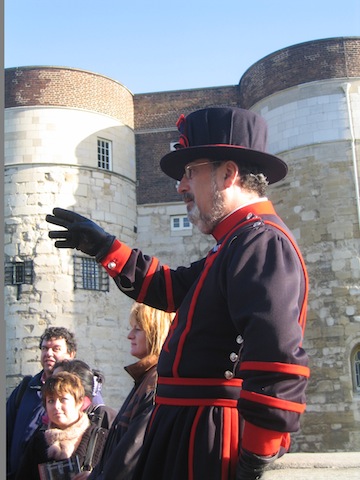 The Anne Boleyn Trail leads to prison
Three years later Anne Boleyn was brought back to the Tower a prisoner. She came by barge, entering through the notorious Traitors' Gate.
Accused of adultery with various men (George included), Anne Boleyn's real crime was failing to produce a male heir. Giving birth to the future Elizabeth I wasn't enough. Claiming Anne had bewitched him, Henry's attentions had turned to Jane Seymour, and in 1536 Anne Boleyn was beheaded two days after her brother by a swordsman from Calais.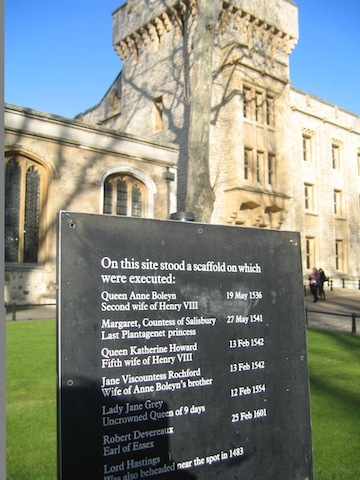 A queen beheaded
The warder pointed out the execution site on the Tower Green, saying the act was so swift that when the executioner held up her head her eyes were still looking around and her mouth still moving.
The last Anne Boleyn site
Anne was buried in the chapel of the Tower of London, but later moved to a crypt under the altar.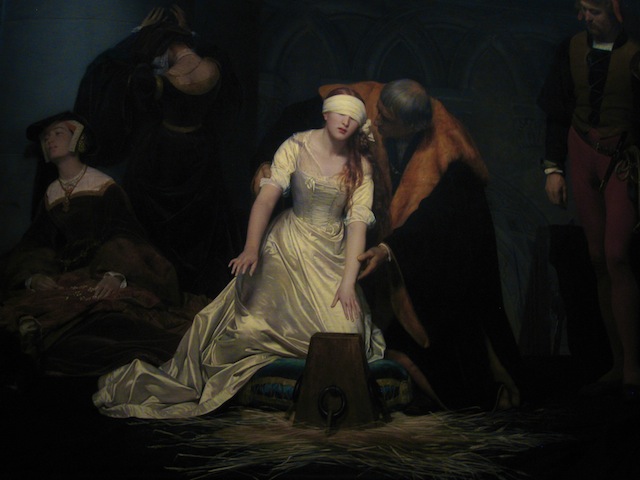 Gone but not forgotten
Within 24 hours of her death, King Henry VIII was formally betrothed to Jane Seymour and Anne Boleyn conveniently forgotten – by Henry perhaps, but not by her legions of fans, who continue to follow the footsteps of Anne Boleyn in England today.
Following the Anne Boleyn Trail – Travel Tips
Getting around England:
The Tower of London can be reached by boat from Westminster Pier or by tube to Tower Hill. For places further a field BritRail offers convenient transport (www.britrail.com). Hampton Court is an easy day trip from Waterloo Station.
Hever Castle
Queen for a day: You, too, can stay at Hever Castle. Sort of. There are two more modern wings – the Astor Wing and the Anne Boleyn Wing – that house guests on a Bed & Breakfast basis. Warning: Book early! Visit the Hever Castle website for more info.
Getting to Hever Castle: Trains run from London Bridge to Edenbridge Town Station. From there you can take a taxi (3 miles) to Hever Castle (I've read some reports that taxis can be hard to find so it's suggested you book a cab in advance). Relyon Taxis are near the station, telephone 01732 863800, or call Edenbridge Cars on 01732 864009.
Alternatively, forgo the taxi and take the train to Hever Station (unmanned and no taxis) then make the one-mile rural walk to Hever Castle. (Map of walk from station to castle)
Anne Boleyn movie sets in England:
Those more intrigued by Natalie Portman and Scarlett Johansson, who play the Boleyn sisters in The Other Boleyn Girl might want to check out these film locations:
Penshurst Place: Just a few km from Hever, the magnificent Baron's Hall of this medieval manor house doubles as Whitehall Palace, the setting for the wedding feast in the film.
Dover Castle: On the coast of southeast England, Dover stands in for the Tower of London.
Haddon Hall: Located in the Peak District, Haddon is one of England's best-preserved medieval and Tudor houses, standing in for some interiors of Hever Castle.
Read more: about other scandalous historical figures:
Bess of Hardwick – the second most important woman in Elizabethan England
Read more: about top places to visit in England
Read more: about my picks for top European destinations