This post may contain affiliate links.
Looking for a good Ontario spa getaway? Here is my Ste Anne's Country Inn & Spa review.
The Ste Anne's Experience
While I'm having my Aveda Botannical Resurfacing Facial at Ste Anne's Spa just outside Grafton, Ontario, various thoughts are flitting through my mind, like: For a petite young thing, this therapist has seriously strong fingers. This is a really hard facial massage. Is my skin going to rub off? Is this good for me?
At the same time I was pestering the therapist with questions. "Why is this facial popular? What are you putting on now? Is that the toner?" It's hard for a spa writer to turn off and simply enjoy a facial. Especially when it's a more vigorous treatment than I'm used to.
And then I wanted to know what exactly was in the product, even though she'd already explained that the key ingredient is touramaline. "Isn't that a semi-precious stone?" I asked.
"That's right."
"Why is it good for you?"
"It's full of antioxidents."
That shut me up for awhile. Then I said, "How can a semi-precious stone be full of antioxidents?" Is it crushed up? How do the antioxidents get into your skin?
"Well, it's a mineral," she said.
What is tourmaline?
In fact tourmaline is a crystal silicate mineral containing a variety of elements like aluminium, iron, magnesium, iron magnesium, sodium, lithium and/or potassium. It's also a gemstone that comes in many colours, and according to Egyptian mythology, during its journey from the depths of the earth it passed through a rainbow, soaking in the colours. Just so you know.
"My skin is really sensitive," I said, as she started to rub a gum-like substance over my skin. "I've been burned with hot stones and had my skin rubbed raw at a hammam (a Turkish-style mud scrub). How do you know when to stop rubbing?"
Tranquility
The therapist accepted my curiosity with good grace, and eventually, I shut up and went into zen zone mode, that blissful feeling when you finally give up trying to understand things and let yourself drift.
This only happens when I feel I can trust a spa – which isn't as often as I would like – but Ste Anne's Country Inn & Spa in Northumberland Country, an hour and a half east of Toronto, is one of Canada's best. In fact, Ste Anne's was voted Favourite Spa in Canada in the SpaFinder Wellness Readers Choice Awards, an award it won for seven years running. So congratulations to the team at Ste Anne's.
Ste Anne's Country Inn is a destination spa
One of the reasons for its ongoing popularity is that it's a total destination spa, which means that the main purpose of going to Ste Anne's Country Inn is to spa. Everyone spas. Everyone walks around in their robes, even at lunch. (Though I'm still shaking my head at the woman who wore her red pyjamas).
Set on a 400 acre property in the Haldimand Hills, Ste Anne's Country Inn is a sprawling stone chateau. Amenities include a large (seasonal) outdoor pool, a mineral springs grotto, steam bath, sauna and a cozy country-chic lounge to relax in.
About Ste Anne's Country Inn & Spa
Even if you weren't spa-ing, Ste Anne's would be a nice place to hang out. A sprawling stone building, it looks like a castle. Plus, the meals, which are included in the package, are surprisingly haute.
They have also introduced their own skin care line, Ste Anne's Skin Nourishment, and maybe next time I'll try it.
Fresh-faced after a facial
Once I was finished my facial I was happy to note that no skin came off – except for those pesky dead skin cells and good riddance to them – and my face felt super smooth. Way more smooth than I'm used to.
"Feel my cheeks! Feel them again!" I kept saying to my husband, who was probably beginning to wish he hadn't treated me to a night at Ste Anne's Spa for my birthday.
Is that why I lost him soon after to the depths of the men's changing room sauna? He could only hide for so long. Finally he resurfaced and we spent the rest of the stay going back and forth between the outdoor hot pool, the eucalyptus steam room, and the cool plunge.
I would have liked colder, as I'm weird like that and I do believe that hot cold hydrotherapy boosts energy and possibly even immunity. Finally, I waded into the small current pool and pretended to exercise.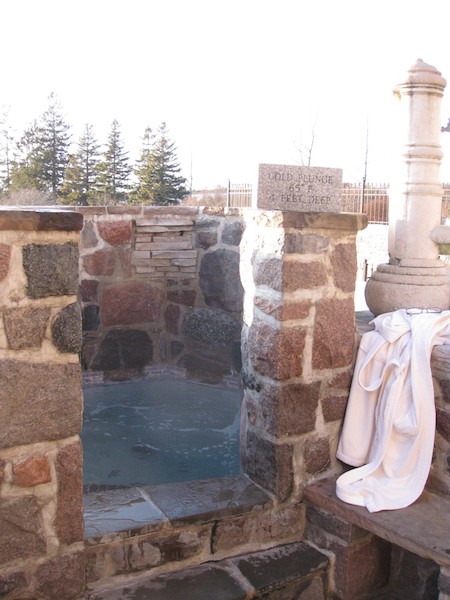 Classes at Ste Anne's Spa
I also did a stretch class, because I thought I should do something active yet a stretch class sounded relatively easy. All group classes are included in your package, whether it's a day trip or overnight.
And then it was back to the hot pool, a small rock pool with a cupid-holding-fish statue in one corner. To me this is bliss. There is nothing like sitting and soaking with steam rising off the water and the contrast of cool winter air on your face.
And, since all the water at the resort is natural spring water surely it's depositing good things into your skin. Well, along with chlorine I guess, but still.
Ste Anne's Country Inn & Spa review conclusion
Ste Anne's Spa isn't cheap but it's grand for a splurge.
Accommodation ranges – there are various country-chic wings, rooms and cottages so have a look at the website. One thing to note is that tipping is not necessary, which shaves 10-20% percent off your treatments. And Ste Anne's is BYOB, so you won't run up that wine bill.
For the best deal, check out the specials and last minute deals on their website. Finally, be prepared to wish you'd booked for one more day, because it's addictive. It really is.
Travel Guide for Ste Anne's Spa
Ste Anne's Country Inn & Spa is located at 1009 Massey Road, Grafton, ON
Situated on 400 acres of bucolic countryside, Ste Anne's Spa is headquartered in an 1858 stone inn. There is also a new wing and garden cottages to stay in. It's 8.3 km from Lake Ontario.
Day packages including lunch and afternoon tea are available as are overnight stays.
For spa info and bookings call Ste Anne's at (905) 349-2493
Getting to Ste Anne's Country Inn & Spa
Ste Anne's Country Inn & Spa is located at 1009 Massey Road, Grafton. A relaxing way to get to the spa is by train. The folks at Ste Anne's will pick you up at the station. Other options are a limo, in case you want a serious splurge, or driving.