This post may contain hotel affiliate links. This means that if you book a hotel through this site I may earn a (dreadfully small but much appreciated) commission at no extra cost to you.
If you're a Jane Austen fan you'll want to visit the Georgian town of Bath in England as she moved here in 1801. Here are the best sights to see and top attractions to visit so that you can spa like Jane Austen in Bath.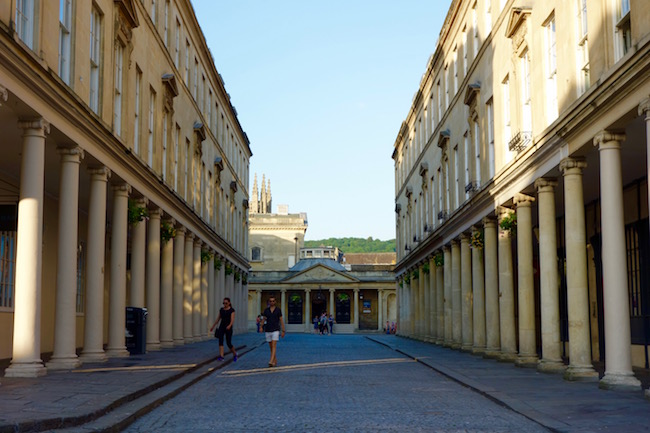 The golden city of Bath
Jane Austen, the author of Pride and Prejudice, hated Bath. It's ironic, therefore, that this golden-hued city in Somerset, 140 km west of London, has become a sort of shrine to her, with the Jane Austen Centre, Jane Austen Tours, and even the annual Jane Austen Festival.
The locals I talked to find this amusing. After all, it wasn't them she didn't like. It was the outsiders who flocked here for the winter season, the not quite top tier "country gentry," whose social aspirations and crafty marriage maneuvering set Austen's teeth on edge.
Spa like Jane Austen in Bath
Bath has had many ups and downs in its history, and unfortunately Jane Austen hit it on a downslide when she moved here due to her father's ill health in 1801. The thermal springs, containing more than 42 different minerals, were still considered healing, but by 1801 Bath's heyday as an elite Georgian spa town was on the wane, and the aristocratic spa lovers had moved on to the sea air of Brighton.
A Georgian legacy
Luckily for travellers to Bath, just as the Romans left their elaborate bathing temple behind when they pulled out of Britain about 410 AD, the 18th-century Georgians left behind a limestone vision of broad avenues, terrace houses and elegant public buildings based on classical Rome, making it one of the most beautiful cities in Europe.
Bath makes a good first impression
Even Jane Austen had to admit the city makes a good first impression. Both her first and last novels, Northanger Abbey and Persuasion, were set here, and in Northanger Abbey, the young naive heroine, Catherine Moreland, is delighted as they approach "its fine and striking environs."
This sentiment is countered by another character, Mr Tilney, who says, "For six weeks, I allow, Bath is pleasant enough; but beyond that, it is the most tiresome place in the world."
Taking the waters in Bath
I'm all for wallowing in some Jane-Austen-in-Bath splendour, so I followed Catherine's footsteps to the Pump Room in the Abbey Churchyard. It's here that Catherine would drink the requisite three glasses of curative water each day followed by turns around the room with her dearest (and most fickle) friend, Isabella. In those days a spa regime consisted of drinking the thermal water, bathing in it and taking gentle exercise every day.
The Pump Room
The spacious Pump Room, empty in Austen's time to provide walking space, is now an airy restaurant, but the Corinthian pillars still soar, the 10,000 year-old water is still served up hot, and the atmosphere is every bit as grand as it was in Georgian times.
Georgian sanitation
While I sipped a glass of water from England's only hot spring I couldn't help thinking about the horrific lack of sanitation during Austen's time. It seems so at odds with the exquisite architecture it was hard to believe the squalid toilet tales I'd heard about the Georgians, particularly the one (whispered to me by a local) that women, hidden behind their voluminous skirts, might even squat in the street. Ick.
Jane Austen on the Royal Crescent
Struggling to get this picture out of my mind I walked up to the Royal Crescent, an elegant row of terrace houses that curves around Royal Victoria Park like cliffs at the edge of a bay. It's here that Catherine and her fair-weathered bestie Isabella came "to breathe the fresh air of better company."
Today the Royal Crescent is still the grandest street in Bath, and the first house on the crescent (One Royal Crescent) has been restored and made into a museum. While the moss-green silk damask walls of the drawing room and Chippendale mahogany furniture conjures thoughts of genteel refinement, this image crumbled when a guide stationed in the dining room pointed out a screen where diners might have ducked to relieve themselves. If I'd managed to get the toilet situation out of my head before, it was back in place now.
The Roman Baths
I managed to wash it away by visiting the Roman Baths that evening, leaving the Georgian world behind and travelling back to the 1st century AD. The luminous jade water of the Great Bath glowed eerily in the torchlight and shadows were thrown onto the archways.
Above the roofless pool stand lifelike statues of Roman emperors and governors, Victorian additions installed in 1894. Two layers of history, 18 centuries apart, but connected by a devotion to the thermal water of Bath.
The King's Bath
Over the centuries the Roman Baths fell into disrepair, roofs crumbled and the baths were silted over. By the time Jane Austen moved to Bath the ancient site had been rediscovered, but not excavated. The Great Bath – the main pool in the Roman bath site – didn't reopen until 1896, but bathers during Austen's time had a few different bathing options.
There was the Hot Bath, now used for water-based spa therapies; the King's Bath, which dates back to the 12th century and is built on the foundations of the Roman Baths (you can see it on your way from the Roman Baths to the Pump Room) and the Queen's Bath, built in the 1500s and which, during Jane Austen's era, was only open to women.
FYI: Jane's brother came to Bath to treat his gout.
The Cross Bath
Another historic bath open during the Georgian era is the Cross Bath, a small intimate building with a softly-curved facade. A favourite bathing spot of nobility, this small bathing spot was credited with curing Queen Mary's infertility in 1687, a fertility miracle that helped put the curative water of Bath back on the spa-loving map.
If you want to spa like Jane Austen in Bath, but in an intimate setting, booking some time in the Cross Bath is one of the best ways to soak up history.
To really spa like Jane Austen in Bath, however, you would need to wear a gown of cotton, wool or linen, and perhaps a bonnet, too.
Spas in Bath today
Today, the main way to spa in Bath is at the Thermae Bath Spa. Opened in 2006, the Thermae Bath Spa towers over the original Roman Baths, a sleek construction of glass and Bath stone. With a rooftop pool, an extensive sauna world, indoor pool, sun terrace, full service spa and cafe, it's an updated interpretation of the traditional Bath spa experience.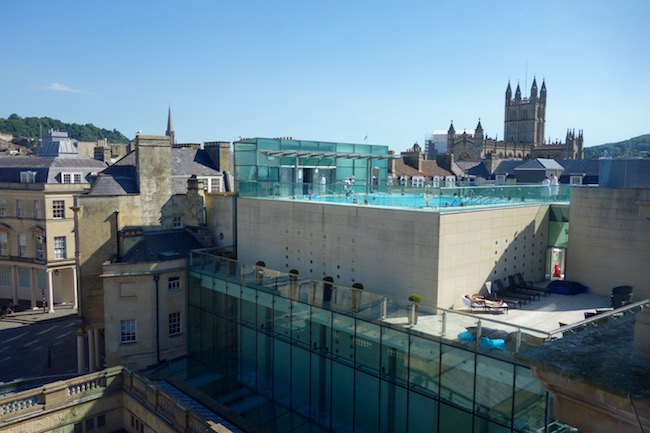 Thermae Bath Spa
It was time to spa like Jane Austen in Bath for myself, so I headed to the Thermae Bath Spa. Compared to the golden richness of the older buildings, the newer quarried limestone of the spa looked as bright as newly-sheared bone, as if it had been transplanted live to become part of Bath's living museum.
Floating in the rooftop pool, soaking in the same warm spring water that the Georgians, the Elizabethans, Romans and Celts before them had revered, I couldn't help wondering if, in centuries to come, when the Thermae Bath Spa's stone has mellowed to the same honey-toned hue as the other heritage buildings in Bath, sightseers will marvel at its historic appeal and wonder about our ancient bathing traditions.
How to Spa like Jane Austen in Bath – a travel guide
Getting to Bath, England: The nearest Airport is Bristol but it's easy to get to Bath by train. Regular train service runs from London, Paddington Station to Bath. Travel time is about 1 hour 30 minutes.
Jane Austen sights in Bath
The Pump Room: Visiting the Pump Room is a highlight of Bath, and just like Jane, you can taste the water. Look for the fish fountain and wait at the counter. Eventually a waiter will come by and pour you a glass. Better yet, stay for a meal or high tea. It's located just off the Abbey Churchyard by Stall Street.
Where did Jane Austen live?
4 Sydney Place. Now a self-catered apartment, this is where Jane Austen lived with her family for 3 years.
Across the street from 4 Sydney Place is the Holburne Museum. In Jane's time, this was the Sydney Hotel, where she was known to go for breakfast and which fronted the Sydney Gardens where she liked to walk. The park is still beautiful today and the museum well worth a visit.
Jane Austen also lived at 25 Gay Street with her mother and sister after her father died and the family's financial situation was reduced.
If you like it, pin it!
Jane Austen attractions
The Jane Austen Centre: Also on Gay Street at number 40 is the Jane Austen Centre. Get a peek at the writer's life in Bath and learn how it influenced her writing in the Georgian-era townhouse. Dress up in period clothing or relax in the Regency tearoom. Devoted fans will want to visit during the Jane Austen Festival in September.
The Assembly Rooms, Built in 1771, these four rooms are where balls and other social functions were held. It was definitely the hub of the social swirl. You can visit the Assembly Rooms and the Fashion Museum on Bennett Street.
The Georgian museum of No 1. Royal Crescent. Learn more about Georgian interiors and design at this elegant townhouse (and former hotel) built between1767 and 1774.
Jane Austen Walks
Take a walk on romantic Gravel Walk, the setting for a love scene in Persuasion. Part way down, just behind 4 The Circus, is a Georgian garden.
How to Spa in Bath
If you want to spa like Jane Austen in Bath, you'll want to experience thermal water bathing at least once. Here are 3 different ways:
Spa like an aristocrat at Gainsborough Bath Spa: Set in a row of heritage buildings just across from the Thermae Bath Spa, the 5-star Gainsborough Bath Spa is the only hotel in Bath where the thermal water is pumped into the spa. You need to be a hotel guest to use the pools. Read about my stay at Luxury hotels in Bath, the Gainsborough Bath Spa.
Get a full immersion in the bathing experience at Thermae Bath Spa
Hygiene and bathing have come a long way since 1668 when diarist Samuel Pepys wrote "it cannot be clean to go so many bodies together in the same water," so by all means, enjoy the healing mineral water of Bath for yourself. You can choose from a wide variety of spa packages and treatments. Visit the Thermae website for times and prices. Visits start at £34 for 2 hours.
Just a note: There can be lineups so give yourself plenty of time.
Go to the source at the Cross Bath across the street from the Thermae. Prices start at £18 for 1.5 hours. This small open-air pool, hidden behind historic stone walls holds a maximum of 12 people. Officially declared a sacred site, it's the only place bathers can connect with the source of the spring that rises up from a miniature fountain shaped like a crystal ball. Book at the Thermae Bath Spa.
Travel Resources:
For travel ideas read Places to Visit in England. For more information on travel in Britain go to VisitBritain.