When it comes to mountain scenery, lakeside beauty and deep forest trails, the area around Hintersee Lake and the town of Ramsau in Germany is so majestic that it drew some of the most famous artists of the 19th-century Romantic era. Today you can follow their trail.
Lake Hintersee
Tramping through the dark Zauberwald, or Magic Forest, from the Bavarian town of Ramsau to Lake Hintersee in Germany's popular vacation area of Berchtesgaden Land, I half expect to stumble across some fanged Brothers Grimm beast.
Instead, by a boulder-strewn stream, I find an abandoned painting on an easel. I check my map. It's Number 12, Gebirgsbach (Mountain Brook) by a German Romantic artist, M. Freytag-Loringhoven.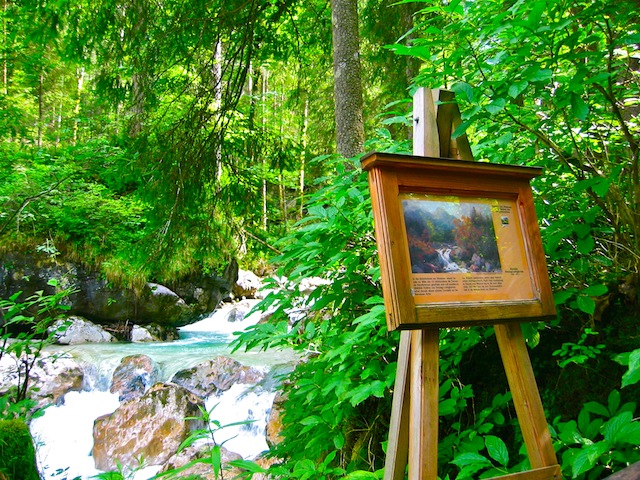 Hiking Lake Hintersee, Germany
Though the painting is only a reproduction under glass, it's a big clue about Berchtesgaden Land's artistic past. Throughout the 19th-century this small corner of southeastern Germany, 35 km south of Salzburg, attracted a host of painters working in a Romantic landscape style similar to America's Hudson River School.
Unlike the Impressionists of the same century, who sought to capture fleeting moments of light and time through abstract strokes of paint, the Romantics were more traditional, going after grand vistas that revealed the essential spirit of nature – and combining travel and art was the way to do it.
Fortunately for them, Lake Hintersee has grand vistas dripping out of the trees, which makes it a popular Berchtesgaden Land hike today.
The Hintersee art trail
There are twenty-six paintings scattered in and around the art trail around Lake Hintersee, placed precisely where the artists painted them. And though the area, part of the district of Berchtesgaden Land, on the edge of Berchtesgaden Land National Park, is mainly known as a wellness destination and outdoor haven, with 190 km of trails, it's nice to have some culture thrown in.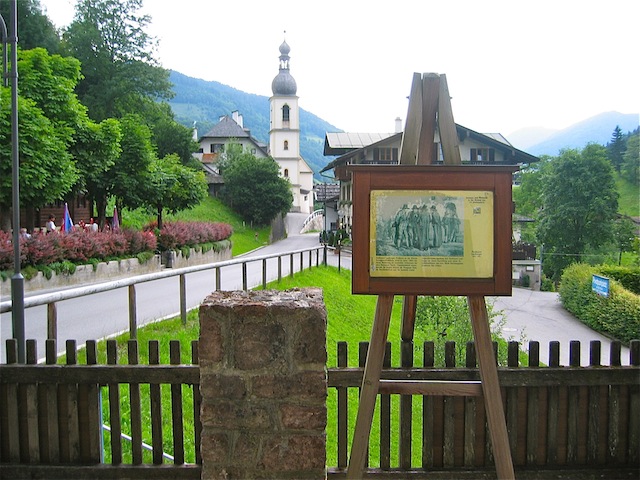 The Lake Hintersee trail starts in the town of Ramsau
This scenic art trail starts in the historic town of Ramsau, continues through the forest and circles Lake Hintersee. With its stunning location at the foot of the rugged Hochkalter Peak, it was the lake that was the major lure for the German Romantic artists, an idyllic refuge at a time when the Romantic Movement reflected a longing for the primitive world.
On the art trail
Two Nordic hikers pass me, poles flying, while I continue along at my own plodding pace. A sign saying the walk would take forty-five minutes is nearly two hours behind me and I have yet to catch sight of the lake.
I'm so thirsty I'm ready to backtrack to Mountain Brook, just to get a drink, but just as I'm ready to give up I pop out of the dark-wooded trail into a bright patch of sunshine.
At a wooden kiosk a woman in a traditional dirndl is selling apple cider by the glass.
More quiet than Lake Königsee
Gulping down the cider, I look past the kiosk to the tip of Hintersee Lake. It's picture perfect all right, a milky jade green, with reeds on either side and the craggy precipices of the glacial mountains behind.
Compared to the larger, more touristy Lake Königsee a few km east, Lake Hintersee has an isolated peaceful feel with only a small cluster of hotels, making it an ideal holiday destination if the sight of too many tourists gets you down.
Going left, I circle Lake Hintersee until I come to Painting 17, a portrait of a bulbous-nosed Jakob Gruber by TH. H. Schupp.
Hoher Goll mit Hintersee
When I come to Painting 15, Hoher Goll mit Hintersee, I stop and raise my eyebrows. The subject matter is eerie (what's also eerie is that paintings 7, 12, 17 and 15 follow each other in succession, but that's another issue).
A fiery depiction of Lake Hintersee, Rottmann's artistic inspiration
Painted in 1846 by Carl Rottmann, probably the best known of the German Romantic artists on my map, Hoher Goll mit Hintersee looks to me like an apocalyptic vision of Lake Hintersee, all browns and fiery reds, with the blood-orange mountain reflected in the lake. The German Romantic painters might have idealized nature, but they acknowledged it had an edge.
(Unless that was Rottmann's idea of tranquil, and then I just give up trying to understand him.)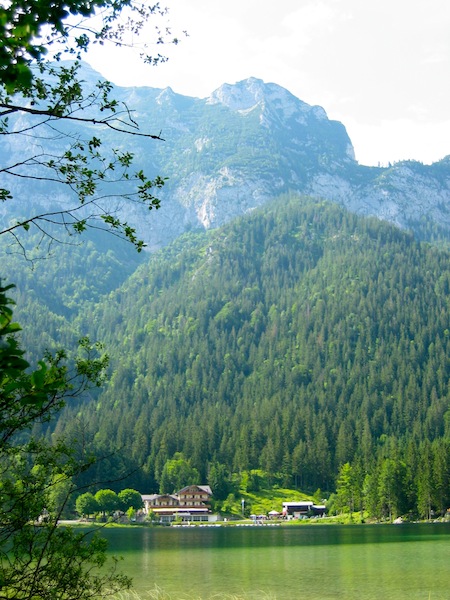 The Romantic German artists
In contrast, the actual view to my left is a peaceful scene, a sleepy row of Alpine hotels and restaurants clustered at the far edge of the lake. I can just imagine the artists congregating here (though their preferred accommodation was the Gasthof Auzinger, which, according to the hotel website, is only 'one cat jump' away from the lake).
I finally make it around the lake. Ignoring a sign saying reserved for hotel guests, I collapse onto a worn wooden bench. Did the artists gather here, talking long into the night about the role of nature in art, I wondered? Or were they more practical, discussing brushes and aching joints?
Maybe Schupp and Gruber sat on this very bench at Lake Hintersee, after a dinner of pork schnitzel and beer, gossiping about Rottman's orange vision, while Rottman grumbled to himself, "They came all this way to paint a portrait? They could have done that at home."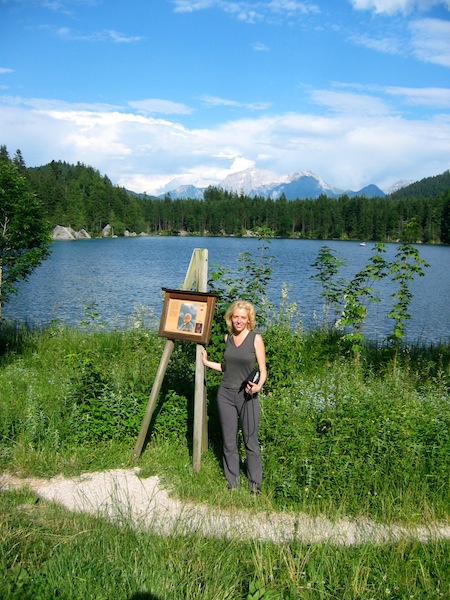 Paul Weber
Finally I rouse myself. I'm tempted to head back to Ramsau but I can't leave without finding Painting 22, Am Hintersee by Paul Weber. This is the big prize on the artistic treasure hunt, a mythic vision of translucent turquoise water and hazy mountains, with two fishermen pulling in a net while a woman in a red kerchief watches from shore.
I'm curious to see how today's reality of Lake Hintersee measures up to Weber's idyllic interpretation of it, or if the real view will be a letdown and I'll feel the as melancholy as the Romantics did and (to paraphrase one essay) mourn "The lost harmony of Paradise."
Seeking the sublime
Weber, a German-born painter, became an influential art teacher in Philadelphia, but not before he fit in a trip to Berchtesgaden Land and Lake Hintersee. I've almost completely circled the lake before I find the painting. There is no date listed, but if ever there was a picture of the sublime, this is it.
Even more heartening is the fact that the present scene I'm standing in is equally inspiring, though in the fading afternoon sun the colours are softer, a palette of cool pale blues. A young woman lies on a rock, soaking up the late afternoon sun while two brown ducks zigzag through the water.
I sit down on a rock, not feeling mournful at all, knowing that not all Paradise, apparently, is lost.
Travel tips for visiting Ramsau and hiking the art trail of Lake Hintersee
Free copies of the artist map (German language only) of Ramsau and Hintersee are available from the tourist office in Ramsau.
For information on Ramsau and Germany visit the official websites: www.berchtesgadener-land.com or www.germany-tourism.de/
Where to stay: The Best Western Berghotel Rehlegg in Ramsau is a clean, comfortable hotel in the area and has truly amazing views. Tel: +49 (0) 8657 98840
Read more about Top European Destinations