Isn't it just a shame the $28 million penthouse at the Four Seasons Toronto is already taken? I'm in the market for a new home, and a condo with a top Toronto spa and a glamourous pool with a 9th floor view would suit me fine. Especially if it's the Four Seasons pool. Underwater symphonies, an outdoor terrace in season and a decor that says, I have arrived and deserve sleek lines, graphite and a chic designer hot tub. That's me, people, that's me. Isn't it you, too?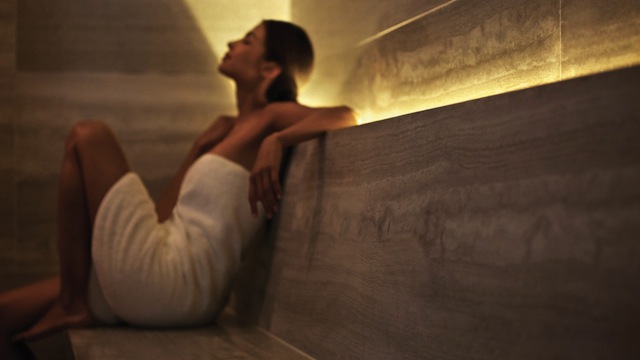 We can't all live out our fantasies permanently – but I was lucky enough to embrace my live-at-the-Four-Seasons-fantasy at least briefly with a spa day (thank you, Four Seasons!) and oh, what a glittery fantasy day it was.
About Spa, Four Seasons Toronto
You won't feel claustrophobic in this vast expanse. Spa, Four Seasons Toronto has 2,787 square metres of space, which translates into a whopping 30,000 square feet, making it a veritable Toronto spa titan. There are relaxation lounges, 17 treatment rooms, a large indoor pool, steam rooms plus a hair, manicure and pedicure salon.
Verdict: this is a spa to spread your wings in.
Decor
The newest Toronto spa, with its swanky Yorkville location, is lavish, low key and luxe. The overall ambiance is soothing. Neutral tones such as taupe, ivory and ash work together to instil the calmness we urbanites seek, but rarely find. You won't yawn into tranquil oblivion, however, because the oh-so-tasteful colours have been given a sexy kick by the sensual textures of limestone, fawn-coloured wood and padded pewter-bronze-y benches in the change rooms.
Oh, yes. This is a spa that will make you feel elegant just by association.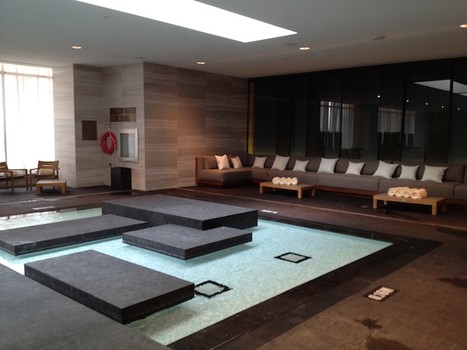 Pick your spa theme
With treatments on the menu such as a Natural Kaolin Clay Wrap with Green Tea and a Warmed Lavender Honey Wrap with Aloe and Arnica, spa-goers can de-stress and unwind, but ahem, this is Yorkville, the see-and-be-seen epicentre of Toronto, so why not opt for the bling?
Going for Gold
Gold is getting mega-mileage as a spa product these days, but it's old hat for the ruling class. Rumour has it Cleopatra slept in a pure gold mask (no word on how much Anthony enjoyed snuggling up to that), and legend tells of an empress of the Qing Dynasty who used a gold roller to massage her face each day. Reasoning that this is good company to keep, I start with the spa's Gold Plumping Facial (90 min $250).
Are gold spa treatments effective?
It's hard to know for certain whether gold really is as potent in the beauty world as is sometimes claimed, but according to scientific studies, gold nanoparticals do have certain antibacterial properties. And if feeling special and pampered is your gold, I mean, goal, then by all means indulge.
I, for one, have never been able to walk away from a gold treatment. (I can't even turn gold food down – there was that day in Paris with the chocolate and gold flakes … but I digress.)
All that glitters is not gold in the Four Seasons plumping facial, however. Other good-for-your-skin products include a copper-enriched lactic-acid peel to bump up collagen production and a poultice of organic oats and wheat to nourish.
With a finale of gold shimmer oil on my skin, I left Spa, Four Seasons Toronto feeling radiant but in a subtle luminous way, not an over-the-top Gold Finger Bond Girl way, because we all know what happened to her.
More bling, please
For those who want to keep with the bling theme, a Luxury Gold Manicure (60 min., $85) is worth it for the salon's floor-to-ceiling glass skyline view alone. A Luxury Gold Pedicure (love the gold sugar scrub! 90 min, $130) is also available and while you're at it, why not finish with a style by resident hair guru, Stephen Cito, so that your hair is as shiny as your nails?
Bottom line?
You'll find both elegance and sparkle in one of Yorkville's toniest hotels.
Helpful tips about this five-star Toronto spa
Location: Spa, Four Seasons Toronto is at 60 Yorkville Avenue, Toronto. Tel: 416-964-0411
The pool: Call first to find out about pool access with treatments.
Togetherness: Lounges and steam rooms are not co-ed. If you're seeking bonding time with your opposite-gendered honey, you might want to consider a couple's treatment.
Eat: There is no restaurant in the spa, so grab a bite at Four Seasons' Café Boulud, the baby of celebrity chef Daniel Boulud, or in dbar on the main floor … or just snack on apples in the spa's relaxation lounge.
Spa specials: Even Yorkville socialites like Toronto spa deals. Check the Spa, Four Seasons monthly offers page for specials.
Yoga: My spa day at Spa, Four Seasons Toronto may be over, but I've signed up for yoga classes there. The eighth floor yoga studio offers classes by 889 Yoga, and, as an added bonus, you get access to the steam room. But not the pool. Or the penthouse. Sigh. I'll have to save up for that.
For more spa info on Toronto spas visit my Toronto Spa Reviews page.
For more about spas in general visit The Spa and Spa Travel