Heading to Turkey solo? Istanbul on your list? I was nervous heading to Turkey alone for the first time but learned to love this ancient city at the crossroads of Europe and Asia
Solo Istanbul – the airport
All the way to Istanbul I was worried that the taxi in from the airport was going to rip me off. The driver would ride around in circles, racking up the bill, or dump me at a hotel owned by his cousin, the kidnapper.
Unfortunately, if you're traveling alone there is no one to point out when your healthy caution has ballooned into irrational paranoia – and with nothing to draw the reigns on my imagination, the taxi ride loomed like a mythical three-headed beast guarding the gates to the city.
It didn't help that I got stuck in the slowest lineup at customs, and when I finally got out, I couldn't find the right luggage carousel. Frazzled, I stopped a porter. "Can you tell me where the bags from New York come in?"
His smile was reassuring as he waved me in the right direction. "Do you need help?" he asked.
"Can you get me a taxi?"
"Of course."
"Can you make sure he doesn't charge me over $40? My guidebook says not to pay more than $40."
"But madam," he said, "taxis have meters."
Meters, shmeters. Who trusts those? But it was in the porter's hands now. Not only did I have a champion who would ensure me a fair price, I didn't have to carry my bags. For a two-dollar tip, the gates to Istanbul were open.
PS: The taxi driver was perfectly nice, helpful and honest.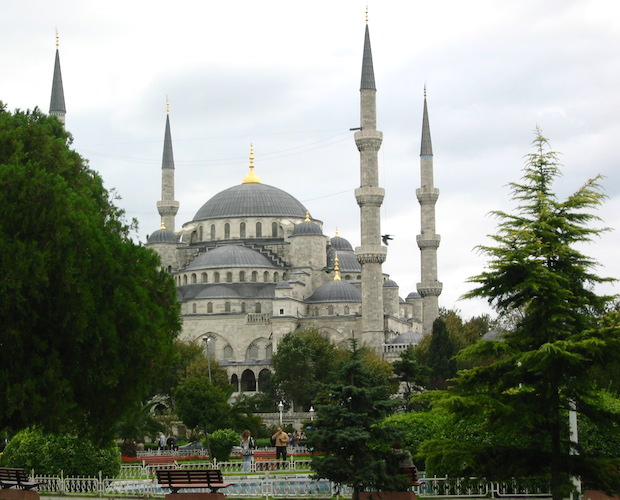 Heading to Turkey solo? Start out at a good hotel
Sometimes, when arriving in an unfamiliar country it pays to blow the budget upfront and splurge on a good hotel. Then, as you get more comfortable, your standard of accommodation can go down. And down.
My first two nights travelling solo in Istanbul were spent in style at the Swissôtel The Bosphorus in the business district of Taksim.
What an idyllic way to recover from jet lag. From high on a hill I overlooked Dolmabahçe Palace, the Bosphorus Strait and, as a speck in the distance, the barracks where Florence Nightingale worked during the Crimean War.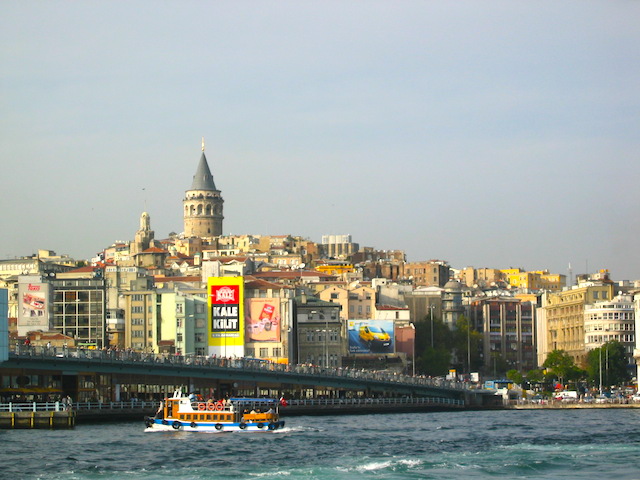 "Istanbul looks like a fascinating city," I thought, basking by the pool. "I'll have to go see it sometime."
But harem life would never suit me – after an afternoon of lounging I got bored.
Get your bearings in Istanbul with a tour
For my first foray as a solo traveller in Turkey I started out easy, with a bus tour to get an overview of the city. Then I was ready to dive in.
I switched hotels to one in the cheaper Sultanahmet district. Crammed with budget accommodation, ancient monuments, carpet stores and cafes, Sultanahmet is a bustling place where solo travellers can easily meet people.
In addition to vendors clamoring for attention and camera-toting tourists, many business travellers are wandering around on their own. In Topkapi Palace, the former residence of the Ottoman sultans, I met a Dutchman who'd come to speak at a conference.
On a cruise of the Bosphorus I met a textile buyer from New Jersey, then hiked up to a fortress in Anadolu Kavagi with three Romanian IT technicians. It was so easy to travel around I was excited rather than nervous about the rest of my Turkey itinerary.
When travelling alone in Istanbul, keep alert
Of course a traveller still needs to be careful. Until I got used to the currency I was particularly vulnerable to the money exchange switcheroo. Prices move fluidly between lira, US dollars and euros here, and when a price is quoted in one currency, but you're paying in another, it's important to make sure that the exchange rate is fair and the conversion tallied correctly.
Watch out for taxi drivers who charge night (gece) fares instead of day (gunduz) fares (which happened the one day I was travelling with someone), and be wary of anyone – local or foreign – who promises wholesale carpet prices.
In general, however, Turkish people seem protective of travellers, or at least of lone women. I was consistently put on the right track when I got lost, admonished by street vendors for walking around with my purse unzipped, and once, gently re-directed from what I think was a brothel that I'd mistakenly identified as an Internet cafe.
Be prepared for the carpet spiel
Turkish people also seem to be good listeners, at least the ones I met. This can be annoying when every salesman you pass wants to know where you're from, but if you're on your own and starved for conversation, step into any carpet store and pour your heart out over a free cup of apple tea.
What to do when you're travelling solo in Istanbul
Still craving interaction? Head for the labyrinthine Grand Bazaar and haggle over pashminas, or ask a shopkeeper in the Spice Market how to judge the perfect dried fig.
Before long, Istanbul seems navigable, even comfortable. As I found myself walking down Divanyolu Street one evening, browsing in shops and snacking on baklava, completely at ease, my earlier paranoia seemed a world away. Now I was looking to more solo travel adventures in Cappadocia and Pamukkale Hot Springs.
The only beast guarding the gates to Istanbul, I realized, was my 'solo Istanbul' fear.
Read more about Luxury Travel to Asia