What's the best way to tour the Atacama Desert in Chile? Base yourself in San Pedro de Atacama and be astounded by the desert terrain, the otherworldly Moon Valley, the salt flats and the mysterious El Tatio Geysers. Visit ancient settlements, photograph pink flamingos and explore laidback San Pedro. To help you plan your trip, here are the best things to do in the Atacama Desert of Chile.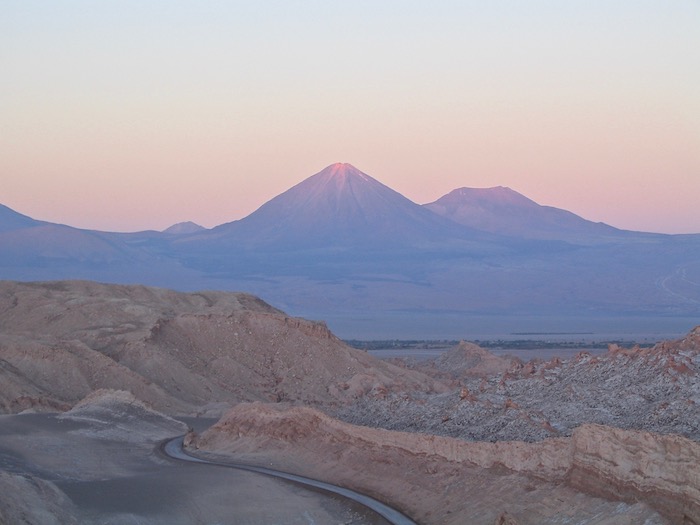 Things to do in the Atacama Desert
#1 Get a photo op on Coyote Rock
"Do I look like the Road Runner?" I asked no one in particular. It was my chance to tour the Atacama Desert and our group had stopped at Coyote Rock, a red rocky outcrop so named because it's a dead ringer for the cliff used by Wile E. Coyote to plot Road Runner's demise in those old Looney Tunes cartoons.
Thinking of demises, I stepped back from edge. I'm probably not invincible like the Road Runner and I'd hate to topple off a cliff before I've seen all there is to see in the amazing Atacama. (Although the drop off isn't as dramatic as it looks in photos.)
Why visit the Atacama Desert in Chile?
With its clear skies and extreme landscape, the Atacama Desert is one of Chile's top destinations. The driest desert on earth, this high Andean plateau is 1,000 km (600 miles) long, a narrow stretch of land that lies west of the Andes and rides up along the Pacific coastline. If you love nature (and who doesn't?), it's an adventurous place to put on your list.
And while it may be a desolate strip of the globe, it's surprisingly tourist friendly. The laidback town of San Pedro de Atacama, population 5,000, has plenty of hotels. The main street is lined with adobe dwellings advertising tours, excursions and bike rentals. The variety of tours you can do is extensive, so here's my list of top things to do in San Pedro de Atacama and the desert around it.
#2 Stargazing in Moon Valley
It was just before dusk when we arrived at Moon Valley, 17 km from San Pedro. "This isn't a place for jumping and shouting," said Juan, our Chilean guide as we climbed out of the van. "It's a place to sit and be quiet and relax."
I hadn't travelled to Moon Valley to jump and shout, I'd come to commune with the vastness of the universe. Moon Valley's lonely lunar beauty means it's often a stand in for Mars in film sets. NASA tests its Mars range rovers here. Only it wasn't lonely right now. As we stood at the foot of a mammoth sand dune, preparing to climb, I understood what Juan was warning us about. Clearly we weren't the only travellers eager to visit one of the world's most inhospitable places. Van loads of others had gotten here before us. For solitude and that get-away-from-it-all deliciousness, I probably shouldn't have signed up for a group tour of the Atacama Desert's top highlights.
Then again, did I want to be alone in the desert? Lying between the Andes and the Domeyko Mountain Ranges in northern Chile, the narrow Atacama, running north to south, can be a harsh place to survive.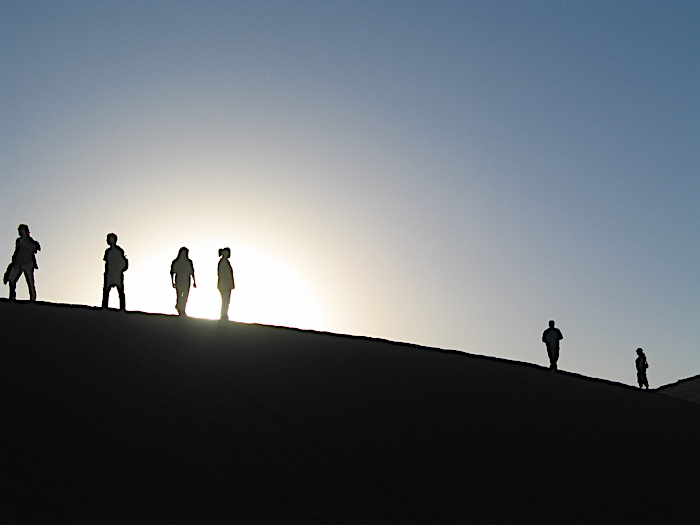 Getting away from it all
As we joined the line of adventure seekers plodding up the dune for a sunset view, Juan advised us to turn left. "Don't cross the dune like everyone else. Go the other direction."
Eventually, by following the crest of a rocky ridge we escaped the sightseers. The setting sun cast a whiskey-coloured glow over arid crested hills, and for the first time I felt a sense of the desert's magnitude and its almost unimaginable dryness. In some parts of the Atacama rain hasn't fallen for decades.
Day tours from San Pedro de Atacama
On my second day in San Pedro our group stocked up on bottled water and we set off on a day trip that would take us to many top Atacama attractions: Death Valley, the Salt Flats, the ancient settlement of Tulor and the hilltop fortress of Pukara de Quitor. That's a whole lot of sightseeing in one day.
#3 Visit Death Valley
Stop number one was Death Valley, the Valle de la Muerte. With its high wave-like sand dunes it's a favourite stop for outdoor adventure, especially sandboarding. I'd like to say I showed off my graceful skill as I whipped down the hills like a snowboarding gazelle, but we were seeing so much that day we didn't have time. (You'll just have to imagine my graceful skill. The skill that doesn't actually exist.)
Death Valley is only two kilometres outside San Pedro, so I suppose you could walk, but considering the bleached bones of animals and people that have been found of those have attempted to cross the valley, I'd say drive or cycle instead. And bring plenty of water. At now we know why it's called Death Valley.
#4 See the Atacama Salt Flats
Next up were the salt flats. If you've ever had a burning desire to see the extremely rare Andean flamingo you should head immediately to the Atacama Salt Flats, the Salar de Atacama, which is their home of choice. But don't worry, you can also spot the Chilean flamingo, the James flamingo, the puna plover and red-gartered coots.
As we picked our way over the salt-crusted terrain, looking out at glassy lagoons and distant volcanoes, we learned it's one of the largest salt flats in the world, covering a vast area of 3,000 square km. It may look dreamy and isolated, but it has a turbulent past. It was a key spot in the late 19th-century War of the Pacific, when Bolivia and Peru battled Chile (but lost) over this resource-rich territory.
#5 Discover the past at Tulor
Tulor is another sight you can visit if you're based in San Pedro de Atacama. Settled 2500 years ago at an oasis by the Atacama River, this ancient settlement is made up of strange circular structures that connect to each other like a honeycomb. Made from adobe, the buildings are half swallowed up by the desert and it's an evocative place. Surrounded by an earthen wall, Tulor was abandoned 1700 years ago after the oasis dried up, a perpetual threat in a region that gets just over half an inch of rain a year. Sadly, there are more modern threats today: This protected archeological site was badly vandalized in 2010.
#6 Discover more past at Pukara de Quitor
If you're starting to think this was a long sightseeing day, you would be right, but I wouldn't have wanted to miss Pukara de Quitor. This hilltop fortress just three km from San Pedro was constructed in the 12th century and overlooks the San Pedro River. It was built to protect the local Atacama people from warring tribes. Things didn't end well but not because of neighbouring tribes: If you're going to tour Pukara de Quitor, give a respectful nod to the Atacama chiefs whose heads were severed by the Spaniards and mounted on poles around the fortress in 1540.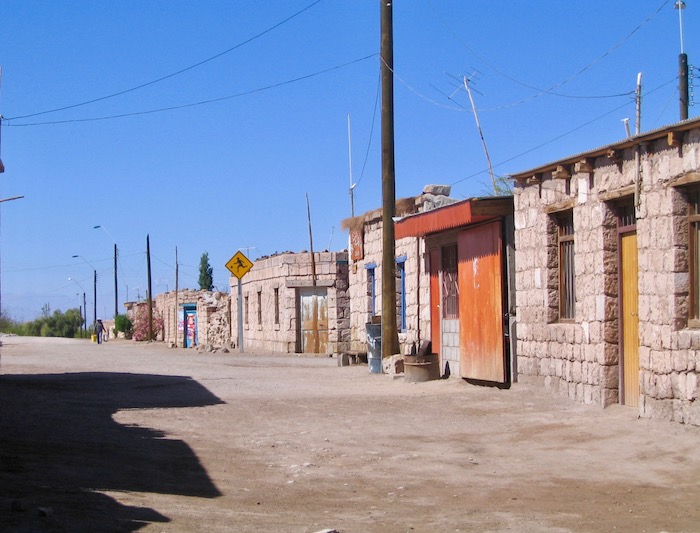 #7 Hang out in San Pedro de Atacama
After our desert tour my energy was given a boost by the thought of shopping. The Chilean town of San Pedro de Atacama is the undisputed base for a trip to the Atacama, and you won't walk far without hitting a shop. This is good because you can stock up on all the alpaca socks and knit gloves you'll ever need. However many you need is up to you.
Other things to do in San Pedro de Atacama include visiting the market, stopping in at the Iglesia San Pedro, wander down Caracoles Street and sit on a bench in the Plaza de Armas. Exciting, right? But somehow it is.
#8 Visit El Tatio Geysers
Our next day's excursion into the Andes was going to be cold. But maybe because the parched desert air was sucking the moisture out of my very pores, the idea of visiting El Tatio Geysers had me salivating. Besides, I'm a sucker for hot springs. At 4321 metres above sea level, with more than 70 geysers, springs and mud holes, El Tatio is one of the world's highest geothermic fields. Best of all, Juan assured me there was a natural hot spring pool I could bathe in.
The downside? We had to leave by 5 a.m. And because the geysers are at their most violent and impressive in the sub-zero temperatures of early morning, no doubt we'd be joined by every other tour group in the Atacama Desert.
In the pre-dawn blackness we drove 90 km up a bumpy road into the mountains, arriving with the first hints of light. Sprawled out over a barren plateau, a field of geysers was shooting plumes of vapour into the air. With warnings not to poke our faces over steaming spouts and to be careful where we walked, Juan led us over icy ground between violent geysers that could reach a burning temperature of 85ºC. All that heat so close but so out of reach was toturous. Even in my new llama-print socks my feet were numb from the cold.
With sulphurous vapours hissing behind him, Juan talked about the ancient Atacamenos who believed this plateau was a sacred place, that each geyser was a spirit. If so, the spirits didn't seem too pleased about sharing their space.
"Where's the muck?" someone asked. It might have been me.
"Oh, do you mean the boiling stinking mud?" Juan took us to a scattering of small mud holes bubbling up like demonic spa baths. "Don't breathe the fumes. They have arsenic."
I backed away. So much for an impromptu spa treatment.
After a cold outdoor breakfast, we followed the other tour vans to the other side of the plateau. This is where the largest geysers are located. So is the natural pool Juan had been tempting me with earlier.
"Who's going swimming?" he asked.
The others shivered in their jackets, but I raised my hand. Rehydration here I come.
"Be careful," Juan warned the others as they set off to see the geysers. "People have died here by getting too close and falling in."
I gripped Juan's arm. "Please make sure I get in the right pool."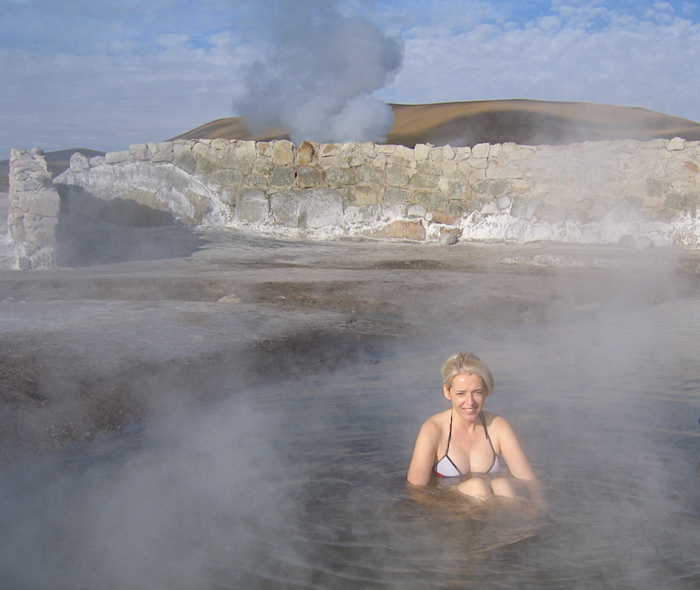 #9 Soak in the hot springs
Luckily, the right pool was hard to miss as a few brave tourists were already in. Teeth chattering, I stripped down to my swim suit and stepped into the shallow muddy pool. Submerging, then zigzagging around in a panic, I realized this was no relaxing soak, it was like paddling between hot and cold faucets. Where the thermal water entered the pool, the temperature was searing; where it sat in the icy air, it was arctic. Finally, by lying like a crocodile as near to the source as I dared and waving my arms in front of me to mix the water, I achieved modest comfort (ie I wasn't shrieking in agony).
The others quickly dashed out, leaving me alone. After a moment of quiet, a handful of motorcyclists clad in black leather surrounded the pool. Pointing gloved hands in astonishment at my bikini-clad body, they stared as if I were a deranged geyser spirit come to life. So what? I may have been cold. I may have even been soaking in arsenic. But for a few stellar moments I'd found a place where most visitors to the Atacama Desert wouldn't go.
Travel tips for things to do in the Atacama Desert
Pin me!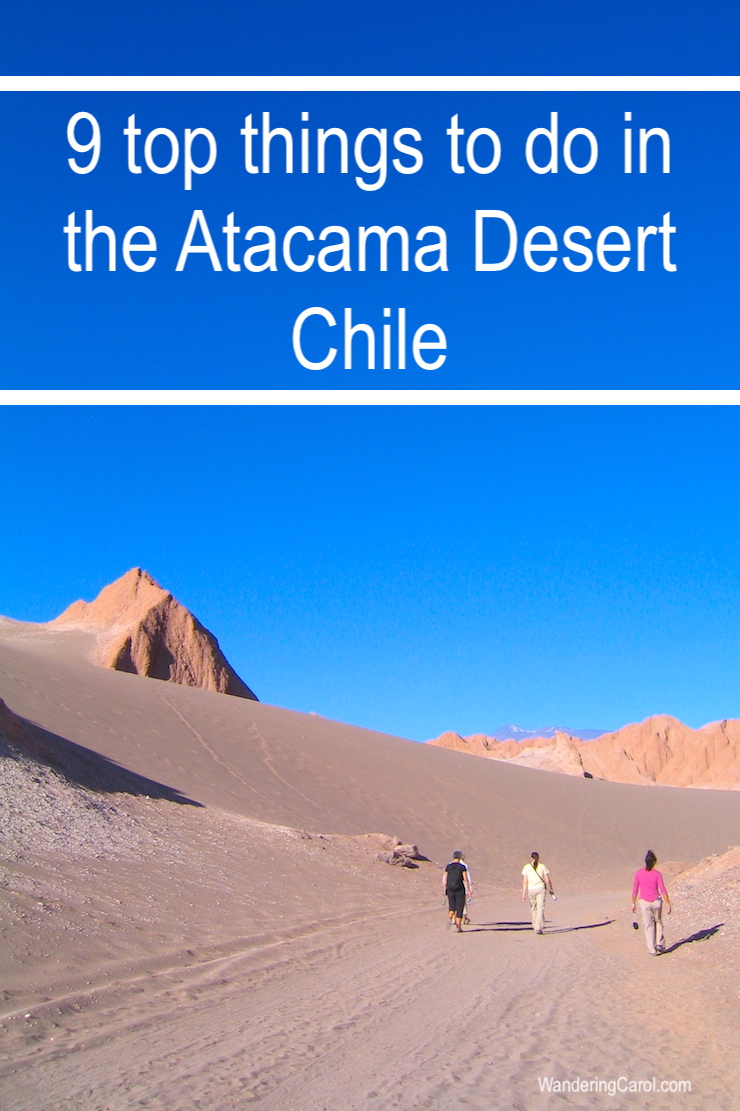 Getting to San Pedro de Atacama: San Pedro is one of the most popular desert hubs. LAN Airlines flies from Santiago to Calama. Buses go from Calama to San Pedro 1.5 hours away, or you can arrange a hotel pick up.
Where is the Atacama Desert? The Atacama is 1076 km south of the capital of Santiago. It's a two-hour flight from Santiago to the Calama Airport and a 90-minute transfer from Calama to San Pedro de Atacama. Many people also travel to San Pedro from Uyuni, Bolivia.
How do I book a tour?
Once in San Pedro you'll find a number of tours and excursions and a huge variety of things to do in the Atacama Desert. It's not necessary to book beforehand, although I did. Excursions can be arranged through your hotel or by visiting one of the many tour offices in San Pedro.
Check out tours in San Pedro de Atacama
Where to Stay:
Terrantai Lodge has a convenient location in the centre of San Pedro. Explora, one of the largest resorts in the area, offers a number of inclusive excursions like trekking, cycling and horse-back riding.
Check prices and availability of hotels in San Pedro de Atacama
If you're also visiting Peru on your trip to South America you might want to check out my article on seeing an Amazon shaman in the rainforest.
Note: This spa post contains some affiliate links. If you book through me, I get a small (like really small) percentage. If I'm lucky, one day I'll earn enough for a whole night at one of these hotels! But rest assured, this is at no cost to you. Thanks.