Have you ever wondered what the deepest part of the rainforest is like? An Amazon River Cruise leads me to a shamanic healing in Peru, and my journey goes deep into the Amazon Rainforest
A tropical downpour crashes around our thatch-roofed pavilion, while Guillermo, a young Amazon shaman in a blue feathered headdress, black T-shirt and cargo pants holds up a vial of dragon's blood sap. It seems a long way from where I started this journey, in Iquitos, a remote city only accessible by land or air.
"Rainforest Viagra," translates Cilso, my Peruvian guide, from Guillermo's Spanish. "Also good for TB. Three of four drops in water help hemorrhages after childbirth."
An Amazon Shaman's medicine chest
It's nothing I need at the moment. But judging by the array of roots and vials displayed on a rickety table in the ReNuPeRu Ethnobotanical Garden deep in the Amazon rainforest, there are plenty of other useful herbs. Lemon grass is good for cholesterol and insomnia. Cat's claw is an immune booster.
Sacred Ayahuasca
Then there is the most sacred plant of all, ayahuasca, also known as the vine of the soul, made by shamans. The shaman shows me a bottle filled with a deep red liquid that smells like old port. Brewed from the ayahuasca vine, this visionary potion has led rainforest people on spiritual journeys for millennia.
The Amazon isn't a forest to us, it's a medicine cabinet," he explains.
Rainforest bounty
The Amazon rainforest is a spiritual centre as well. For traditional healers and shamans like Guillermo, plants, medicines and spirits are inescapably intertwined, and are all key parts of a shamanic healing. Unfortunately, with so much of the jungle being depleted due to development, this medicine cabinet is shrinking fast.
Virgin old-growth areas like this, housing up to 300 plants per square metre, are becoming harder to find. Plant species are disappearing and the art of shamanism, along with its encyclopedic knowledge of rainforest secrets, is in danger of being lost.
ReNuPeRu Ethnobotanical Garden
The ReNuPeRu Garden provides a small counter balance to the Amazon rainforest's destruction. Surrounded by 100,000 hectares of a private nature reserve, in the heart of the old growth rainforest, it's a comprehensive medicinal plant garden that strives to protect indigenous plant species and keep ancient healing traditions alive.
The garden employs two full time shamans to tend some 245 medicinal plants. Located 160 km upriver from Iquitos on a small tributary of the Napo River it's only accessible by small boat. There is no electricity or roads, but with a rustic lodge (ExplorNapo), a 500-metre canopy walk and research station nearby, it's a remote haven for travellers and researchers who want to explore the Amazon rainforest of Peru.
"Do you want to try a healing?" Cilso asks.
The thought makes me nervous but I quickly agree. How often does a chance like this come along? Guillermo is only 31, but he's no novice. He's been a plant shaman (a combination botanist, folk doctor and spiritual leader) for over a decade, using knowledge handed down from his ancestors.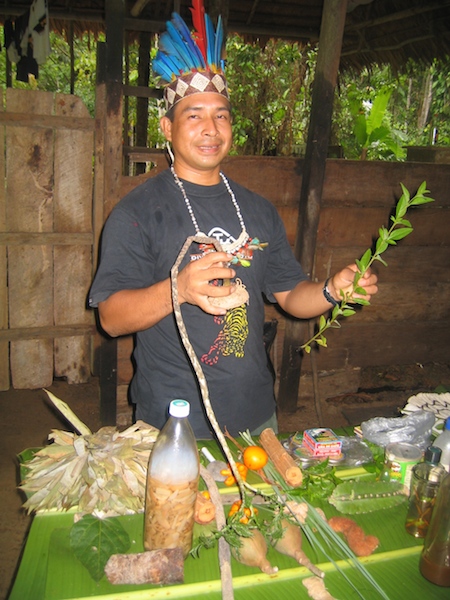 The shamanic healing begins
At Guillermo's instruction, I sit on a bench with my hands palm up on my knees and close my eyes. Outside, the rain slaps down over the flat wide leaves of palm trees. Mosquitoes buzz and the air is hot and humid. Guillermo starts chanting an icaros, a power song used to get in touch with the spirits of the natural world during shamanic healings.
His hand rests lightly on my head. Smoke billows around my face and I'm hit on the top of my head with a bundle of leaves.
How do you feel during a shamanic healing?
I tell myself to stop thinking and simply feel the moment, but it's not easy. Spiritual journeys and shamanic healing ceremonies are out of my league. The Amazon rainforest alone is intimidating enough, dark and overgrown, millions of years old, harbouring poisonous snakes, jaguars and who knows what else.
Conversely, I'm also worried the healing will end too soon. The Amazon has become a centre of spiritual tourism, with New Age travellers flocking here to work with shamans and embark on their own shamanic healing rituals, but normal ceremonies are intense processes, taking days or even weeks to prepare for, and can go on all night. Then of course, I'm without the benefit of ayahuasca, the mind-expanding elixir so potent and controversial that the beat writer William Burroughs wrote about it in the 50's and the Jesuits denounced it as diabolical in the 1700's.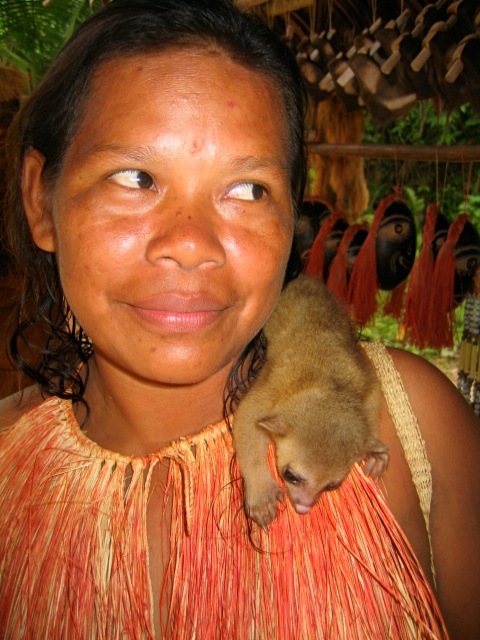 An Amazon Shaman state of mind
Eventually, between the chants of the Amazon shaman, the fragrant air and drumming rain I'm lulled into a state of calm. The thatch pavilion disappears from my mind and so does the garden. For one heady moment it's just me and the rainforest. Then abruptly it's over.
"Are you okay?" asks Cilso.
I look up and realize he and Guillermo are staring at me. "Fine."
"We have to go back to the boat."
Instead, I linger to ask Guillermo in faltering Spanish what he discovered.
"You have low energia," he says.
That's no surprise. Overnight flights and days of pre-dawn starts are enough to zap anyone's strength. "What did you do?"
"I took out the negative energia with smoke. And summoned the spirit of the tiger to give you strength. Or in your case-" He smiles. "The tigresa. And the plant spirit of ayahuasca."
A strange souvenir of the Amazon rainforest
The thought of taking back something from the Amazon, even in such an intangible form, is incredibly satisfying. But did the healing actually accomplish anything? As I walk back to the boat I don't feel any surge of vigor, but the jungle looks different to me. More inviting. And whether it's because I really tapped into a rainforest energy, or I just feel more comfortable because I've learned something about it, does it matter? Connecting, no matter how you get there, is what traveling is all about.
Travel to the Amazon rainforest of Peru
Visitors can visit the Canopy Walk and the ReNuPeRu Ethnobotanical Garden with Explorama, an ecotourism company with 50 years of experience in the Amazon. I stayed at the Explorama Lodge.
Ethical travel: In 2009 Explorama was the winner of the Educational Travel Conference Responsible Tourism Award.
For more information on packages including airport pickup from Iquitos, boat transportation and accommodation visit www.explorama.com
LAN Airlines (www.lan.com) offers regular flights from Lima to Iquitos in Peru. For more information on Peru visit the Tourist Board, Prom Peru at www.peru.info
Interested in Machu Picchu? (And who isn't?) I haven't made it there yet, but here's an article that might help you. You don't have to hike the Inca trail, you can also take the train to Machu Picchu.