Jade comes in more colours and hues that you can possibly imagine. Did you know it is also supposed to bring good fortune? So if you're looking for a fascinating way to experience Hong Kong, by buying jade and seeking luck, read on.
There are many ways to seek your fortune in Hong Kong, the most sophisticated city in Asia. When I was lucky enough to fly from Toronto to Hong Kong in business class on Cathay Pacific, I sat beside a well-dressed Chinese lady who told me that wearing jade will bring you good fortune.
Right then and there I decided to find out as much about buying jade and other ways to court luck as possible during my few days in Hong Kong, and if you're thinking of buying jade like I was, learn from my experience.
Finding fortune at the InterContinental Hong Kong
Later, when I checked into the InterContinental Hong Kong, a luxury hotel overlooking Victoria Harbour, Louis, the chief concierge, told me of another way to court luck – through Feng Shui – the craft of positioning objects in a way that improved the flow of Qi, or positive energy.
"Our hotel has excellent Feng Shui," he said. "It's designed to attract the Nine Dragons of Kowloon."
"Say what?" I asked
According to legend, he explained, there are nine dragons that live in the mountains surrounding Kowloon, and they enjoy flying down to Victoria Harbour for a bath and a drink. Since dragons can magically move through glass, the lobby's floor-to-ceiling windows provide an auspicious pathway for the dragons. "They fly in, bring prosperity to the island-shaped reception desk in the lobby and then pass through the hotel to the harbour," Louis said.
I'm set! Between excellent Feng Shui and some quality jade souvenirs I should be a billionaire by the time I exit Hong Kong.  The problem is I know nothing about buying jade. "How will I know what to buy?" I asked him.
The art of buying jade
"Don't worry," Louis said. "I'll sign you up for a jade appreciation course."
He sent me off to a store called Amigo Jewelry, on the third-floor of a building on nearby Mody Road. Nondescript outside, inside the shop it looked like an emperor's secret storehouse. Shelves were lined with elaborate carvings in tones and colours of jade I didn't know existed: lavender, sunny yellow and cream. Display cases shone with necklaces and rings. Plus, there was a jade pig on the rug the size of a piglet.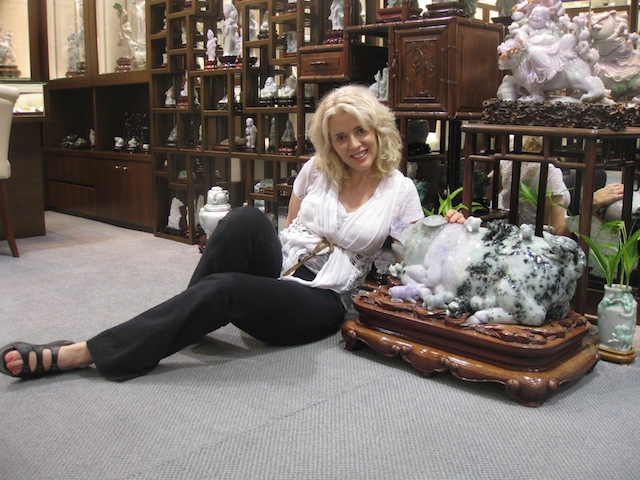 The best type of jade to buy
"The highest quality of jade is bright green. It's called imperial jade," said Cecilia, the store's jade expert as I spun around wearing a bright green necklace surrounded by diamonds. "You should be looking for vivid colour and translucency," she told me.
I couldn't buy anything so valuable, but my idea was to look at the quality jade at Amigo then head to the Jade Market in Yau Ma Tei to buy up some deals. Accessed through an elaborate red entranceway, the Jade Market is a warehouse-style space containing more than four hundred stalls.
Confused by the mass volume of jade bracelets, statues and key chains, I bought three milky green bracelets then raced back to the hotel for my upcoming city tour.
Touring Hong Kong with Queen Bee
Rosanna, my tour guide, is a matter-of-fact woman whose Chinese name means Queen Bee. After going to Victoria Peak for a hazy view of Hong Kong, we went to Man Mo Temple on Hollywood Road – a Taoist temple dedicated to the God of Literature and the God of Martial Arts.
The interior was red and smoky, with coils of incense dripping down from the ceiling. Kneeling, I tried my hand at Chinese fortune sticks, a ritual that involves making a wish and shaking a container holding 99 numbered sticks. I was supposed to shake the container until a stick fell out but I shook it too hard and two landed on the floor.
Take it seriously or don't do it at all
"You're not concentrating," said Rosanna. "You can try again but you have to make a different wish."
Finally a single stick falls out. Number 49. I ran over to the oversized book to look up my fortune.
Very Unfavourable Prospect, it said.
I stood shocked, reading a long list of problems that were about to beset me: obstacles to fortune, lawsuits should be settled, marriage delayed. At least the last line offered some relief: Complacency will bring better fortune. Put all together, however, it didn't bode well.
"You're not supposed to read it like that," Rosanna said with a look of impatience. "You need to see how it relates to your wish.
Getting my groove back
Slightly shaken, back at the InterContinental Hong Kong I decided to court some complacency at the I-Spa. In a private spa suite, I got my Qi aligned and flowing with a Tui Na acupressure massage and then lay back in an infinity spa pool overlooking the harbour.
Below me, the crimson sail of the Aqua Luna, one of the city's last remaining junk boats, billowed in the breeze, a bright splash of colour against Hong Kong's futuristic skyline.
Maybe it was the good Feng Shui at the hotel, but I felt a deep sense of calm, and hoped it meant that my fortune had improved already. I started thinking about jade and wondered if I should have bought something of a higher quality. No doubt I'd be really complacent then.
The next morning after a Tai Chi class on the hotel's outdoor terrace, I went back to Amigo. Once again, I salivated over things too expensive, an imperial jade ring, a carved necklace and that big pig, but I did leave with a souvenir, a delicate butterfly with the palest green wings that curled up like paisley.
"The butterfly means happiness," Cecelia said.
I am happy, I realized. I'm beaming. And that's something prosperity just can't buy.
Travel tips for travel to Hong Kong
Tips for buying jade in Hong Kong
There are 2 kinds of jade – jadeite and nephrite. According to Cecelia, jadeite is harder, more rare and more expensive, and the best comes from Burma.
Green jade is always popular and while imperial jade is the most valuable, the younger and trendier are opting for lighter shades like lavender and white.
Simple designs such as flat circular pendants are 'in,' though a big Buddha pendant will always make a great conversation piece.
Buyer beware: Jade can be dyed to look better and quartz or even glass sold in its place. If you're dropping serious cash, stick to a reputable dealer.
Travelling to Hong Kong? Lavish or Budget? Hong Kong is made for luxury, but you can still get a great experience for less. 
Accommodation
Splurge: With 2 celebrity chef restaurants, Nobu InterContinental Hong Kong and the 1-Michelin star SPOON by Alain Ducasse, as well as a 1-Michelin star Cantonese restaurant, Yan Toh Heen, the InterContinental Hong Kong. is a perfectly-situated option.  18 Salisbury Road, Kowloon Tel: (852) 2721 1211
Budget: The great location overlooking Victoria Harbour makes the YMCA of Hong Kong one of the cheapest deals in town. 41 Salisbury Road, Kowloon. (852) 2268 7888. Rates vary, but doubles start about $125.
Check availability and prices (I'm a Booking.com affiliate.)
Shopping
Splurge: The jade at Amigo Jewelry is machine tested for quality and staff is knowledgeable. 39 Mody Road, 3rd Floor.
Budget: Go crazy – but unless you're an expert, stick to fun souvenirs at the Jade Market. Located at Kansu and Battery Streets.
Fashion: Want more shopping in Hong Kong? Check out these Hong Kong designer discount stores.
Spa
Splurge: Get a taste of Oriental luxury with an acupressure massage at the InterContinental Hong Kong's I-Spa. The pool terrace, infinity spa pools and private spa suites make it an oasis of calm.
Budget: A foot massage at TAI PAN Reflexology Beauty & Foot Spa is an affordable pleasure. Basement of Golden Crown Court, 66-70 Nathan Road. Tsim Sha Tsui.
Sightseeing
Splurge: The Aqua Luna is a hip and atmospheric way to cruise the harbour. 45 min evening sailings approx $24. Aqua Luna
Budget: The Star Ferry is a steal, from about 32 cents to cross the harbour.
Getting to Hong Kong
Splurge: The flat beds, complimentary champagne and attentive staff in Cathay Pacific's Business Class ensure that you'll arrive in Hong Kong well rested. 2 flights daily. Toronto to Hong Kong from $4,204. (Airfares exclusive of taxes/surcharges.)
Budget: Economy class will get you there just as fast, plus you still get complimentary eyeshades. Flights from $1,009. www.cathaypacific.com
For more info on Hong Kong visit DiscoverHongKong.com
Read more about luxury travel in Asia