Salt therapy in Berchtesgaden Land, Germany, offers a potent path to wellness deep in the heart of a mountain, and a unique way to tour Bavaria's salt mine, the Salzbergwerk. If you're interested in Germany spas, you might like this unique healing therapy that helps with asthma, allergies and respiratory illnesses.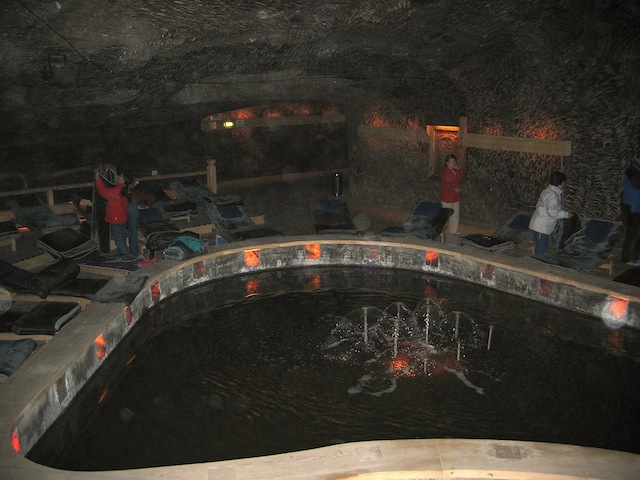 Salt therapy in Berchtesgadenland, Germany
Here's a spa treatment to take with a grain of salt. Salt therapy is booming these days, with salt caves and salt rooms springing up in spas all over America – and more power to them – but for the real organic experience, nothing beats heading into a natural salt cave deep inside the ground, so let me introduce you to salt therapy in Berchtesgaden Land, as scenic district in Bavaria in southern Germany.
What are the benefits of salt therapy?
Said to be especially effective for chronic respiratory illnesses, allergies and asthma, healing salt air is also known as a general cure-all, and some swear it's helped their eczema. While salt caves are all the rage, going into a salt mine is the real healing deal.
Salt of the earth – my adventure into the mine
I'm about to embark on this salt-based healing ritual deep inside the belly of a mountain, but I feel more like one of the seven dwarves heading into the mine.
As I wait outside the Salzbergwerk in the misty morning air, with the surreal fakeness of the Bavarian Alps around me and a turquoise river burbling in the background, the idea of abandoning this fresh Alpine air to improve my health by taking a spa treatment in a salt mine seems absurd, especially when I'm told to straddle a kiddie-size choo choo train along with twenty-five other therapy seekers and we set off into the dark.
German spas have a tradition of quality
But German spas have a tradition of excellence, and salt therapy in Berchtesgaden Land is a serious business, so I'm willing to give it a go. The train whips us through egg-shaped tunnels so narrow that if I tilt my head too far I'll get clipped. As we turn a corner a black and white neon sign saying Glück Auf! looms out at us. It sounds obscene, but Elke, the woman from Berlin sitting behind me tells me it means good luck. She should know – she's been heading into the salt cave every morning for three weeks to treat her asthma.
The salt cure
The antiseptic properties of salt have long been documented, but the idea for a 'cure gallery' in the salt-rich area of Berchtesgaden Land in southwestern Germany came from a physician named Dr. Schütz. A prisoner of war assigned to treat the sick and wounded in a salt mine near Krakow, he noticed how salt-saturated air heals wounds quickly.
In 1990 the current Heilstollen Berchtesgaden Land salt cave was created in a specially-built tunnel in the Salzbergwerk, a 500-year old working mine in the heart of the Bavarian Alps, just 23 km south of Salzburg, Austria.
New paths to wellness
Our train pulls to a stop in a large cavern by two huge wooden slides that descend to a lower level. They're steep, the size of water slides and I eye them with suspicion until Elke explains that they're not for us, but for the tour groups who come to dress up in miners' costumes and explore the historical world of salt firsthand.
The salt room
Our group heads into a side tunnel tucked around a corner like a secret passage. After exchanging shoes for slippers we file into a spacious grotto with split-level platforms, beehive-shaped lampshades, sleek chaise lounges and a brine-filled fountain that glitters with colored lights. It's a fantastical mix of ancient rock and high-tech décor, and I'm not sure who would be more at home here, Tolkien or James Bond.
Most people stake chairs by salt cave's fountain, but Elke and I head to the upper platform where we burrow into furry blankets and prepare for the grueling activity of lying down and breathing by … lying down and breathing.
For two hours we remain in absolute quiet, soaking up moist salty air. Ribbons of rock and salt swirl over our heads in shades of red, charcoal and white and I sense the full weight of the mountain above us. Rather than feeling suffocating, it feels protective, like a giant granite womb.
The Berchtesgaden Land area
Just FYI: Berchtesgaden Land seems to be called Berchtesgadener Land but don't ask me the difference. At least I can't come up with any easy answer as I lie there while the salt cave does its healing magic. Whatever it's called there is a lot to do in the area. I picture the bus loads of tourists above us at the nearby Eagle's Nest, Hitler's infamous mountaintop retreat, or checking out Lederhosen shops at nearby Lake Königssee. They probably have no idea there's a subterranean healing session in a salt cave going on. But Berchtesgaden Land has many layers, and Lederhosen and schnitzel make up only part of it.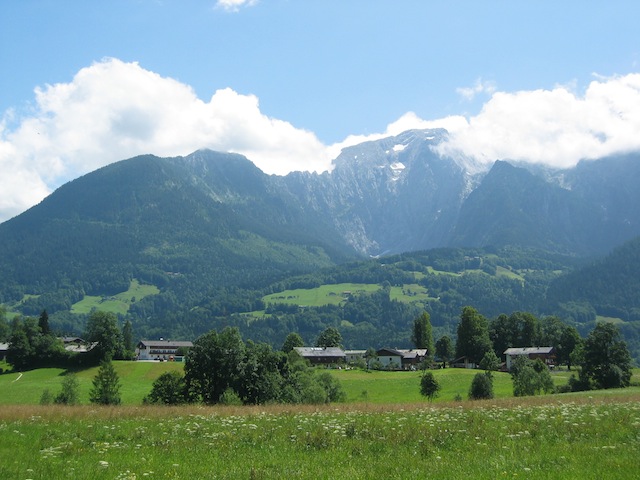 Spas and wellness in Berchtesgaden Land
Also known as a climactic health resort, Berchtesgaden Land is an area encompassing five Alpine towns. It attracts active vacationers who want to combine outdoor sports such as hiking and skiing with overall wellbeing. In addition to salt therapy in Berchtesgaden, alternative therapies such as Ayurvedic detoxing are booming at places like the Well Vital Residenz Spa in the Alpenhotel Zechmeisterlehen.
Other local hotels such as the Alpenhof and the Best Western Rehlegg have extensive wellness and leisure facilities with saunas and indoor/ outdoor pools.
I'll drink (salt) to that
When the healing session in the mine is completed, our group indulges in a glass of curative brine water (which tastes better than it sounds, like a faintly-salty mineral water) before heading back to the train. Tour groups dressed in traditional miners' outfits of baggy jackets and pants have invaded the mine, swooping down the slides, taking pictures and listening to the guide. I'm sure it's fun but after experiencing the mysterious tranquility of the Heilstollen and Berchtesgaden salt therapy, I'll take my sightseeing lying down.