This post may contain affiliate links.
Sometimes the things you think you know turn you upside down, dunk your head in the Indian Ocean and make you see reality in a different cinnamon-scented way. This is how the Seychelles Carnival changed my perspective about carnivals, and how I came to believe that the Seychelles Carnival can change the world.
Three days ago this is what I thought: A carnival is a great big party!
Today, this is what I think: A carnival is a great big party! But it can also do so much more. The Seychelles Carnival can change the world, one little float at a time.
And how, you may ask, can the Seychelles Carnival change the world?
The recipe for changing the world through a carnival is simple: Don't make it one carnival, no matter how proud you are of your culture. Make it the Carnival of All Carnivals.
Bring in floats, dancers, acrobats and performers (and journalists) from all over the world, and presto, it becomes the Olympics of the carnival world.
Get creative with your carnival recipe
While you are free to add your own favourite spices (the Vanilla Islands being an excellent choice) the best recipe for the Carnival of Carnivals includes Brazilian dancers, a Zydeco band, Sami tribe singers from Sweden, Chinese acrobats on stilts, girls in Cowgirl outfits (I never did figure out what they were doing here, but they sure were happy and energetic).
You will also want to add Masai warriors, delegates from Dusseldorf in outfits that look a little like marching band uniforms with gold tassels on the shoulders and maybe a couple of ladies in swan outfits.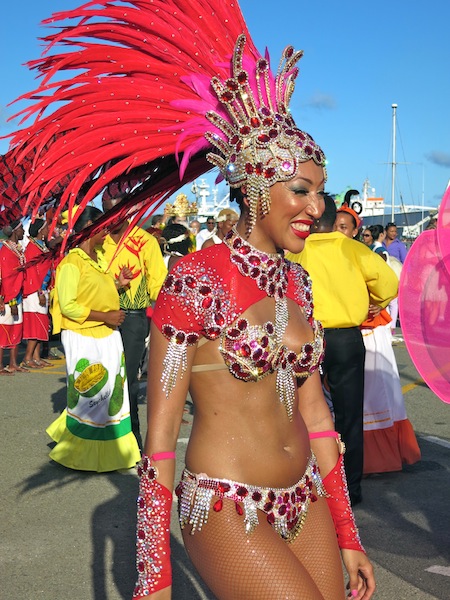 Do not forget the dancers
Of course you'll want Notting Hill Carnival dancers from London with costumes even skimpier than the Brazilians – actually no, I take that back, no one can get a skimpier spanglier outfit than a Brazilian Carnival dancer.
While we're at it, bring in Trinidad and Tobago and Bhutan and Indonesia. And South Korea! I could go on, but my point is: by bringing together all these countries in a spirit of talent and unbelievable fun means that the Seychelles Carnival can change the world.
Smacked on the head by a warrior
The first knock on my head that changed my outlook about carnivals came when I was waiting to board a ferry for the pre-opening ceremonies and a dancing Masai warrior swung his head around and smacked me in the face with his big reddish black braids. (At least he didn't thrust his spear at me like he did with another guy!)
Pre-opening ceremony
Then our group of journalists, Seychelles business owners and dignitaries, including Mr. James Michel, President of the Republic of Seychelles, boarded our Creole Travel Services ferry for an island sunset tour over Silhouette Island.
The speech that changed my world
During the cruise there were speeches and the second smack on my head came when Alain St. Ange, the Minister for Tourism and Culture for the Seychelles, gave an opening speech.
The Seychelles Carnival can change the world and so can a speech
I am not good with speeches. And once the speeches started (because I am a horrible person) I started thinking I was going to zone out.
(And don't say you never think the same thing, because let's face it, most speeches are snooze city), but then Alain St. Ange, the Tourism Minister started to speak and that's when I was tossed upside down, just as if a big white salty wave caught me and hurled me around and around.
Carnival transformation
When I came up for air my perspective about carnivals had changed and I came to believe that the Seychelles Carnival can change the world.
Alain St. Ange's speech was possibly the best speech I've ever heard (and from someone looking forward to a little nap due to jet lag, this is saying a lot). And the thing is, his message was so beautifully simple:
The world can unite through culture.
The little carnival that could
That's why the Seychelles Carnival, the Carnaval International de Victoria, can change the world, because it's a celebration of every culture together.
And all these cultures descend on the Republic of the Seychelles in the city of Victoria, which is the tiniest capital on the planet, and mix with local floats and singers and some of the hottest ambassadors on the planet (hello, Miss Reunion!) and local islanders, to, in Alain St. Ange's words, "Bring Asia, Africa and the world together on the world's smallest islands."
Craziest mix of harmony ever
I swear, I'm getting teary just thinking of that speech. But imagine it! An explosion of cultures, colours, tribal chanting, reggae, zydeco, drummers, traditional Asian music and marching bands mixing with the sun, sand and palm trees of the gorgeous Seychelles, and you have the Seychelles Carnival that can change the world.
And this is only the pre-opening day!
Make dance not war
If you ask me the President Michel and Tourism Minister Alain St. Ange are visionaries. And maybe you can't quite get the feel of the spirit of internationalism unless you're here, but just seeing Parisians talking to Mauritians and Australians hanging out with Kenyans and locals hanging out with everyone was the most crazy cosmopolitan happy mix I've ever witnessed.
Tourism beyond palm trees – though palm trees are nice, too
The Carnaval International de Victoria is co-hosted with Madagascar, Mayotte, South Africa KwaZulu Natal and La Reunion. Even so, I don't truly understand how a little speck in the ocean (okay a lot of specks, the Seychelles is an archipelago of 115 little islands) can organize such a huge carnival (5th largest in the world).
The Seychelles Carnival is a brilliant tourism idea and, to paraphrase Alain St. Ange's speech, helps bring us to a point where we can all live in harmony beyond colour of skin, to live in peace with each other – and where once you've landed you cannot go back.
And who wants to go back?
And now that I've landed on the Seychelles and learned that the Seychelles Carnival can change the world, one little float at a time, I don't ever want to go back either!
So let's get rhumba-ing and I'll sum up with Alain St. Ange's words about why the Seychelles Carnival can change the world: "Because we can have one rhythm and all the nationalities can dance to it."
So start moving.
Plan ahead for Seychelles Carnival 2015
I'm telling you now, get with the world unity and make your plans to come for Seychelles Carnival 2015. To help you, read 10 Essential Seychelles Travel Facts and visit the Seychelles Tourism Board website.