This post may contain affiliate links.
Which is more fun, planning a vacation or sticking your face in a blender? Hm, let's see. It depends on what kind of trip you're planning. If you're searching for a vacation rental in Tuscany and trying to find a flight on airline points in high season, the blender route may be less painful.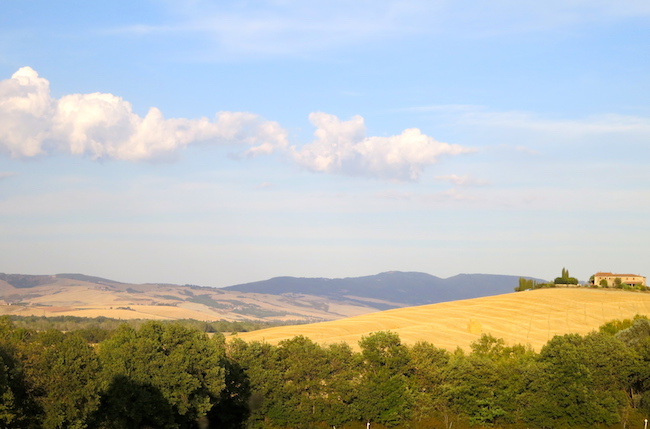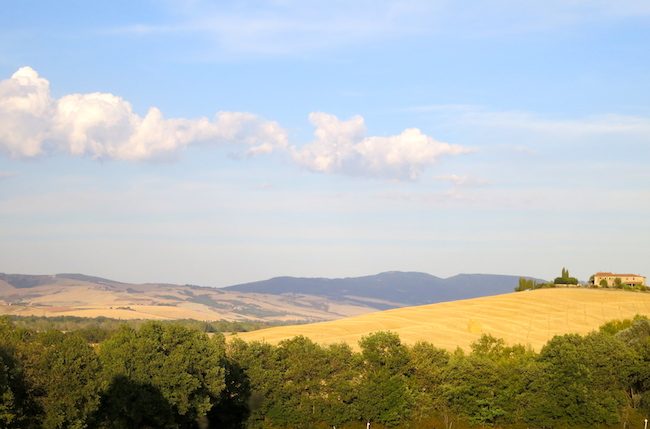 But wait. This can't be. I am a travel writer. I love planning trips. I am good at it. I plan trips on a regular basis. And yet trying to figure out this trip to Italy has me searching for bridges to leap off, or small dangerous appliances to play with.
Since August is the only time my boyfriend can take time off – the worst month to go to Europe because everyone in Italy has the blasted month off and is therefore searching for vacation rentals of their own – August it is. Not impossible, we thought.
Searching for a vacation rental in Tuscany – The perfect place to call home
Then we found a little farmhouse on Homeaway.com. Perfect. Perfect for me because it has a little hot springs that comes right out in the stream behind the villa that you can soak in. My favourite thing in the whole world are hot springs – they feel great on the skin, they're full of healing minerals and soaking requires no skill whatsoever.
This Tuscan vacation rental would be perfect for Mark, too, because the small stone farmhouse has a swimming pool – he loves to go for a swim first thing in the morning (while I just want to sit stunned and drink another cup of tea).
Planning a trip to Tuscany – the flight
And then we found a flight! Yay! It went through Madrid. Perfect. We could stop in Madrid for 3 days. We went to book the flight and the fees and taxes came to $600 a piece. $1200 for a free flight? Yikes! Two years ago when we went to Marseilles the taxes and fees were $300. What happened to that? And we hesitated. And now the flight is gone.
When you're searching for a vacation rental in Tuscany book early
Then the farmhouse, which had availability according to the handy chart on Homeaway, wasn't available for the exact time we wanted it after all. Well why not? "Perhaps you'd prefer a vacation rental near Sienna," the proprietor told us, offering us a different property. One without a hot springs stream.
Searching for a vacation rental in Tuscany – Hot and steaming
I'd spent days and days searching for that farmhouse. I have eye strain from staring at the computer, I don't want to look at any more vacation rental websites and I want a hot springs stream! Maybe the real issue is that I don't want to go on this trip. I'm just throwing this idea out there. Because two years ago when we rented a villa in France the trip was far more complex, with a hundred flights and 3 different regions and even Paris got tossed in there, too, but it was my dream trip and nothing was going to stop me from arranging it. This time, with Italy, not so much. I'm not sure why.
Mark hasn't given up. He keeps sending me listings of vacation rentals for Tuscany and then one from Umbria. "How about this one?" he says, about a stone house in Todi, Umbria, which, according to the description, "is a secret Italian hideout for the rich and famous from Rome, London and New York." Todi, I assume, not the stone house, but if it is, I'll take it!
Searching for a vacation rental in Tuscany, look at Umbria instead.
"Now here's another place in Umbria," he says. "It's in a medieval mountain top village. In a national park. You can go canoeing and hiking."
Canoeing, schmamooing, I'm thinking. But actually, I do like canoeing. And the area looks craggy and wild, which is always a draw.
Mark google-maps spas in Umbria and shows me the screen. "See? There are lots of spas. And did you see this?" He shows me a blog by a woman who did a (hilarious) post on spas of Umbria.
"But they're just regular expensive spas," I say. Great for a splurge but I can't afford to go every day. I like the old fashioned curative spas, where you see a spa doctor and it's not fancy and it's full of locals and you go Every Single Day. Places with history like Montegrotto Terme near Venice.
"They're not hot springs," I add.
What's a dream trip to Italy without hot water?
A normal boyfriend would probably give up at this point and start looking for some other woman to take to Umbria. Instead, Mark keeps searching the Internet, which is weird because he a) hates planning trips and b) has probably never looked on a spa website in his life. He really must want to go to Italy.
In fact maybe finding a vacation rental in Italy is his dream trip, just like renting a villa in France was mine. Maybe I should be more understanding, especially because he's finally found something special, a thermal resort near Assisi called Terme Francescane Village. It has, the web page says, a lush park with flowing sulphurous springs.
Suddenly a hot springs stream doesn't seem so important. Not when there's a whole hot springs village available. And it sounds as if it's the old-fashioned kind of spa. You just can't beat a place that treats – and I quote – "diseases of the circulatory system as syndromes post phlebitic varices and artereoterapie obliterans." How great does that sound!
Maybe my nightmare trip planning fiasco will turn into a dream trip after all – now if only we can get a flight.
PS: We ended up in Umbria
Read more: about the Top Cities to Visit in Italy
For more of the best places in Europe to see: visit Top Destinations in Europe