This post may contain affiliate links.
Robert Louis Stevenson may have trod this perilous area with a donkey named Modestine in his short novel Travels with a Donkey in the Cévennes written in 1879, but that was nothing compared to driving the scary roads of the Cévennes with a GPS, a difficult finicky animal Mark and I have named, appropriately, Modestine.
Where are the Cévennes?
The Cévennesis a wild mountainous area in the southwest of France. Stunningly beautiful and green and overgrown, with red rocky cliffs and twisty trails and roads, the Cévennes is an area surprisingly untravelled, at least in June. In fact some of the towns we have stopped in seem a bit like eerie shuttered ghost towns, though, we were continuously assured, in July it will be bursting with tourists.
Too bad. I like the Cévennes like this. Although sometimes, I must say, it is a bit weird, like after the third time you've eaten at a restaurant without actually seeing any patrons.
But back to the scary roads of the Cévennes. Mark and I travelled from our chateau (oh, I plan to say that as much as possible … our chateau, don't you know) to the town of Saint-André-de-Valborgne and decided to take a scenic route back.
Modestine recommended it. But Modestine did not have our best interests at heart. The road was the size of a bowling lane with dropoffs of hundreds of feet. I'm not making that up – Mark thinks some of them were five or six hundred feet. No rails.
The really scary roads of the Cévennes
Arrgggh! I said, as we twisted around a blind corner. Accckkkk! I said at another as I stared straight down into an impossibly low valley. At one point, a perilous one ( I plan to say perilous as much as possible in addition to chateau), we turned yet another blind corner and came upon a volcanic peaky-looking mountain smothered in an orangey misty gold from the late afternoon sun.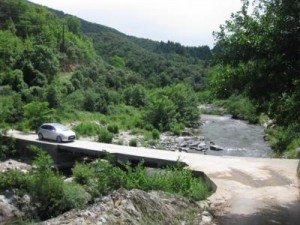 What happens when there is a traffic jam on the scary roads of the Cévennes?
At one section of the twisty mountain road to our astonishment we came upon quite a crowd. And who has the right away on a steep mountain road, I'd like to know? The grizzled man walking with his dog coming toward us, the two cyclists ahead of us who we were about to pass or the two motorcycles on our tail?
As this was the only traffic we had seen so far on the road it was quite exciting in a nail biting sort of way. And just so you know, in case you ever find yourself in such a predicament, this is how it unfolds:
The man and dog step to the side of the road, the car (us) pulls over to let the motorcycles pass, the two cyclists grudgingly let the motorcycles pass them and then as we all round a bend on a narrow road (except for the man and his dog who went the other way) the cyclists, quite wisely refuse to let us pass, and then eventually we get by them and we all enjoy the mountainous view. Except perhaps, for the cyclists, who were busy cycling straight uphill.
In the end, though Modestine is difficult and I quite hate her – as Stevenson hated his Modestine – maybe our pernickety GPS just wanted to show us the most spectacular parts of the Cévennes.
And maybe when we give her up at the end of our stay, I'll cry. Because that's just what Robert Louis Stevenson did.
Read more on the sexy South of France: Visit my travel blog post Things to do in the South of France for plenty of ideas on where to go, why to go and what to do there.