This post may contain affiliate links.
Win! Don't you love that word? Luxury! Don't you love that word, too? You're going to love this prize as well. As Rocky Mountaineer's Blog Ambassador this season I'm thrilled to unveil (pause for drum roll …) an Ultimate Rocky Mountaineer Luxury Train Trip Contest sponsored by Rocky Mountaineer.
THE CONTEST IS OVER! SCROLL DOWN TO THE CONTEST ENTRY BOX TO SEE IF YOU'RE THE ONE. AND THANK YOU SO MUCH, EVERYONE, FOR ENTERING.
It's a 2-day luxury rail trip through the Canadian Rockies. Whoot!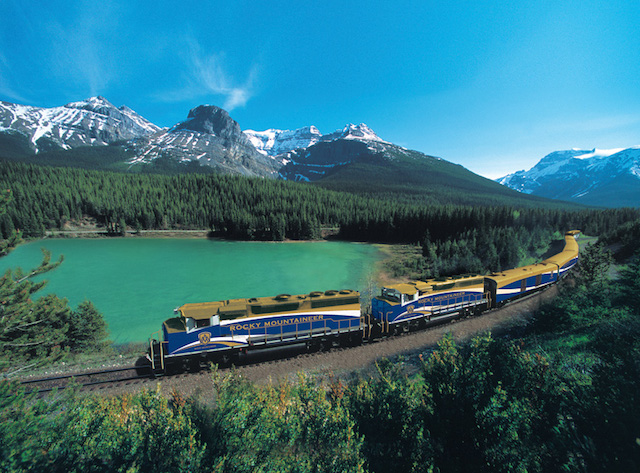 Sorry, global citizens – this contest is for Canadians only (but we do miss out on a lot of other contests, so please don't begrudge us this one exciting thing). And er, you're excluded, too, Quebec – sorry. If it were up to me …. but your rules are too confusing.
So for all the rest of you lovely Canadians, enter to win your luxury train trip through the Canadian Rockies with Rocky Mountaineer now!
What is included:
A 2-day Rocky Mountaineer rail trip in GoldLeaf service for two people in 2016!
Winner (that could be you!) has the choice of the Journey Through the Clouds (Vancouver to Jasper or vice versa) or First Passage to the West (Vancouver to Banff or vice versa).
Did I mention GoldLeaf Service? Shall I mention it again? GoldLeaf Service is the crème de la crème of the Rocky Mountaineer train options with a 2-level dome car, elegant dining room and outdoor viewing area. Oh, it's deluxe.
Overnight accommodation in Kamloops.
Bevvies (local wines, anyone?), gourmet breakfasts and lunches and spectacular views. Did I mention the views?
Also included: plenty of local lore from your hosts. And sometimes cookies.
Possibly but not guaranteed to be included. A bear sighting!
What is not included?
Winners will be responsible for airfare, hotel accommodations pre/post rail portion, excursions and transfers.
How much is this spectacular trip worth: CAD $4,598
Yes, you heard right. I mean, yes you read write … I mean right. Whatever. It's a CAD $4,598 value!
How to enter the Ultimate Rocky Mountaineer Luxury Train Trip Contest
Pick an option. Even better, pick them all.
Subscribe to this Blog
Visit the Rocky Mountaineer Train Facebook Page
Visit the WanderingCarolBlog Facebook Page
Tweet the Contest Message
Follow us on Twitter
It's easy, just click on the Rafflecopter form below to get going.
Hint on entering by Tweeting the contest message – It takes an extra step that you might not realize. (Or is it just me who didn't realize and everybody else understands everything perfectly all of the time?)
The short rules:
NO PURCHASE IS NECESSARY. Contest begins on July 14, 2015 at 12:00:00 a.m. Eastern Standard Time ("EST") and ends on Aug 4, 2015 at 12:00 a.m. EST. One prize of a 2-day Rocky Mountaineer rail trip will be given away. Approx value is CAN $4,598. Winners will be chosen by a random draw. Winners must answer a skill-testing question. Contest open to residents of Canada, excluding Quebec, who are of the age of majority in the province or territory where they reside. Odds of winning will vary depending on the number of eligible Entries received. Click on terms and conditions link on the Rafflecopter Entry Form for full terms and conditions.
Good luck and good travels!