This post may contain affiliate links.
Rocky Mountaineer, a luxury train through the Rocky Mountains and western Canada, is a uniquely Canadian experience. Here's why.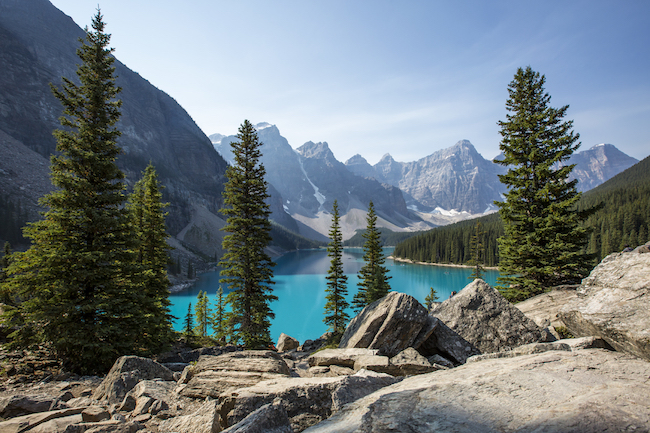 FYI: I'm a Rocky Mountaineer brand ambassador, but my opinions and love for all things Canadian are my own.
A unique Canadian trip
What makes Canada unique? Besides monumental scenery, fascinating indigenous cultures, farm-fresh foods, wildlife and open-hearted people, I mean. What about nature? What about Canada's legacy of exploration and grit? Offering a taste of all this, Rocky Mountaineer is a luxury rail journey that curves through the Canadian Rockies, a trip so purely Canadian it will get you playing hockey, wrestling with bears and scaling snowy peaks in no time. (I'm kidding! No bear wrestling allowed.)
Rocky Mountaineer Canada
Taking one of Rocky Mountaineer's scenic train routes from Vancouver to Jasper, Banff or Lake Louise – or vice versa – is one of the most iconic Canadian experiences out there, and one of the best ways to discover why Canada is so, well, Canadian. Here's why:
The scenery
A big landscape needs big windows, and Rocky Mountaineer is all about picture perfect views as you pass by looming mountains of slate and silver, gorges draped in shadow, frothy waterfalls, pine forests or the startling parched beauty of the Fraser Canyon.
A Rocky Mountaineer rail journey is designed so that you only ride by day in order to make the most of the daylight hours. These are views you don't want to sleep through, views that firmly ground it as Rocky Mountaineer Canada, not Rocky Mountaineer Anywhere.
Meals on Rocky Mountaineer
Rocky Mountaineer is proud of their locally-sourced cuisine. I travelled in GoldLeaf service and much of my day revolved around dining, anticipating dining, and the memories of dining while rushing by chalk-blue rivers and cappuccino-coloured mountain sheep as they stood on steep mountain cliffs.
It's a true flavour of Canada with options such as Alberta beef short ribs braised in Okanagan Valley Merlot and roasted Fraser Valley chicken breast served over a creamy sweet pea puree. Or how about Sir Sandford Fleming eggs Benedict?
Who was Sir Sandford Fleming, you ask? Why was he vital to the railroad in Canada? He was the man behind the the rail line that connected Eastern Canada with the West, unifying the country. And someone as important to Canadian history as that deserves a egg-dish namesake, don't you think?
The wildlife
Isn't this what Canada is known for? While Rocky Mountaineer doesn't pay the animals to lope out and pose for guests (which is why I have yet to see a bear on one of their trips), something wild is bound to show up: mountain sheep, ospreys, moose, deer, elk … I don't want to play favourites but I don't love elk, so personally, I think it's more exciting to see a moose.
The big prize, of course, is a grizzly, and I did spot a mother and two cubs once in the Rockies on the Icefields Parkway between Banff and Jasper. But no, of course I didn't get a photo. My wildlife shots, or lack thereof, can inspire nightmares.
The history
The Canadian West has a colourful past. As you travel through this soul-stirring landscape you'll also move through different eras and histories. Learn about the Stó:lō and St'at'imc People who settled in the Fraser Canyon after the ice age. See the site of the Last Spike, the final piece of the transcontinental railroad that connected the Pacific to the Atlantic. With moments like this, your Rocky Mountaineer journey is as much about time and footprints as it is about comfort and views.
Rocky Mountaineer, a Canada classic
The people
It's the onboard hosts who can elevate your journey from a ride into a bucket list experience – and a uniquely Canadian one at that. Between delivering freshly-baked oatmeal cookies or a glass of award-winning BC wine, the Rocky Mountaineer team will fill your ears with everything from tales of gold miners and bandits to geological highlights and information about the indigenous cultures and their deep connections to these regions.
But it's not only the hosts that help Canada's personality shine through. It's the people you pass. Bystanders are constantly waving, so much so that you start to feel like the queen greeting her loving subjects, and it's a bit of a shock when you get off the train and find you're not royalty after all.
Above all, in an overcrowded world where tourists are often given short shrift, a ride on Rocky Mountaineer gives you the heart-warming feeling of being welcome. And isn't that the most Canadian feeling of all?
Pin me!
Want more information about Rocky Mountaineer Canada? Check out these tips to help you choose your Rocky Mountaineer package. Or check out more things to do in Canada.
*All photos were provided by Rocky Mountaineer except the one below, which is by me, your friendly luxury travel blogger.