This post may contain affiliate links.
It's our last night at the chateau Bussas. Our French wilderness idyll is over. Every day since Wednesday Mark and I have had a running conversation of, "oh no, I can't believe we have only 3/2/1 more days" or "where has the time/day/morning gone?" or "how can it be over already."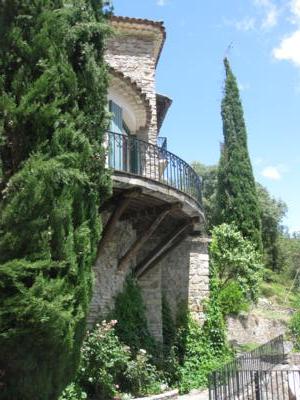 Then, last night, Mark turned traitor. I caught him reading our Paris guidebook in bed! And today again by the pool! While I'm still poring over A Walking Tour of the Cevennes along the trail of Robert Louis Stevenson, he's already moved on to Paris, where we will be tomorrow night, after a drive to Marseilles and a short flight, soon settled into a little apartment across the street from the Louvre on the famed and wonderful rue Rivoli. In walking distance to the Piano bar at the Hotel Crillon. And this time I'm drinking champagne at the Plaza Athenee as well.
But not yet. For one more evening – which is going to include a local meal (chicken in fresh tarragon sauce for me and wild boar casserole for Mark) cooked and delivered to our table by the caretaker's daughter, I plan on staying right here in the rugged and beautiful Cevennes. At least for one more night.