This post may contain affiliate links.
Meeting people on the Rocky Mountaineer is one of perks of taking this scenic train trip through the Canadian Rockies. But what's the secret of ever-lasting rail popularity? If you want to know how to impress others without once shouting 'All Aboard' at the top of your lungs, read on. With these foolproof tips you can't go right wrong.
All aboard!
One of my favourite pastimes when travelling is embarrassing myself and those around me by talking at to strangers. And it's very possible I embarrassed Jeff Pelletier, Communications Coordinator at Rocky Mountaineer who was stuck, er, privileged, to sit beside me in a GoldLeaf car on The First Passage to the West luxury train trip from Vancouver to Banff.
Meeting people means juicy gossip
But isn't meeting people one of the joys of travelling? How else will you find out their deepest darkest secrets and satisfy your tabloid-hungry curiosity? Secrets which you would never ever impart to others (Jeff grows giant pumpkins!), and if you're not going to start the conversation, who is?
Introverts take heart
Even if you're not an Extrovert Times Ten, don't worry. There are plenty of ways of meeting people on the Rocky Mountaineer. And these tips should work well for any scenic train journey – in fact, they may even change your life!
About the Rocky Mountaineer
First, in case you haven't read my Rocky Mountaineer scenic train routes review and you don't know what the Rocky Mountaineer is, a quick recap. Rocky Mountaineer is a Canadian tour company that offers high end rail journeys through the most spectacular routes in the Canadian West (and now Seattle, too.)
Is a Rocky Mountaineer trip worth taking?
Don't ask me. Ask the World Travel Awards who voted it the "World's Leading Travel Experience by Train" or National Geographic who called it one of the "World's Greatest Trips."
Now let's get to work! Here's how to meet people on the Rocky Mountaineer.
Meeting people on the Rocky Mountaineer rule #1: Find common ground
Amble up to someone sitting in front of you and begin with a unbeatable opener, such as: "So … do you like trains?"
Upon hearing this your potential new friends will think you friendly but not very bright because, as they have chosen to travel by train, and are presently sitting on a train, chances are that they like trains very much. But don't worry – you'll impress them with your brilliance soon enough. The important thing is that the conversational ice is broken!
Meeting people on the Rocky Mountaineer rule #2: Switch it up
Once you have established that you both like trains, dazzle them with some Rocky Mountaineer train factoids such as: "Say, did you know the diesel engine horsepower of this train is 3,000 HP Two Stroke Cycle, 16 Cylinder?"
If their eyes glaze over, focus on something more regional, such as: "Say, did you know that 70 million years ago those crazy Dromaeosaurids, scary feathered raptors with a mean slashing talon on their second toe, were roaming around Alberta? And you thought grizzly bears were bad."
At this point, if they have shut their eyes, blocked their fingertips and are singing 'la la la' you will have to raise your voice to establish a meaningful friendship.
Never give up
Help them out with some insights into what they are seeing as you chug alongside the Fraser River: "JUST THOUGHT YOU MIGHT WANT TO KNOW THAT HELL'S GATE, THE NARROWEST PART OF THE FRASER CAN GET AS MUCH AS 909,218,000 LITRES OF WATER A MINUTE THROUGH THE 33.5 METRE-WIDE GORGE!"
If they don't reply, try a follow up, such as: "AIN'T THAT A KICKER?
Once you have established a warm rapport and are on your way to a lifelong friendship move on. You can't meet enough people on the Rocky Mountaineer!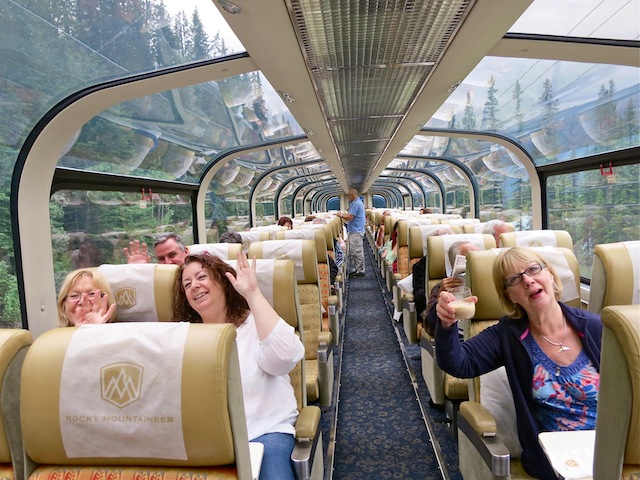 Meeting people on the Rocky Mountaineer rule #3: Mingle
Make yourself a mini ambassador. You'll be the star of the car! Head up the aisle and talk to each person as you go – even if they're asleep. (They're probably just pretending in order to hide their shyness.)
Here's the perfect opening gambit: "Say, you must be Australian?" Since a high percentage of travellers on the Rocky Mountaineer are Australian, they'll immediately jump and down and applaud your perceptiveness.
Meeting people on the Rocky Mountaineer rule #4: Keep the conversation moving
Don't forget to follow up with an fascinating local factoid – and speak in a loud assertive voice so that others around you can join in the conversation! "SAY, DID YOU KNOW THE SPIRAL TUNNELS WE'RE GOING THROUGH TOOK 1,000 MEN AND 20 MONTHS TO CONSTRUCT? YESSIR, THEY HAD TO EXCAVATE 750,000 CUBIC YARDS OF ROCK TO BLAST THROUGH THESE DARN MOUNTAINS."
If there is no reply, pause and continue: "YUP, THE UPPER SPIRAL GOES THROUGH CATHEDRAL MOUNTAIN AND IT'S 993 METRES LONG. AIN'T THAT A CORKER?"
Meeting people on the Rocky Mountaineer rule #5: Wave
People love the Rocky Mountaineer and they'll love you because you're on it. Practice your regal wave before you board, wave to every person you see while travelling, and don't think you have to stop once you've left the train. Waving is a Rocky Mountaineer takeaway that never loses its appeal. Try it in the supermarket or on a city bus – passersby will smile or even laugh at with you because you've made them so happy.
Best places for meeting people on the Rocky Mountaineer
Now that we've established how to meet people on the Rocky Mountaineer, let's discuss where to meet them. I can only vouch for the GoldLeaf car, as that's the class I travelled in, but I'm sure the SilverLeaf and RedLeaf cars are just as friendly. Any train is. Just say to yourself: Trains aren't just full of people, they're full of soul mates to be!
But first, another important recap: What is the Rocky Mountaineer GoldLeaf car?
GoldLeaf is the Rocky Mountaineer's first class category. GoldLeaf cars have two levels, an upper level glass domed car for sitting in (and for having the occasional cocktail in – another icebreaker!). Downstairs is the Dining Car, and so is the coolest thing ever, the Vestibule, an outdoor viewing car where you can get all windblown as you watch the mountains and glacial streams go by.
Best places for meeting people on the Rocky Mountaineer GoldLeaf car: tip #1: At lunch
Once you all troop down to the dining car for meals – in two seatings, because it can't hold everyone at once – make sure to sit with different people each time. (In my case it was easy to do, probably because once I'd enlightened all my new friends upstairs in the dome car with my exciting train lore, they wanted others to have a chance to share the fun. Aren't they kind?)
One word of advice: Don't get so caught up in your Roasted Golden Beet Salad with feta cheese and raspberry vinaigrette or your Wild Barley Risotto that you forget to chat! More advice: Try not to eat your beet salad and talk at the same time.
Best places for meeting people on the Rocky Mountaineer Gold Leaf car #tip 2: The Vestibule
Hang out in the Vestibule Car at all times in all forms of weather. This is where you will meet the photography enthusiasts, and if they're too preoccupied to talk to you because they're busy taking pictures, poke your head out over the side (not when a tunnel is approaching obviously) and snap your own shots. Immediately they'll see you have shared interests.
Take action
Wait for the optimal time to strike up a conversation, such as when they've spotted a grizzly. This way you have the perfect conversation opener ie: "Say! There's a grizzly."
If they don't reply because they're looking into their camera, nudge them. If that fails, jump in front of the camera and point out where the grizzly is! They'll thank you for taking their photographic interests to heart.
Be spontaneous
And this is fun. When you're passing some spectacular landscape such as the perfect combination of misty mountains and teal blue stream, creep to the front of the viewing car and jump up waving your arms so you can photo bomb their shot! Oh, they'll laugh at that super rambunctious joke, and you'll make friends for life.
Best places for meeting people on the Rocky Mountaineer: #tip 3: Take a last chance
Don't think disembarking is simply a time to get off the train. Use this end-of-the-day opportunity to delight your train mates.
If people seem to be avoiding your eye or scrambling ahead of you (don't worry, they're just intimidated by your leadership qualities), follow them off the car: "SAY, DID YOU KNOW THAT THE ROCKY MOUNTAINEER'S FIRST DOME CAR WAS INTRODUCED IN 1995? AND THAT THEY HAVE SHATTERPROOF GLASS AND TAKE MORE THAN A YEAR TO BUILD?"
If that doesn't work, it's time to draw out the big guns. Everyone loves insider gossip. Simply shout after them: "SAY, DID YOU KNOW THAT JEFF, THE GUY AT THE BACK OF THE CAR, GROWS GIANT PUMPKINS?" It's a sure winner every time.
Learn more: Rocky Mountaineer offers more than 65 Canadian Vacation Packages. That's a lot of people to meet. Visit the Rocky Mountaineer website for info. Read more about Rocky Mountaineer Routes.
For more about travel to Canada: visit Top Places to Visit in Canada.