This post may contain affiliate links.
I've been at here for the Literary Journalism Program at the Banff Centre for 6 days now and here's what I've learned. I'm a crappy writer. I can't write under pressure. (Oh, please. Don't agree quite so quickly – I'm in turmoil.)
Literary Journalism at the Banff Centre means time in Banff
Why should you think about applying for the Literary Journalism program at the Banff Centre? For one thing, you get to spend time in Banff. I LOVE Banff. Always have. Banff is a postcardy-y looking mountain town (see how literary I'm being? I used the word postcard-y. Sue me now).
The town is located inside Banff National Park in the Rocky Mountains, and it's the smell that will grab you, that pine smell. The smell that makes you think of gambolling squirrels and glacial streams. And sometimes bears and cougars. Bliss.
The Literary Journalism Program at the Banff Centre means time to write
The Literary Journalism Program at the Banff Centre is amazing once you get past the gruelling application process. And take it from me. If you don't get in the first time, keep trying. Eight non-fiction writers are accepted each year, each is given an opportunity to develop a major essay, memoir, or feature piece – plus they are $2,000 commission to do it. Yes, I said $2,000.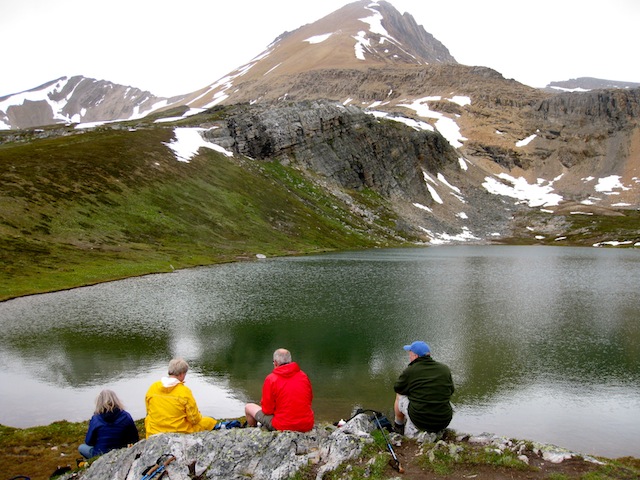 The Literary Journalism Program at the Banff Centre means learning from top nonfiction writers
There are three faculty members: With my year faculty includes program head Ian Brown, Don Gillmor and Katherine Ashenburg. What an opportunity to have them read your work and help you polish your essays. (Okay, so mine needs more than polishing, more like a hip replacement plus botox, but still.)
The Literary Journalism Program at the Banff Centre means perks!
I'm not going to lie. The perks are fantastic. Maid service! Meals! And best of all, your very own Leighton Studio with a deer that hangs around outside your door (deer not guaranteed). (Everyone else here says it's an elk, but, um, they're just wrong.) My studio is the Valentine Studio, which is definitely the best, even though everybody thinks theirs is the best, but mine really is. It even has a grand piano in case you should be so inclined as to play, or invite someone over who can.
FYI: You don't sleep in your studio – you have a room for that. But you'll be tempted.
Taking part in the Literary Journalism Program means time at the Banff Centre
The Banff Centre is a special place. An insanely creative mix of writers, painters, installation artists, opera singers, ballet dancers, jazz musicians, scientists and/or mathematicians. It's set part way up tunnel mountain overlooking the town.
There is an art gallery, a theatre, a bar and a library. And probably many more wonderful things that escape me right now, like fitness facilities and yoga classes.
Shades of the Banff Centre past
I was at the Banff Centre years ago when I was a promising painter – a promising painter who would one day quit (so so much for that promise). I used to paint big black landscapes and wear crinolines and black leather and my hair was big and black and teased. Because of my big black hair all the media people at the Banff Centre wanted me to be ghosts or sprites or whatever in their videos and films.
The first time I said okay, and the filmmaker imposed my face over someone lounging provocatively in a corset and not much else. And then everyone thought that I was the one in the corset, and no one believed me when I said it wasn't, but really they should have known I wouldn't look that good in a corset.
The second time I was in someone's video I had to dance around the Banff graveyard and it was extremely cold out – winter, in fact. And then someone from the town complained that the artists were being disrespectful to the dead and of course, because of my big black noticeable hair, I was the one who got fingered and called in and reprimanded by some bigwig administrator. Um, sorry but I didn't ask to be in that stupid video.
The third time I was asked to be in a video at the Banff Centre it was a woman from Quebec who asked me to be in her film. And I said, "No!" and then she asked me again and I said, "No!" And then later I found out that she was a really well respected filmmaker and also a very nice person and I've regretted it ever since. Far more than I ever regretted being in the first two videos.
So I've learned never to say 'no.' (Hey, get your mind out of the gutter – sometimes I say no.) The point is that today, when someone from the writing program asked if any of us would be in their promotional pictures for the Literary Journalism Program, I volunteered. I figure as long as it's not porn or has anything to do with a graveyard I should be okay – and it's my way (in my head) of apologizing to the woman whose film I refused to be in.
So now, if you pick up a brochure for the Literary Journalism Program at the Banff Centre you may see me trying to look thoughtful and intelligent. And hopefully I will be thoughtful and intelligent and my essay will take shape by the time the program is over – or the Banff Centre might never let me come here again.
Read more about Banff:
Literary Journalism Program comes to an end
Read more about Canada: For more about travel to Canada visit my Things to do in Canada article. Happy planning!