This post may contain affiliate links.
Visiting China? You may want to spend some time on Hainan Island – China's tropical island
Well who knew China had it's very own Hawaii? It's called Hainan Island and it's at the very southwestern tip of China. Only it's a Hawaii with major Buddha statues – one bigger than the Statue of Liberty (and it's a female Bodisattva to boot!). Her name is Kwang Yin and people love her.
It also has amazing fruit, luxury hotels, beach babes and hill tribes. Did I mention the luxury hotels?
I'm just heading off to breakfast now, so I'll make sure and drink a number of fresh juices – so far I've had watermelon and starfruit.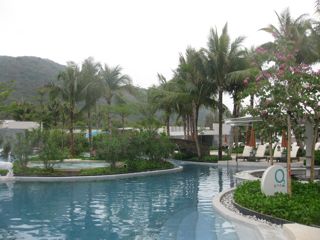 I'm staying at the InterContinental on Hainan and as you can see, it's a pretty splashy place.
And because everyone in China is obsessed with taking pictures, no one seemed to mind when I started snapping theirs at the pool.
But these were the real starts of the show. Love those Cinderella water wings!
So next time you're heading to Hawaii, you may want to rethink your travel plans and add a little Zen to your palm trees.
Read more about Hainan Island, the Li and Miao Minority Village
Read more about luxury travels in Asia