This post may contain affiliate links.
Exploring Florence is fun, especially when you check out these best Florence views. It might not be your average sightseeing trip, but it makes studying the great art of Italy so very worthwhile.
Florence is a wonderful city, a tourist favourite, and I'll let you in on a secret. It's not just for the art. It's for the amazing Florence views available to the visitor. They don't call it La Princessa of Tuscany for nothing. (I just made that up. No one calls it that at all – never believe what you read.)
Two important points regarding Florence views
1) The wonderful thing about sculpture – unlike paintings – is that you get a complete view from all angles.
2) Florence is a lovely city for sightseeing.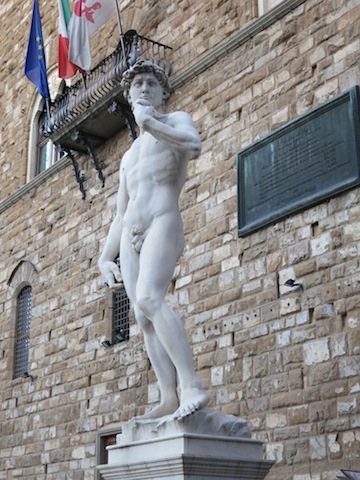 Florence, a city of locals
And even though Florence is filled with tourists, some locals stick around. You might, in fact, think they never move. Faux David by Michelangelo in the Piazza della Signoria. The real David by Michelangelo used to be here, but it was moved to the Accademia in 1873.
I wrote about 3 Davids of Italy once and I may have mentioned Michelangelo's David's fine bottom and it caused quite an uproar. I believe one comment went something like, If my wife and I had read your article on Florence before we went to Italy, we would have gone to Spain. On the other hand, certain segments of the population loved it. Mainly males who appreciated a fine form in stone.
Other Florence views
Of course there are other fine Florence views besides sculptures, like actual city views. The photo below is from the Piazzale Michelangelo – where coincidentally, you can park your car for free.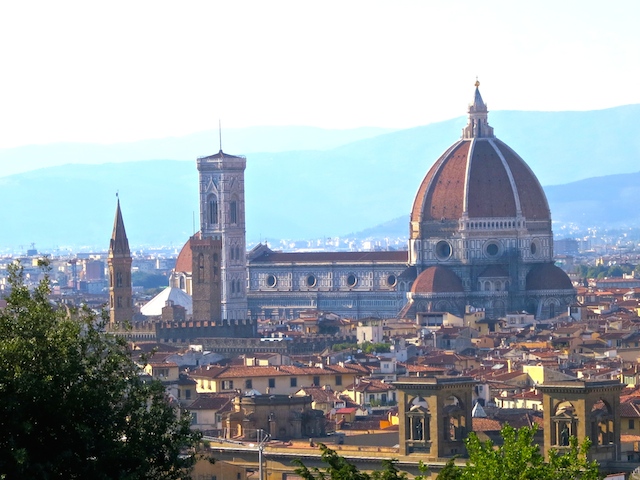 You can also have wonderful views of the Ponte Vecchio, the shop-covered arched bridge that spans the River Arno.
The Ponte Vecchio of Florence
The medieval Ponte Vecchio used to be lined with butchers but now you'll find jewelry shops. An interesting thing about the Ponte Vecchio is that couples from all over the world put padlocks on the bridge because then their love is supposed to last. So you can swear your undying love and buy your wedding rings all in one go.
What perhaps some couples don't realize is that so many padlocks are locked on to the beleaguered Ponte Vecchio that authorities regularly chop them off and dispose of them. This may account for high global divorce rates.
So instead of declaring eternal love, you may want to go back to sightseeing and enjoying the beautiful Florence views.
It never gets boring.
But just remember … no matter how riveting the Florence views, it's rude to stare. So be discreet.
Because some sculptures can get quite offended.
For more: on Florence posts check out Shopping Battles in Florence
Read more: about the Top Cities to Visit in Italy
For more of the best places in Europe to see: visit Top Destinations in Europe