Have you heard of cryotherapy? It's now gaining popularity in North America, but Poprad, Slovakia, has been on this unusual spa trend for years
Cryotherapy in Poprad, Slovakia
Entering a minus 60C (-76F) chamber wearing shorts, a sleeveless T-shirt, socks up to the knee, mittens and clogs isn't just a fashion crime, the worst part is knowing this is only the warmup. After 30 seconds, along with four Polish spa patrons at the Slovakian Cryotherapy Clinic in Poprad, I'm going to enter a minus 120C (-184) cryochamber for an immersion into an unimaginable cold.
Literally unimaginable. Considering the lowest recorded temperature on Earth is minus 89.2C (in Vostok, Antarctica), it's simply not part of our natural world, and to say I'm scared is an understatement. What if my brain freezes? Or an eye? What happens then?
Freezing boosts performance
While cryotherapy, the art of flash freezing in the name of health, is one of the latest wellness crazes in North America, it's been around for years in health-conscious Europe, oddly enough, particularly with Poles. Originally developed to aid Eastern European athletes improve their performances, cryotherapy has filtered down to the mainstream population seeking treatment for problems ranging from arthritis and joint pain to cellulite and erectile dysfunction.
While Poprad, a city of 55,000 at the base of the Tatra Mountains, may seem an unlikely place for a state-of-the-art cryotherapy centre, Slovakia's spa industry is surprisingly well-developed. The Cryotherapy Clinic is one of the largest cryocentres in Europe and possibly the most glamorous. It opened in 2006 and is part of AquaCity, an upscale thermal water park, wellness centre and hotel complex.
Preparing for cryotherapy
I'm always up for the latest torturous spa treatment, especially if it battles cottage cheese thighs – just one of cryotherapy's purported benefits -and the positive effect of cold temperatures has long been documented. Think ice packs, for example, used to reduce pain and swelling. During my required pre-treatment checkup, Dr. Jan Potocky, the centre's enthusiastic medical supervisor, informed me that cryotherapy increases blood flow, which combats inflammation, enhances lymph flow and, most fun of all, produces endorphins.
Only it's not fun I'm feeling. It's fear.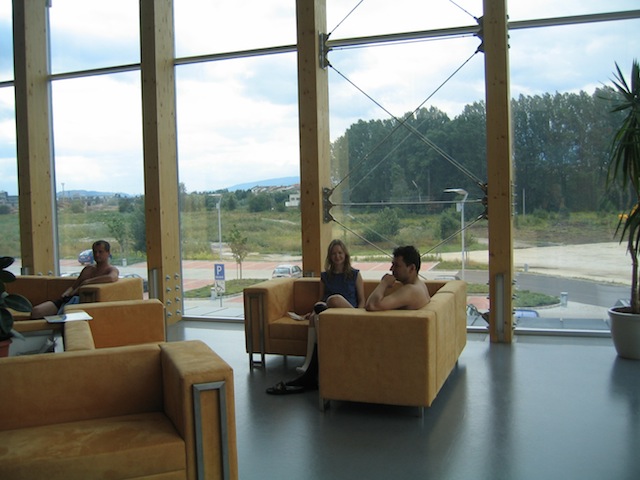 "Okay," Potocky says into the intercom, watching us through a glass window. "Your 30 seconds in the antechamber is up. Move into the next chamber. And keep walking. One minute one way, the second minute the other way."
It's now or never. If I freeze, thaw me out when we have world peace. In single file our group pushes through the door and enters a sleek wood-lined room. It resembles a sauna, minus the heater and benches. The arctic air stings my skin and I walk in scaredy-cat position, arms crossed over my chest. The men have it worse being completely bare-chested. Wait. What men? One of the Polish guys has disappeared!
Staying alive
He must have stayed in the antechamber, but I can't worry about him now. I'm too concerned with staying alive. Two to three minutes in a cryochamber this temperature is beneficial. Somewhere around eight minutes you would lose co-ordination; around 10 you would die. Only the knowledge that I can push the door open and run out screaming keeps me in. After precisely one minute Potocky tells us to turn around and I'm in the lead.
"Okay, Carol?" he says.
I give him the thumbs up. My knees are burning and I'm shivering uncontrollably, but weirdly, I don't feel that cold inside. In such a short time, skin temperature drops to around 2C, but body temperature only drops by between 0.1C and 0.2C.
Rather than feeling frozen solid, I feel like a blue steak, seared on the outside, red and bloody inside. All things considered, it's not so bad – not after growing up in Saskatchewan. I even drop my arms and attempt a slow but sprightly march.
The woman behind me is clapping her mittened hands. The tips keep brushing my back and I sense that she's close to bolting. Then Dr Potocky says our time is up and we all pile out the door amidst a swoosh of fog.
I whip off my face mask, recharged and triumphant, as if I've just dogsledded my way to the North Pole. I'm also relieved to see the disappearing man in the foyer.
"I couldn't breathe," he says as we all head upstairs to the gym for the requisite 20-minute workout, designed to get the blood moving and flush out the free radicals our beleaguered cells have released. On my part, I feel completely energized. Even elated. My skin is glowing and I'm raring to go.
While I can't swear cryotherapy provides long-term benefits, because a series of seven sessions is recommended and I only sampled one, I can report it's an instant boost to the system. In fact, you might say it's the coolest new treatment around.
Travel Tips for AquaCity, Poprad, and cryotherapy
Where to stay in Poprad
AquaCity offers three onsite accommodation options: the boutique chic 4-star Hotel AquaCity Mountain View, the 3-star AquaCity Seasons and AquaCity Victoria Apartments. All offer free entrance to the water park. Cryotherapy sessions are an additional fee. www.aquacityresort.com
How to get there:
Travellers from North America can fly to Bratislava connecting either through London or New York. Poprad is approx 4 hours from Bratislava by train and 6.5 from Vienna.
Where else to try cryotherapy
Sparkling Hill Resort near Kelowna, B.C. has brought cryotherapy to Canada.
In Los Angeles you can visit CryoHealthCare Inc.
Where else to spa in Slovakia – read about Carol's mud adventure on Piestany's Spa Island, a town with a long spa tradition.
Demi Moore tries cryotherapy in Los Angeles! Read all about it.
Article by Carol Perehudoff