This post may contain affiliate links.
I am in a very uncomfortable position. At the Banff Narrative Journalism Program you spend the month of July working on one essay. That's right, one. And the other participants workshop it and I am being workshopped today. Yikes!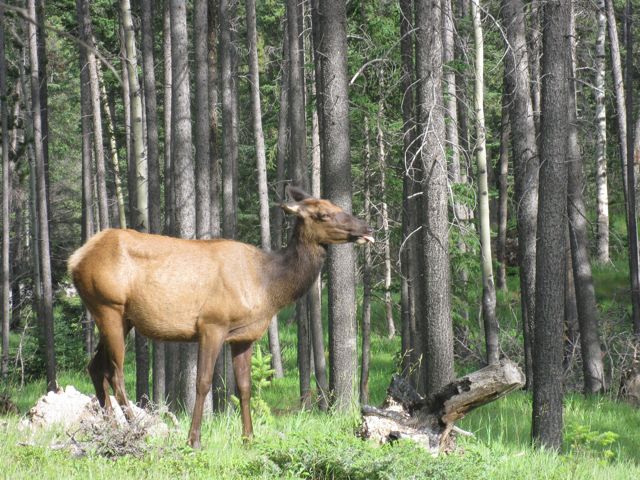 So I can't really do anything except avoid people until 4 p.m. when the workshop starts. It's an integral part of the program to avoid people between the time you've given them your piece to read (yesterday afternoon) and the start of your workshop, because everyone avoids your eye, and then you think that they hate the piece, and hate you, too, because now that they've read your innermost thoughts they know you are a psycho. Did I mention it was an uncomfortable position?
At the same time, it is a wonderful time, because you don't need an excuse to not work, and so you can get out and do fun things with people who aren't writers. So I went kayaking to the Vermillion Lakes, which takes about an hour, and then I had a drink on the patio at the Banff Centre of the Arts bar, MacLab, with an old friend, Kitty Scott, who is now the director of the Walter Phillips Gallery here.
And then I avoided the cafeteria at dinnertime and ate a sandwich in my studio.
I must mention my studio. It's one of the very best parts of the Banff Narrative Journalism Program, oh, wait, maybe it's the Banff Literary Journalism Program, I can't remember, but my studio is out in the woods, part of the Leighton colony, a collection of wacky studios at the back of the Centre, each designed by a different architect.
I can't help liking mine the best. It has cathedral ceilings and a grand piano and there is a minky-looking animal who gambols around in front of my windows. And sometimes deer, and a couple of days ago when I left the studio around twilight I startled a coyote. He looked at me, I looked at him, he ran one way and I ran the other.
Joni Mitchell was in one of the studios, I don't know when but I know it wasn't mine. It wasn't the boat studio either, which is an old salmon trawler that is very picturesque and a great place to have drinks on the deck, but I still prefer mine.
By going through the guest book in my studio (which is #2, the Valentine Studio), I know that Margaret Webb was here in 2005, Taras Grescoe in 2003 and a writer named Monica Meneghetti, who made a curious and appealing notation in the guest book that includes the line "From Space Wave to Lust Bunny, from Pluto to Mexico and back again." Wait, do I have copyright to say that? I'm hoping it's the title of a poem, so then I think I can say that, and I promise that when I do write my own blurb in the guest book, whoever stays here in the future can quote me.
Now wish me luck in my workshop ….
Read more about Canada: For more about travel to Canada visit my Things to do in Canada article. Happy planning!