This post may contain affiliate links.
It's a final hike to Sunshine as the Banff Centre Literary Journalism program comes to an end for another year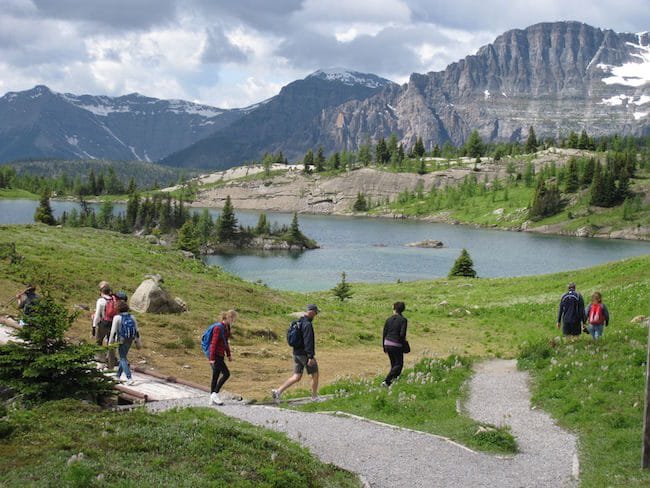 Banff Literary Program – a final hike
Say it's not so! I don't want to leave the Banff Centre. How can this be the last day?
Yesterday, most of our group in the Literary Journalism Program went for a final hike. There were 15 of us, including 3-month old Eleanor, who is not a writer but came as a guest. We drove to Sunshine Ski Resort and took the bus up to Sunshine Village – which is pretty small as villages go, as it's not ski season. There's just a little deli open, and the all important bathroom and a closed lodge.
"The forecast is rain," said Don Gillmor, faculty member, author and keen purveyor of online weather reports.
"The forecast is for sunshine and good weather," said the bus driver.
So who do you think won the weather bet?
It's sunny at Sunshine … for now
It was beautiful, Grizzly Lake and Rock Isle Lake (at least I think that's what they were called). And then we went up and up, but because I've already hiked with this crowd, I knew that we'd be hiking up some more. Probably a good few hours more.
And I swear I didn't pray for that hail and rain that swept in dramatically, turning our lunch into a liquid lunch – and not the good kind of liquid lunch, but the type that has rain spatters on your peanut butter sandwich and turns it to mush.
And so we all ran into a little grove of trees, and I was quite comfortable because I wedged my umbrella (yes, I hike with an umbrella, get over it) so that it rested half on my head and half on a tree branch leaving my hands free to eat my wet sandwich. I sat cross-legged in the miniature grove of larch and it was quite leprechaun-like and otherworldly and I was surprised when word came that we were heading back.
The baby – is that a literary metaphor?
"It's because of the baby," everyone said. Oh, right the baby. Because without the baby we would have climbed for at least another 18 hours. In fact we'd still be hiking today. Well, if Ian Brown had anything to do with it, we would be. (Hi Ian!)
Hiking at Sunshine – an uncertain adventure
Of course as soon as we were halfway down the mountain the sun came out, so when we got back to the village we decided to keep walking down to the parking lot instead of taking the bus. Future hikers, take note. You are far better off to keep heading into grizzly country and up into the mountains than walking down to a parking lot.
I'm not sure if it was the gravel road, or the unrelenting downhill monotony, but my feet were killing me. Every step would hurl my toes to the end of my stupid city walking shoes. They're not even walking shoes. They're standing around pretending you're going to go for a walk shoes, which is fine if you're in back country, and on nice soft pine trails, but if you have these same shoes, take my advice and stay off gravel roads. It was much better when we got to the ski-out trail.
A hike with the Banff Centre Literary Journalism Program ends with wine. Of course.
And then the hike was over, and we had a final party in the Writers Lounge. There was a lot of wine involved and someone told me that my spirit animal is a peacock. Now this, sadly, is my final Banff Centre blog post. My essay for the Banff Centre Literary Journalism Program is done, (I say this lightly but there were a few days of agony when I didn't think it was possible) and I didn't faint during my reading and I will always have fond memories of my #2 Valentine Leighton Colony Studio in the woods. (It really is the best studio, no matter how cute the boat is.)
Thanks Ian Brown, Don Gillmor and Katherine Ashenburg! Thanks amazing participants who almost all hike better than I! And thanks Banff Centre of the Arts and everyone who works here (even the grumpy people).
Read more about Banff at Travel guide for Banff, Canada. Read more about Canada: For more about travel to Canada visit my Things to do in Canada article. Happy planning!