This post may contain affiliate links.
Hey, I just had an essay reviewed – kind of a strange feeling. It would have been a worse feeling if it had been slammed! It's written by a blogger named Nomadic Chick and, as I obviously have nothing better to do, I think I'll review the review.
'Chick' reviewed Go Your Own Way, an anthology published by Seal Press in 2007 and edited by Faith Conlon, Ingrid Emerick and Christina Henry de Tessan. Her review mentioned my essay 'Aphrodisias' about a trip I took in Turkey to the ruins of the city of – what else – Aphrodisias and the mysterious Temple of Aphrodite.
Here's my review of the review. She was nice to me so I like it. How's that for an in depth critique? Well, what am I supposed to say? Who am I, a critic?
What I did like about her review, though, was that she wasn't reading the book because it was her job and someone told her to read it. She had an aim:
Since I'm a solo woman traveler, it's only natural that I would be attracted to books on the subject … I asked the book to convince me. Show me that solo travel is not something practical that I have to do because I'm currently single. Oh, did it deliver.
The essay (this is me talking now, not Chick) is about a strange moment in my travelling life. I had just finished a press trip that ended in Istanbul (Read travel article about Solo Istanbul) and had arranged to meet my then-boyfriend in Hungary, where he had just moved. But, um, he disappeared.
How's that for building self-esteem?
So there I was in Turkey wondering what to do with my suddenly-free two weeks. On the advice of a fortune-telling rabbit (hey, I was desperate) I went to the resort town of Pamukkale because I love hot springs and Pamukkale was an ancient healing resort in Roman times. Pamukkale is one of the craziest most gorgeous places you'll ever see. Calcium from the mineral water spills down the hills and forms a crust. (Read my Pamukkale travel article.)
It also has an ancient swimming pool with toppled and algae-coated columns where, it's said but not verified and generally not believed, Cleopatra swam.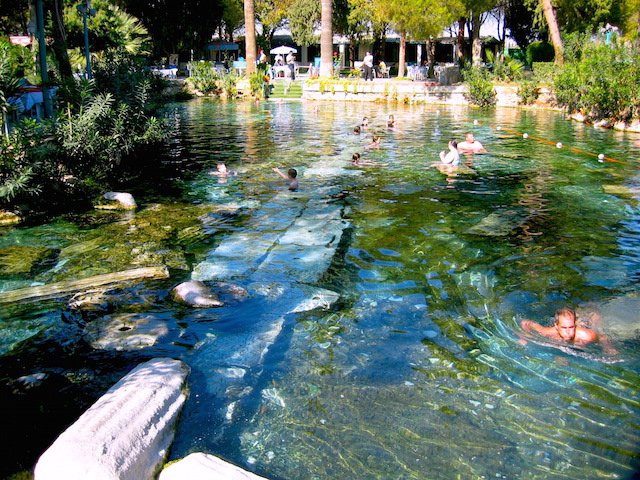 While I was there I did a day trip to Aphrodisias and to the city's temple of Aphrodite where I was determined to find some sort of sign.
Some sort of reassurance. To say I was at a low ebb is an understatement. The crazy thing is, I found it. I found a sign. And oh-though-you-may-scoff, it's a sign that's followed me and made me feel connected to Aphrodite today. And even if it's all in my head, so what? Isn't everything intangible all in our heads? Love? Comfort? Attraction? Hate?
Anyway, back to the review. The truth is, Chick was too kind. I've worked on the essay since, as it's a key chapter in my never-will-be-finished nonfiction book loosely titled Married to My Suitcase – A Single Woman's Quest for Balance on the Road. Look for it in bookstores in 2090! When I wrote the essay I was tormented (okay, not exactly tormented, maybe bothered) by the fact that the essay had no decent ending. When your boyfriend up and vanishes, what kind of ending are you really going to have? But when I workshopped the essay at the Prague Summer Program, my workshop leader said not to worry about the lack of a perfect ending, which I didn't understand at the time, but I do now – it had no ending because it was meant to be part of a larger story. A larger story that tells you that what might seem like crap at the time, may just change your life for the better. (And if it doesn't, at least you'll have something to write about).
But hands off to Chick because she got it. She understood what I was trying to say:
"What I liked about Aphrodsias is the discovery that at times you are not alone."
And it's true – we're not. Even if your companion is just a voice in your head. Or a tour guide, or a pushy hotel owner, or um, a goddess.
Read more: Travel and writing – why they go together.