This post may contain affiliate links.
Air Transat vacations in Europe launches flights and packages of all types and stripes to Budapest, Hungary, and here's why you should go.
Oh, Budapest. How can you be so beautiful? You're old. You should be wrinkled and cranky from all those dour years of occupation, wars and revolutions, yet you're like the phoenix rising from the ashes. Or, no. You're more like Goldie Hawn (who happens to have Hungarian ancestors) and who always looks so adorable and sunny. And just like her, Budapest, you keep getting better and better.
So now that Air Transat vacations to Europe has Budapest, Hungary, flights and packages available, there's no time like the present to visit these fascinating destinations.
Budapest is all wet. And also stylish.
Maybe it's the mineral water that makes the people of Budapest, that hot-spring laden city, so healthy and gorgeous. And chic. I mean, when did Budapest get so fashionable? Seriously, it must be something in the water. It's the only answer. (Which is why I'm going to the baths immediately.)
Air Transat vacations Europe: flying to Budapest, Hungary
The news is that it's easier than ever to find some Budapest-inspired chic or to get all wet in the steaming baths of Budapest, because in the ever expanding Air Transat vacations Europe empire: Budapest is the newest and possibly coolest (not counting the hot springs) destination.
Travel news: Transat and Budapest are a new couple
The prospect of an Air Transat vacation to Budapest, Hungary, is so exciting that I'm here in Budapest already making sure that Budapest and Hungary are ready for your arrival. You know the drill, I'm laying out red carpets, organizing cavalcades, hobnobbing with the President of Hungary, János Áder … that sort of thing.
Okay, okay. I lied. I haven't laid out a single red carpet, but I would if I knew you were coming to Budapest for sure, and if I'd brought a red carpet in my suitcase. And um, all right. I haven't met the President of Hungary either, but I'm sure he wishes you a wonderful trip to Budapest.
Why visit Budapest?
Because the city has changed so rapidly and become so sophisticated you'd hardly recognize it, even if you were here before. Even if you were here yesterday.
Personally, I'm here so that when the Air Transat Holidays Budapest, Hungary, flights start on June 17, 2015 (to Oct 17, 2015) from Toronto and Montreal (flights from Toronto stop briefly in Montreal), I can fill you in on some of the best things to see.
Budapest and Central Europe are top trending destinations (unless, of course, you prefer Mongolia)
As you may know, Central Europe is on everyone's list these days (with the possible exception of my grocery list) and there are so many ways to visit Central/Eastern Europe with Air Transat Holidays in Europe. FYI: Round trip air is included with all of them.
Travel tip for Air Transat Europe flights: Transat Holidays is a Canadian company, but the flights are so reasonable and with the American dollar so strong, all you good ol' Americans might consider coming up to Toronto or Montreal and leaving from there. Just an idea.
I tried to get an exact price but they can change even several times a day. But as an example a July 1st Air Transat flight from Toronto to Budapest returning July 9th was $1232 (Canadian dollars) including taxes and fees.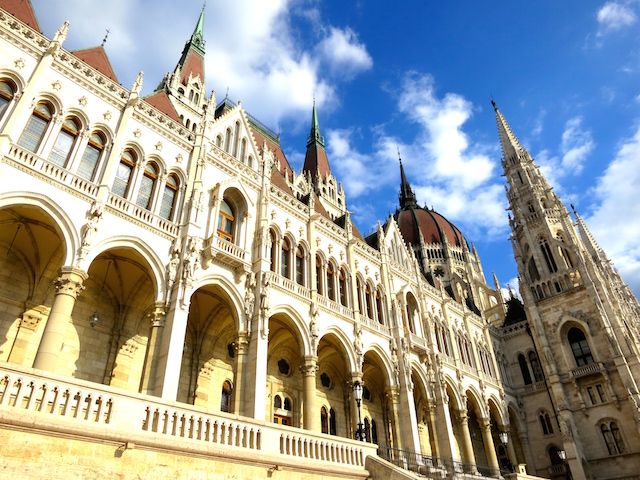 How to experience Budapest and Central Europe with Air Transat vacations Europe
Coach Tours – Transat Holidays Coach Tours are for people who like guides and prefer to have some other sucker arrange everything. They're also good for people who want to see a variety of destinations.
Package Tours – Transat Holidays Package Tours are for the semi-independent traveller (that's me!). Some excursions are included but you'll have lots of free time to wander and discover the beauties of Budapest, Hungary – or wherever it is you go.
River Cruises – River cruises are so trendy it's like pesto sauce back in the 80s, and Transat Holidays works with Amawaterways and Uniworld Boutique River Cruise Collection. Budapest is a popular port of embarkation for river cruises, and there are a number of itineraries you can choose. And why no one has ever invited me on a river cruise is just one of those sad facts of life, and it's why I'm working on convincing my husband that he would love one and that we should save up for a cruise instead of, like, a house.
Budapest Your Way – Transat Vacations Budapest Your Way is ideal for the independent traveller. (That's me, too! That's more me than anything in the world except for maybe a semi-independent traveller!) What you get: transfer to your hotel from the airport, a 7-night stay, a Budapest City Pass, Wine Tasting, a Budapest City Tour and a Cruise on the Danube.
Transat Vacations City Hopping Packages – Why limit yourself to one city? Budapest and Prague perhaps? Or add in Vienna, too? Lots of options here.
Multi-destination Flight Option – A good perk is that you can fly into one destination with Air Transat (did I mention Air Transat flies to Budapest? Haha, I know I did – just testing you) and out from another airport such as Prague. AT NO EXTRA CHARGE. (I'm leaving from Barcelona. Just because I can.)
I have places to see. In Budapest!
I hate to complain (actually I love complaining – ask my husband), but writing this Budapest, Hungary, travel blog post is cutting into my Budapest exploring time, so you'll just have to look at all these tempting Budapest photos to see why you might want to put Budapest, Hungary, on your list of top European cities to visit.
And if you let me know you're going, I'll lay out that red carpet for you. No, really I will (at least in spirit).
Disclosure: My trip was hosted by Transat. For more info on Air Transat flights to Europe and Transat Holidays packages visit the Transat Holidays Europe Web Page.
Read more about some top destinations in Europe